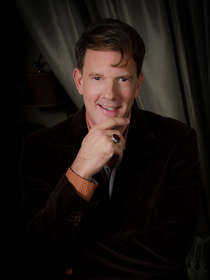 Jamie Brickhouse is the author of DANGEROUS WHEN WET, a darkly comic memoir about his alcoholism and his mother, Mama Jean. It's no coincidence that Jamie's book is about his mother: It was Mama Jean who first inspired him, in that larger-than-life way of hers, to truly love books. With his signature wit, Jamie shares his memories of reading with Mama Jean --- including books that made them laugh, books that made them cry, and books that scared the feces out of them.
---

The only book club I've ever been in had a mere two members: myself and my mother, Mama Jean. This was in my middle-school years in the early 1980s. We didn't call it a club, but in the way that my nascent homosexual self still wanted to imitate everything she did because she made it all seem glamorous, I wanted to read everything she read.

Mama Jean read books like she did everything else: emotionally. That is to say, her reactions to what she was reading were on display to anyone observing. She could have had a great career in silent pictures. Anyone peering through a window into our house would have known instantly what she was feeling watching her histrionic gestures, which were as broad and iconic as her favorite soap opera stars. As she read, she would gasp, cry and even chastise the characters for making stupid decisions the way she talked back to her soap opera characters on the TV screen.
I remember her lying on our striped velvet sofa in her maroon and pink, zip-up velour robe shrieking in terror as she read Stephen King's THE SHINING. She'd lay the mass market paperback with its silver cover below her breasts after a particularly harrowing scene, stare at the ceiling and say out loud, "I don't know if I can keep reading this. It's scaring the feces out of me." (She used a more colloquial word to illustrate her fear.) Then she'd catch her breath and start reading again.
Mama Jean's visceral reactions to books left me practically salivating with desire to read what she was devouring. And I did. Novels: THE SHINING, SCRUPLES by Judith Krantz, THE OTHER SIDE OF MIDNIGHT by Sidney Sheldon; memoirs: PENTIMENTO by Lillian Hellman, CHANGE LOBSTERS - AND DANCE by Lilli Palmer; even the self-help and pop-psychology books: THE CINDERELLA COMPLEX by Colette Dowling, PASSAGES by Gail Sheehy, and YOUR EROGENOUS ZONES by Wayne W. Dyer.

After we'd both read them, we'd compare notes and talk about our favorite characters, the villains we loved to hate, and the chapters we couldn't get out of our minds. The woman in the bathtub in Room 237 of THE SHINING scared the feces out of us both. The scene in THE OTHER SIDE OF MIDNIGHT when a woman says, "I'll take it on rye, lettuce tomato and mustard, hold the pickles," in reaction to a salami-sized penis had us both laughing hysterically.
In those days, I did do what she told me to do and read what she read. From the time I was a boy and told her that I wanted to be on the stage, she'd shoot back, "Unh-uh! Acting is a trashy life. You're going to be a writer. You get that from your father." It took me until middle age to finally listen to her on that count. And she was right: My talent for writing came from my father. However, my excitement for reading and a good story that I still have today is pure Mama Jean.