Not only is Lynne Hinton a New York Times bestselling author, she's also a former hospice chaplain and church pastor. Her latest book, SISTER EVE, PRIVATE EYE, is the first in Lynne's Divine Private Detective Agency mystery series --- where God is not the only thing that's mysterious. In this season's last Holiday Author Blog, Lynne shares a more solemn holiday story from her time as hospice chaplain: a story of grief and hope; brokenness and unity; and some ill-chosen, well-intentioned gold glitter that unexpectedly illuminated a somber memorial service.
---

January 2013
It was a gathering of the broken, the bereaved, the sorrowful, coming together for a simple holiday service. As the chaplain for hospice, it seemed important to offer a time of remembrance for members of the families of our deceased patients, a chance to say that, in light of their recent loss, we acknowledge that for them this is no season of happy holidays.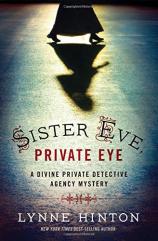 We lit a candle, rang a bell, said prayers and called out the names of the dead. A few words of comfort were shared, silence, a little piano music and the giving of small gifts, tree ornaments, doves, the symbol of peace, which were made of rigid green wire and covered in a thin layer of gold glitter.
I had not thought too much about the consequences of giving out things coated in glitter. It had not occurred to me that the decoration was flimsy and would spread from fingers to hair to cheeks and fronts of blouses. But spread it did. So after the service, after the sharing of butter cookies and cups of hot cider, handshakes, the gentle conversations, the reunion of beloved hospice staff and the bereaved family members, all of us sparkled with gold glitter. All of us were altered and yet also the same, marked by our grief, marked by our brokenness, marked with tiny lines of glistening gold glitter.
Seeing everyone shining that way touched me. We are all broken, after all. We all face loss; we all grieve. We all deal with disappointment and sadness, often forgetting that, as we walk, we do so among the wounded. We are all stumbling forward the best we can, and it is, I believe, because of our brokenness that we can share the sorrow and grief of others. It is in our own frail attempts to move beyond the sadness that we are able to see so many others struggling beside us. And somehow, the sharing of this commonality brings us a measure of peace, of hope, a silver lining in the dark and overwhelming bank of clouds that cover us. Or, as it was this hospice memorial service on this recent mild December day in a little town in western New Mexico, tiny lines of gold glitter marking us all as one.