Last Friday, November 14th, readers and book lovers gathered at Random House for their Open House, a delightful program that has been held each spring and fall since 2012. The theme of the day was gift-giving --- perfect for an event held so close to the holidays. I attended Open House with Carol Fitzgerald (who runs The Book Report Network), 20SomethingReads.com's Nicole Sherman, Bookreporter.com reviewer Vivian Payton, and my mother. Carol's friend, Beverley Wilson, a reader and veteran of these book-related events, rounded out our group.
Upon arriving, we were immediately dazzled by the assortment of culinary delights and books for sale, all Random House favorites. When we checked in, we were each generously given a tote bag FULL of books, chocolates and Walker's shortbread, as well as custom cookbook created by the Random House staff. Breakfast was Joe Coffee and a yogurt parfait from Kind Healthy Snacks. Carol is addicted to Kind bars, thus the granola was a huge hit with her.
First up was a segment called "Savor the Season," featuring BLOOD, BONES & BUTTER author Gabrielle Hamilton in conversation with Sam Sifton, author and noted Thanksgiving expert; his book is THANKSGIVING. Sam raved about Gabrielle's latest book, PRUNE, a cookbook featuring recipes from her popular restaurant of the same name. Sam astutely pointed out that PRUNE features no prose, but grabs the reader like a narrative nonfiction novel, attributing this talent to Gabrielle's experience as a memoir author. He also praised Gabrielle's handwritten notes in the liners of the recipes, as they really make the reader feel as though they are working for Gabrielle. Gabrielle noted that she was worried these notes may seem scolding, but in fact will help any cook succeed, which is her ultimate goal. Interestingly, Sam brought up a popular recipe of Gabrielle's that requires only three ingredients--- radishes, butter and salt. The challenge is getting everything --- temperature, consistency and timing --- just right. Regarding her success, Gabrielle stated that she has not yet felt the need to expand her restaurant, feeling that books instead are her expansion. What a lovely sentiment!
Naturally, the conversation quickly turned to the timely discussion of Thanksgiving. Both Sam and Gabrielle agreed that it is not your holiday menu that is important, but rather the tradition. They feel that having the same thing every year and spending time making whatever it is with your family is the real heart of the holiday.
Up next was my favorite panel of the day, "Books That Make Great Gifts." This panel featured Brendan Duffy, whose debut, HOUSE OF ECHOES, will be published in April 2015; author and illustrator Tad Hills (his bestselling children's books are the Duck and Goose series, as well a HOW ROCKET LEARNED TO READ and its sequel ROCKET WRITES A STORY); and THE PSYCHOPATH TEST and THE MEN WHO STARE AT GOATS author Jon Ronson in conversation with Mark Tavani, the executive editor at Ballantine Bantam Dell.
Mark first asked the authors about the best book gift they had ever received. Jon's, surprisingly, was the DSM-IV, a book of mental disorders. He claimed he had a ton of fun self-diagnosing and eventually found inspiration for many of his books. Tad replied that he received Maurice Sendak's I LIKE YOU from his best friend at the age of six or seven and has kept it ever since. His response garnered a resounding chorus of "awws" from the audience. Next the authors recommended some simple gifts, including Litographs, a website that designs shirts, totes and even temporary tattoos using words and images from famous books.
When the question of eBooks came up, the authors agreed that they're useful and perfectly fine gifts, but nothing beats the tangible wrapped book tucked under the tree. When it came time to give book recommendations, Jon raved about Lynn Barber, whose latest book is A CURIOUS CAREER, while Tad praised CHASING VERMEER. Most memorable, however, was Brandon's recommendation of Keith Donohue's THE BOY WHO DREW MONSTERS. It was clear that he really loved it, and I noticed that many attendees sitting by me quickly wrote down the title. Mark humorously quipped that he had never seen three men giving shopping advice together before, but they certainly handled the task marvelously.
When it was time for the audience to ask questions, the topic of educating children and encouraging them to consider careers in writing brought applause from the audience. The panel uniformly agreed that the best way to get children interested in reading is to encourage them to read anything that "inspires wonder." From there, it matters only that they read, read and read some more. Mark astutely noted that reading encourages good writing, a skill that will help nearly any career, book-related or not.
After this panel, I had the opportunity to meet each of the panelists and I can confirm that they were just as gracious and witty as they appeared during their panel. Brandon Duffy, in particular, was lovely to speak to, and we shared our love for THE BOY WHO DREW MONSTERS. Tad Hill's most famous characters, Duck and Goose, were also present for picture taking (see above).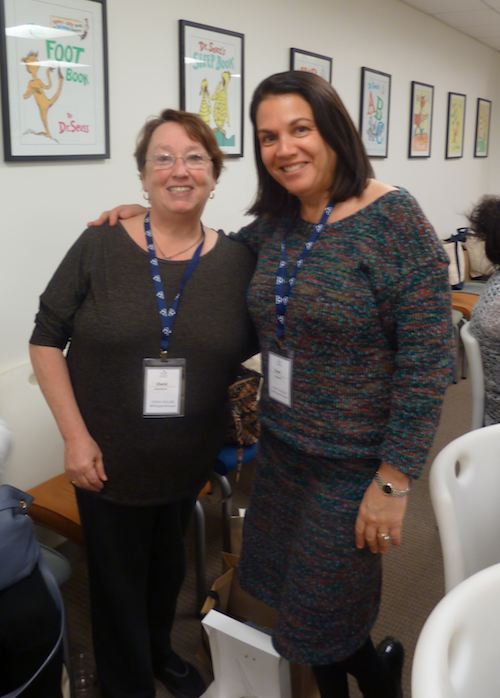 Lunch was a selection of box lunches where readers had the chance to either attend a panel discussion from Random House editors, or disperse into a number of conference rooms nearby. Here's a photo of Carol with one of our readers --- Betty --- who looked up from her sandwich, noticed Carol and introduced herself, noting that she read about this event in one of our newsletters last week and immediately signed up.
Next up Mally Roncal, who is a makeup artist to celebrities like Beyoncé and is the founder and president of Mally Beauty. She was bubbly and enthusiastic as she shared stories about how her mom, a doctor, taught her makeup tricks both directly and indirectly. She wants everyone to feel beautiful so they can inspire beauty in others. Her first step is feeling good about yourself. In her book, LOVE, LASHES, AND LIPSTICK, her goal is to ensure that women can find easy tips for enhancing their features. Carol and Beverley both traveled the country during makeover shows in their days working at Mademoiselle, and thus they felt they were traveling down memory lane as Mally revealed makeovers on four Random House staffers.
The most inspiring panel of the day was an in-depth discussion with the Random House team behind the mega-bestselling book, UNBROKEN. First to speak was Laura Hillenbrand's editor, Jennifer Hershey, who praised the inspiring author. She explained that many people have the misconception that Laura --- who suffers from chronic fatigue syndrome --- is just a mild, meek woman who lives through her stories, when, in fact, she is every bit as epic as the characters she writes about. Her writing, as many of you know, confirms this. Jennifer said that she found UNBROKEN masterful from the beginning, and became so deeply immersed in it that she was often startled by her surroundings when she would take a break from reading and editing it.
Next was Adrienne Waintraub, who worked on the YA version of UNBROKEN, which was generously included in our tote bags. She described the various responses UNBROKEN received from parents, teachers and even teens, all praising the heroism, courage and fortitude. It quickly became clear that a YA version of the book would succeed. Surprisingly, there are no major changes to the book, and the YA version even includes over 100 black-and-white photos, as well as an exclusive Q&A between Laura and Louie. To encourage discussion of this book, a special educator guide has been made available, which you can find here.

The discussion continued with representatives from sales, marketing and publicity for UNBROKEN, who shared the strategies that were employed in getting the book spotlighted in the marketplace. It's clear that the project became the bestseller it is today not only because of Louie's heroic tale, but because of the passion of the people working on it. It seems that everyone at Random House was touched by UNBROKEN, and they each made it a personal mission to see that others could experience the same feeling. We were treated to an exclusive preview of a clip from the movie that is being adapted from the book, which is directed by Angelina Jolie and hits theaters Christmas Day. Needless to say, the audience was spellbound. I'm sure we'll all be seeing the film when it comes out and talking about it for weeks. By the way, Carol listened to this on audio and was riveted to the storytelling of the narrator, Edward Herrmann.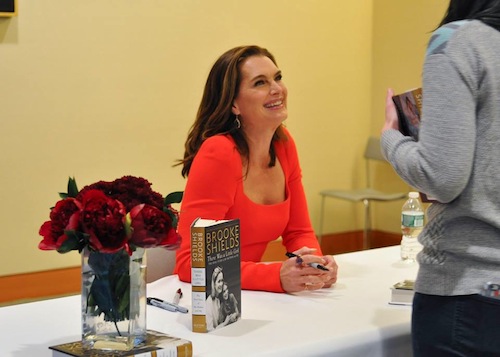 The last panel of the day featured Brooke Shields, author of THERE WAS A LITTLE GIRL, in conversation with her editor, Jill Schwartzman. Brooke was absolutely charming --- down-to-earth, smart and sharp. She explained that writing a memoir about her mother felt like the only proper way to treat the subject, not only for her and her mother, but for Brooke's own daughters as well. She explained that her mother's addiction made her grow up very fast, and, interestingly, she felt safest on movie sets because there were grownups assigned to watch over her, immediate tasks at hand and everyone had to stay accountable. Describing her later relationship with her mother, Brooke told the story of her daughter's first bad fever, and how her loyalty shifted when she became desperately focused on keeping her daughter healthy, rather than caring for her mother. Brooke also shared some stories about her own life as a mother, including one humorous story about her daughter's pierced ears and Brooke's hand in "marring" them. She looked stunning, but hearing her speak was like listening to a girlfriend.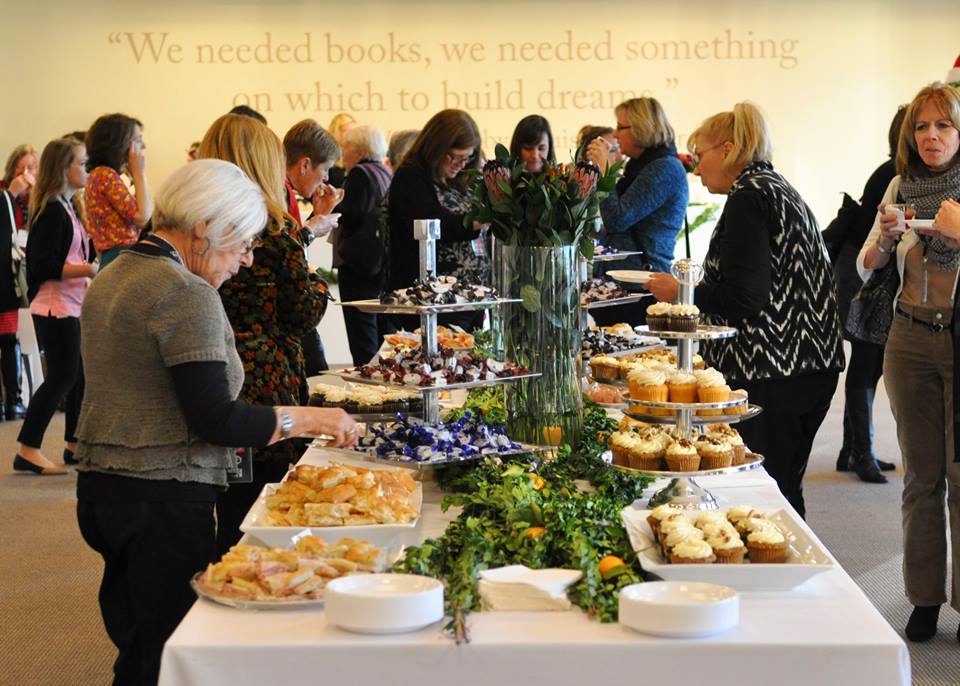 The day ended with a fabulous wine, delicious cheeses and scrumptious dessert party! We each had a glass of wine and discussed our favorite parts of the day over these wonderful treats. The plates cheeses from Di Palos', a New York city family-owned food market that is revered by New Yorkers. Four generations of Di Palos curate and share the best of Italian foods at the store, including handcrafted mozzarella, prosciutto, olive oils and pastas. Their cookbook, DI PALO'S GUIDE TO THE ESSENTIAL FOODS OF ITALY, is a gourmet guide through Italy's 20 distinct regions, from Sicily to Umbria to Alto Adige.
All in all it was an amazing day, and we all look forward to the next one!

Photo 1: Gabrielle Hamilton, author of BLOOD, BONES & BUTTER [Photo courtesy of Carolyn Meers]
Photo 2: RH Blog Duck and Goose [Photo courtesy of Carolyn Meers]
Photo 3: Carol Fitzgerald and Bookreporter.com reader Betty
Photo 4: Brooke Shields, actress and author of THERE WAS A LITTLE GIRL [Photo courtesy of Carolyn Meers]
Photo 5: Cocktail event [Photo courtesy of Carolyn Meers]