Last Saturday book group members, leaders and avid readers joined editors of the Hachette Book Group and their authors in New York at the Lighthouse International for Hachette's Annual Book Group Brunch.
Before the
event, Carol Fitzgerald, Bookreporter.com Word of Mouth editor Melanie Steinberg and Bookreporter.com reviewer Vivian Payton and I met up at the Bookreporter.com office. It was such fun to share the book-filled shelves there with Melanie and Vivian, as well as Vivian's daughter (and my former classmate), Elena, who is an avid reader. Needless to say, they were mesmerized and delighted by the books.
Before the formal program, there was lively mingling over pastries, coffee and tea. The book shop manned by the staff of New York City's Book Culture store were doing lively business even before the programming started with special event rates on books from the featured authors and other gems from the Hachette line.
Karen Torres, Hachette's VP of Account Marketing and Retail Operations was our emcee for the day. Her warm and amiable nature, as well as her signature humor, ensured that everyone was made comfortable right from the start.
The program was structured with four panels, and a lunch break in between. The opening panel had four editors discussing the editing process and the future of publishing, and was moderated by Judy Clain, Vice President, Editor in Chief at Little, Brown. She was joined by the VP and Executive Editor of Little, Brown, John Parsley, Stacey Creamer, Vice President, Executive Editor of Hachette Books and Alvina Ling, Executive Editorial Director of Little, Brown Books for Young Readers. They discussed their career paths in publishing and talked about how the industry has changed and evolved through the years. All enthusiastically defended and celebrated " the book," noting that reading is still revered among the masses.
When the audience was invited to ask questions, the topic of book groups and discussion guides
arose. The editors shared that whenever possible they strive to have guides available for their books at the Little Brown imprint; Hachette is built on the backbone of the former Hyperion Books where many of the books did have guides; their newly acquired titles will not be ready until 2015 or 2016. There are times where an author decides that there will not be a guide, typically preferring that the book conversation is not steered and those wishes are honored. In conversation with the audience, the editors echoed a point that we have often made here at ReadingGroupGuides.com --- a book does not have to be enjoyed to launch a great discussion.
Next was the narrative nonfiction panel, moderated by Deb Futter, VP, Editor-in-Chief and Publisher of Twelve. Maureen Corrigan, author of SO WE READ ON, Barbara Ehrenreich, who recently published her first memoir, LIVING WITH A WILD GOD (you may also know her for her book NICKEL AND DIMED, and Sam Kean, the popular author of THE DISAPPEARING SPOON were her panelists. Many groups have shared that they enjoy reading nonfiction selections, so it was nice to have them spotlighted. The authors discussed their own work as well as the nonfiction genre in general.
Given their wildly different subjects, the authors were first asked how they chose the topics for their books. For Maureen Corrigan, it was her lifelong interest in THE GREAT GATSBY. Sam Kean, on the other hand, read an article about a man whose brain injury changed his personality and wound up in a wormhole of research on the brain and brain trauma, leading him to write THE TALE OF THE DUELING NEUROSURGEONS. Barbara Ehrenreich discussed how embarrassing it was to write about herself for so long (though the effort was certainly worth it!). One point the authors all agreed upon was the need to do more research than you initially believe is necessary. Sam told the audience about his wide reading and "high tolerance for tedium" and advised that "when you think you are done interviewing, interview one more person."
Next up was lunch with a choice of five different sandwiches, selected fruits and cookies.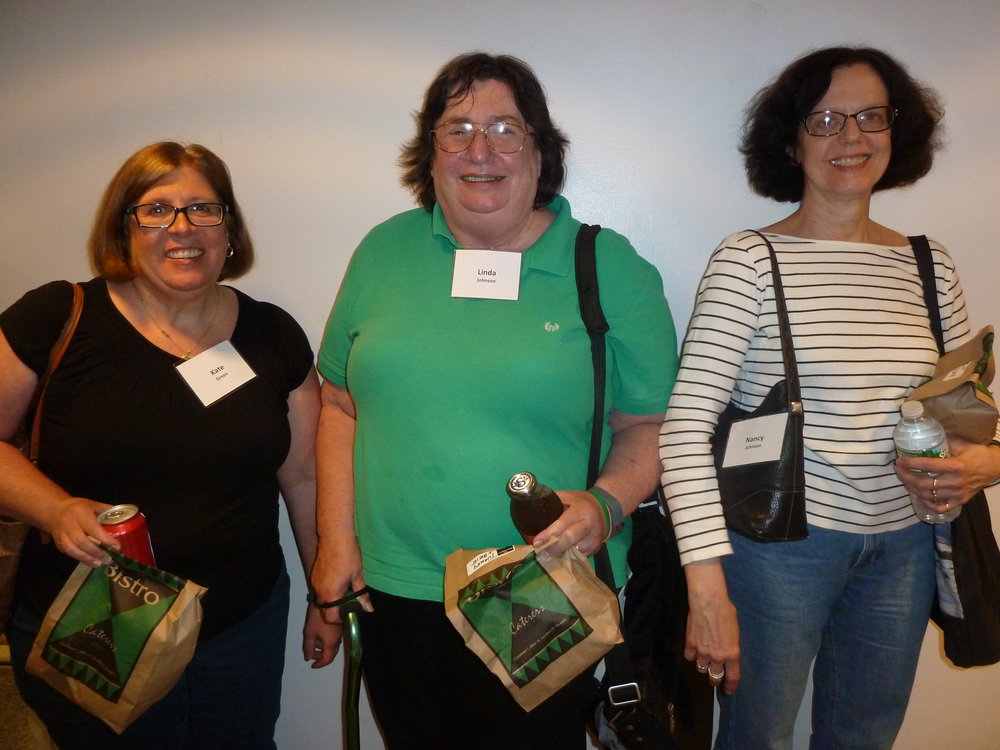 Amusingly, Vivian, Elena and I ended up sitting with complete strangers, all of whom were lovely!. We bonded while discussing our reasons for attending the event and the books we'd read and loved throughout the year. I wanted to buy some books, so I scarfed down my lunch rather quickly to spend time browsing the offerings at "the store." I picked up a few titles that I'd been wanting to read and one ---- BURIAL RITES --- simply because I loved the cover. It's fun to be a little silly sometimes. Carol and Melanie were with Beverley Wilson, a longtime friend of Carol's and Carol was delighted to meet many of our readers, some of whom you can see pictured in this blog.
After lunch, the literary fiction panel was hosted by Reagan Arthur, Publisher of Little Brown. Her panelists were Joshua Ferris, author of TO RISE AGAIN AT A DECENT HOUR, Jean Hanff Korelitz, author of YOU SHOULD HAVE KNOWN and ADMISSION and Edan Lepucki, author of CALIFORNIA. Out of all the panels of the day, I felt that these three authors had the best chemistry. Their witty retorts and insights had us all clutching our sides in laughter! Most memorable were their descriptions of beginning a new project. Jean equated it to "trying to start a bicycle that is stuck in honey," while Joshua and Edan confirmed that what you start writing is hardly ever what you end up publishing. Edan admits that she was lucky, however, with CALIFORNIA, as the first paragraph of the book is exactly as she wrote it. I bought the book immediately after the panel and started it on the bus ride home and can confirm that it's a great first paragraph.
As they discussed their writing processes, it was fascinating to learn that, while they're all great authors, they do not share one single method for writing. They do, however, all write with their audiences in mind. Joshua admitted that he does not want to let his readers down and would be devastated if he wrote something that disappointed them. Edan divulged that she often writes with her husband in mind, as he is her first and last reader. Not surprisingly, this drew a chorus of "awws" from the audience.
Vivian, Elena and I were absolutely smitten with Edan Lepucki and imme
diately left to buy her book. In an ironic twist, I created the book page for Edan's book, CALIFORNIA, when I first started at interning at Bookreporter, and quickly added it to my list of books to read. Thanks to Hachette's brunch, I had the chance tell Edan this and get my book signed at the same time! This was perhaps the best part of the Book Club Brunch: the authors were always available to meet and sign their works. I managed to meet a few and am delighted to report that they were all charming, gracious and interesting. The authors also talked about their own reading habits and Jean mentioned her love of audiobooks and referenced our recent Bookreporter.com "Sounding Off on Audio" interview with her.
After a short break it was time for a special program and a highlight of the day: debut author Christopher Scotton discussing his book THE SECRET WISDOM OF THE EARTH, set to release in January. All event attendees had been sent a copy of his book in advance, so they could read it in preparation for Scotton's panel. I won't give any spoilers here, but I will say that Carol, Vivian and I all loved it! Melanie and Beverley felt the same. It had been an immediate "in-house favorite" at Hachette.
Brian McLe
ndon, VP, associate publisher/marketing director of Twelve and Grand Central Publishing explained that when Scotton's manuscript was received it spread through Hachette like wildfire, and soon everyone was talking about it. That was when they knew they truly had something special on their hands. Interestingly, it took Scotton 15 years to write THE SECRET WISDOM OF THE EARTH, balancing a successful technology career with family life and grabbing hours here and there to write. Scotton absolutely stole the show, as he was intelligent, well-spoken, and exceedingly gracious to his devoted audience. He humorously explained that his interest in writing only became serious when he was fired and had a sort of midlife crisis. He decided then and there that he could either buy a motorcycle or write --- readers are thankful that he made the latter choice.
After he spoke a bit about his inspiration it was time for the audience to ask questions. We were told that we could not ask anything that might spoil it for those readers who had not yet finished it, but I was still thoroughly impressed by the sophisticated questions Scotton received. The themes of nature, death, grief, and redemption were all discussed. When his panel was over, I raced to join the line of readers getting their book signed. I am not ashamed to say that I was more than a little starstruck when it was my turn, but Scotton was delightful --- he truly seemed interested in everything his readers said. He was even kind enough to sign my program for my mother, who could not attend the event but also loved the book!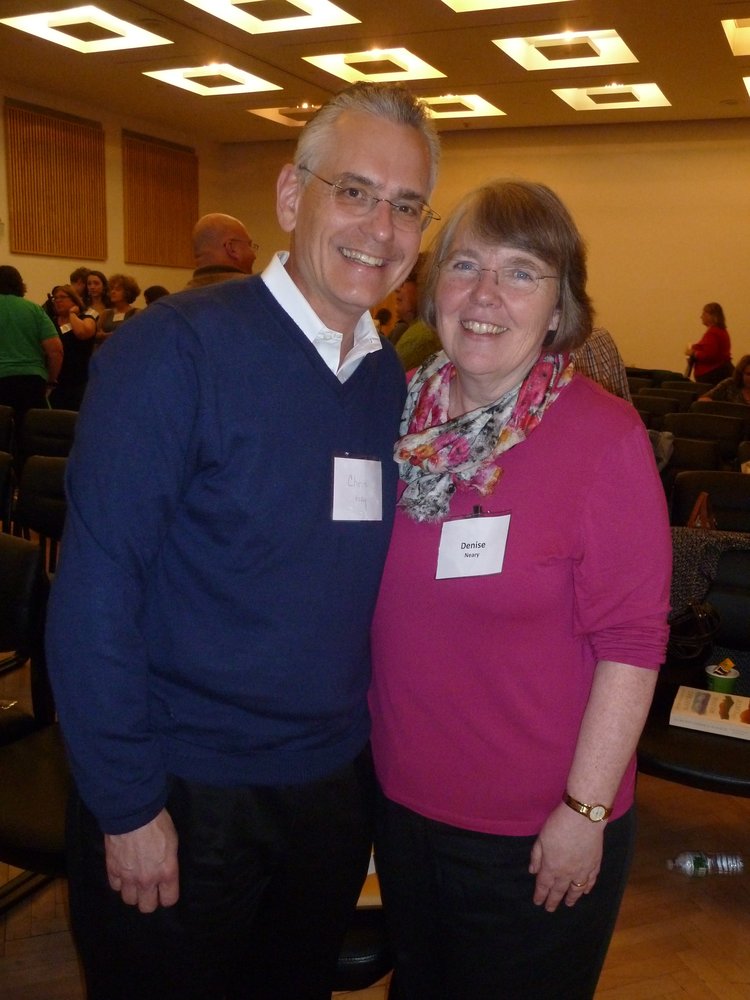 All in all it was a fun, educational and well-rounded event, made even better by the complimentary tote bag full of books we each received at the end! Vivian and I took some time to speak to Karen afterwards and she graciously listened to our feedback. Hachette clearly puts a ton of effort into making this event a success --- and it was worth it. I felt their choice of authors was spot on and the chemistry between the members of each panel was terrific. I already am looking forward to next year!
---
Picture 1: Bookreporter.com intern Rebecca Munro, Elena Payton, Bookreporter.com reviewer Vivian Payton, and Karen Torres, Hachette's VP of Account Marketing and Retail Operations
Picture 2: Our reader, Erika Loiacono
Picture 3: Eileen Dengler, Executive Director of New Atlantic Independent Booksellers Assn (NAIBA) and Wanda Jewell, Executive Director of the Southern Independent Booksellers Alliance (SIBA)
Picture 4: Deb Futter, VP, Editor-in-Chief of Grand Central Publishing and Publisher of Twelve and author, Barbara Ehrenreich
Picture 5: Authors Sam Kean and Jean Hanff Korelitz
Picture 6: Our readers, Kate Green and Linda Johnson, and another reader whose name we did not catch
Picture 7: Vivian and Elena Payton
Picture 8: Reagan Arthur, Publisher of Little Brown & Company with author Jean Hanff Korelitz
Picture 9: Carol Fitzgerald, author Christopher Scotton, Bookreporter.com Word of Mouth editor Melanie Steinberg, and Beverley Wilson
Picture 10: Bookreporter.com intern Rebecca Munro and author Christopher Scotton
Picture 11: Our longtime reader ,Denise Neary and her husband