One of my favorite parts of my job is conducting interviews for REAL TALK: Publishing. I get to meet people with the most interesting jobs, and, like our readers, get a sneak peek into a side of the book industry that I likely know little about.
Preparing for our upcoming REAL TALK interview with audiobook producer/director May Wuthrich was no exception, and actually, it was extra special, because it came with a field trip! May invited me to watch an hour of her recording session with Mozhan Marnò ("House of Cards" fans will recognize her as reporter Ayla Sayyad), who was narrating READING LOLITA IN TEHRAN author Azar Nafisi's newest book, THE REPUBLIC OF IMAGINATION: America in Three Books. Here are a few of the most interesting things I discovered:
---
1) Pronunciation, pronunciation, pronunciation --- When you read a book, you can pronounce words however you'd like in your head --- the names of the protagonists, the mysterious worlds in fantasy novels and even words in languages that you never learned in school. It's a personal experience, so what difference does it make if you think Hermione from Harry Potter is called Hermy-own, as I did for years? But when a book is read aloud, there is just one way, and it should be the right way --- the way the author imagined them. That's why May makes a pronunciation guide for each book she records. First, she and the narrator assemble a list of words with unclear pronunciations, and then May researches each one, using online sources, telephoning locations where the book takes place and reaching out to the author. Once all of her questions are answered, she puts together a list that she references throughout the session. I had no idea how much preparation was involved!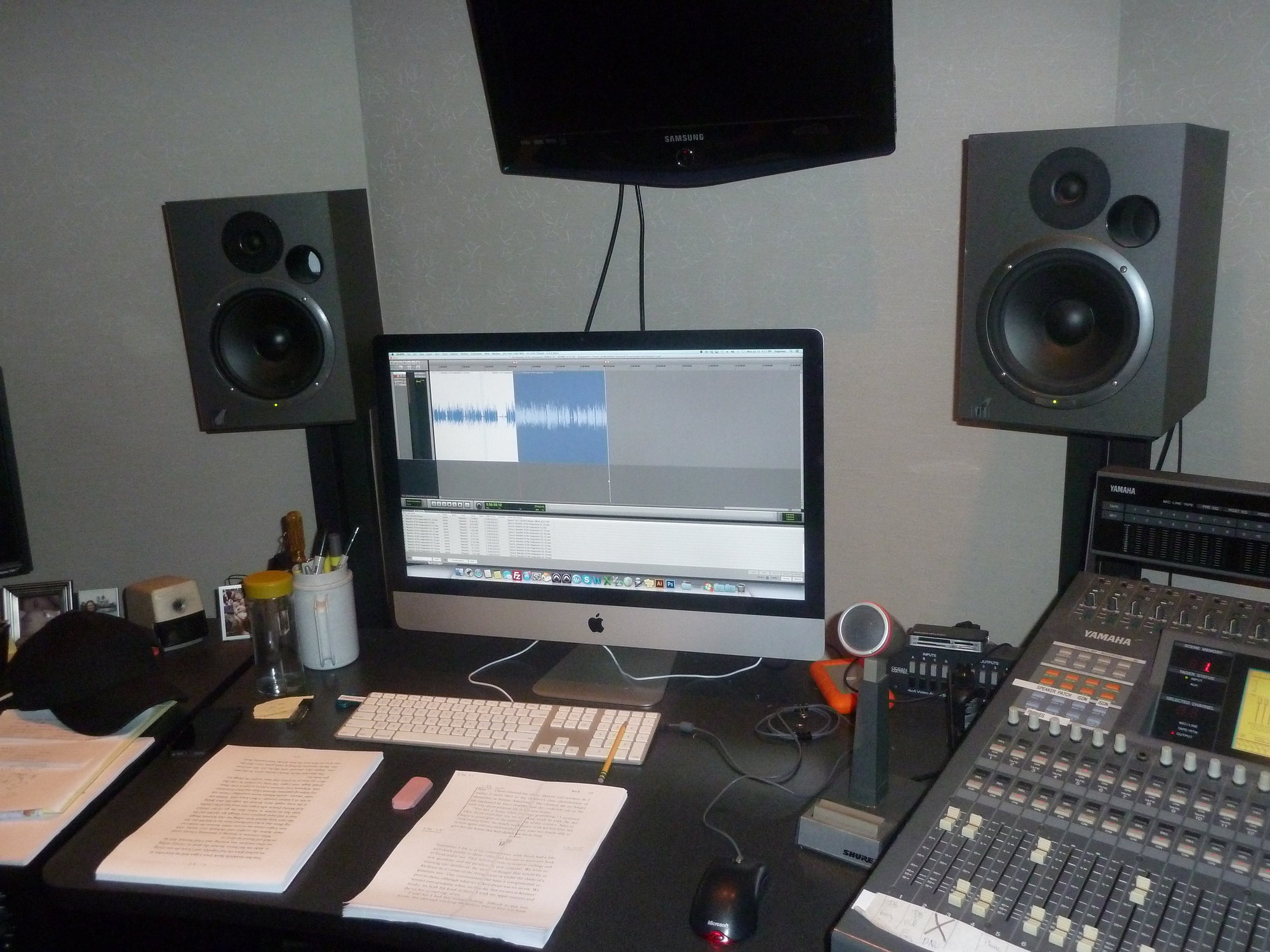 2) Voices make all the difference --- There's a lot of thought that goes into how the narrator should sound as they read. If the book takes place in a different country, should the narrator read with an accent? How does one deal with dialogue, and make each character's voice distinct? Should one actor read all of the roles, or should there be multiple narrators? For this recording, I got to watch/listen to Mozhan switch between her own voice as she read Azar's first person narration, an Iranian accent (for the voice of the protagonist's best friend) and a true southern twang, which she used when she was quoting HUCKLEBERRY FINN. It was amazing to hear how seamlessly she did it, and how much easier it made it for me, as a listener, to follow along.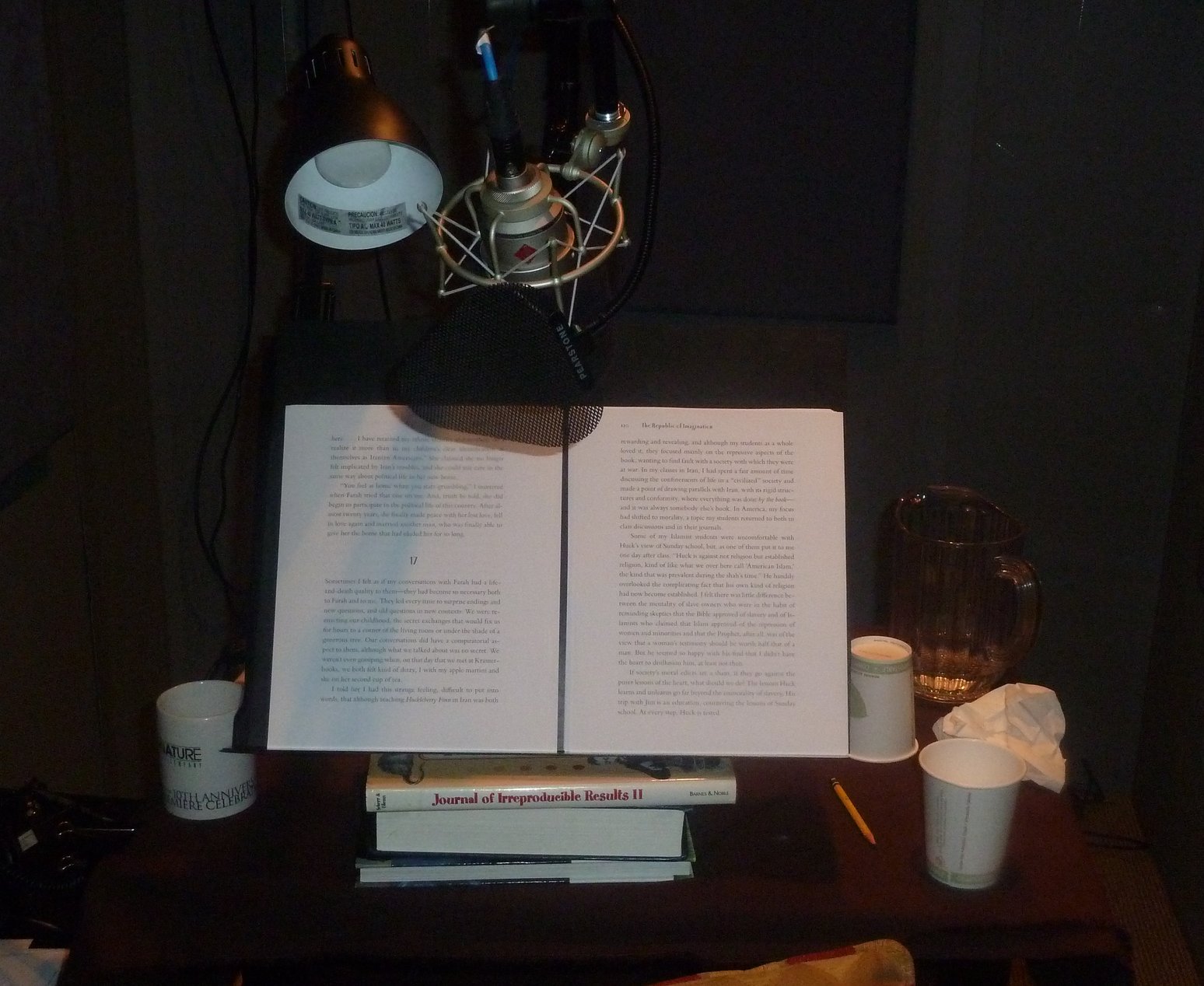 3) iPad vs. paper script --- Apparently, many narrators use iPads during audiobook recording sessions. This way, post-production teams don't have to go back and edit out the sounds that performers make when turning each page of a paper script. May used an ipad, but Mozhan read from paper. It was cool to see the sound engineer make a note every time she flipped the page…I never realized how much every little sound carries!
4) Details matter --- It's amazing how easy it can be to accidentally skip over a word when reading out loud! A few times during the recording, May would call out to Mozhan when she missed or changed a word. The listener might never notice, but I was impressed with May's level of attention --- her eyes had to be glued to her iPad to catch these little details. May also had to listen for pacing, and occasionally she asked Mozhan to slow down. This makes sense --- it would be off-putting to listen to an audiobook that suddenly got faster or slower --- but I never imaged that the director would have to listen for content as well as speed.
5) Length of sessions – I met May, Mozhan and Katie Punia, the director of audiobook publicity at Random House, at 4pm. They were wrapping up at 5pm, and had started at…10am?! Sure they had a few breaks, but that is a long time to be reading, and actors get through 80 to 100 pages a session, or more depending upon word count per page! As Katie told me while we were walking back to our respective offices, narrating takes a ton of stamina…not just anyone's vocal cords could handle it. It also takes a lot of water (look to the left to see the huge water jug Mozhan had set up next to her reading station!).
Want to hear bit of Mozhan reading THE REPUBLIC OF IMAGINATION before it hits stores on October 21st? Click the clip below, to listen!