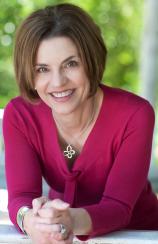 Christa Allan, whose latest book is TEST OF FAITH, is a true Southern woman who knows that any cook worth her gumbo always starts with a roux. She is also aware of the importance of reading books to her children, teaching them from an early age to love a good story. Now grown, her children make their own choices when it comes to reading material, and their tastes are as diverse as they are insatiable. Here, Christa talks about how stories have the power to transcend even physical obstacles.
---

"In the great green room
There was a telephone
And a red balloon
And a picture of—"
My youngest child is now a young man on the verge of marriage, but the lines from Margaret Wise Brown's GOODNIGHT MOON are as familiar to me now as they were almost 28 years ago.
They should be. I started reading the book to my oldest when he was four, then his sister born three years later, then his twin sisters another three years later, and two years later, to the last of my five children.
When my first grandchild was still no bigger than an aspirin, I bought a copy of GOODNIGHT MOON, and anticipated that sweet moment when we'd snuggle close and read it together.
I'd like to share that my reading to my children when they were young developed a hunger in them to reach for books to feed themselves. But they all came to the table late, as it were, only now as adults with tastes of their own.
My older son reads Chuck Palahniuk when he's not reading to his daughters. His brother reads golf books along with an occasional HOLES and THE HUNGER GAMES. My oldest daughter samples writers ranging from George R.R. Martin's Game of Thrones to Emily Giffin. One of her sisters prefers nonfiction along with bites of women's fiction. Her other sister, born with Down's Syndrome, reads Nancy Drew, Disney books and whatever she can find about her latest star crush.
I mention my daughter's syndrome to make a point. Well, perhaps, several points. Doctors told me she may not ever be able to read or write (she does both), and her love for books is testimony to the power of stories to transcend and transform…even for those who are considered "disabled."
This past Christmas, I found a graphic print with one of my daughter's favorite expressions when she tells me goodbye, "I love you to the moon and back."
It's so sweet to come full circle.
"Goodnight stars
Goodnight air
Goodnight noises everywhere."
From GOODNIGHT MOON by Margaret Wise Brown