Luanne Rice is the author of thirty-one novels including twenty-two consecutive New York Times bestsellers. Over the weekend she attended the Museum of Comic and Cartoon Art (MoCCA) Festival. Here, she shares how she was introduced to graphic novels and how the medium has given her insight into "new story-telling possibilities."




Question: Was this the first time you attended MoCCA? What prompted you to go?
Luanne Rice: My first MoCCA was in 2011 when my niece Amelia was in grad school at the Center for Cartoon Studies. She and her friends were tabling this year, and I wanted to see their new work.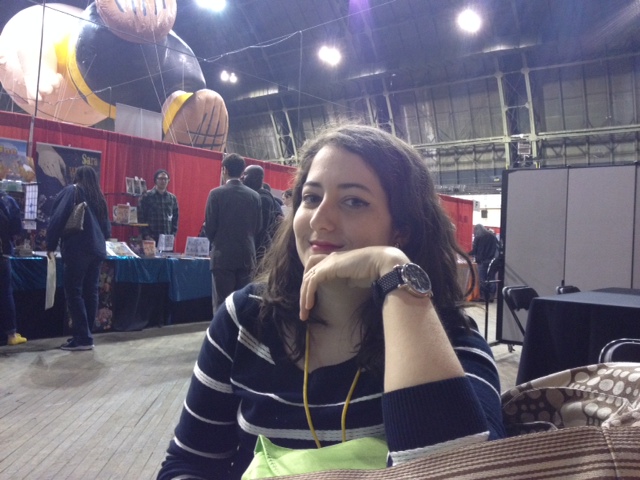 Q: Do you read graphic novels and comics? If so, tell us about some of your favorite books and creators.
LR: I started with InuYasha Vol. 2 and Ranma ½ by Rumiko Takahashi when my niece was in 7th grade. Mia (Amelia) has been a great teacher. She introduced me to a lot of manga artists including CLAMP, a group of four women. I especially like the xxxHolic series. I like the work of many Center for Cartoon Studies artists including Amelia Onorato, Luke Healy, Eleri Harris, Simon Reinhardt, Lucy Knisley, Jason Lutes, Sophie Goldstein, Carl Antonowicz, Joyana McDiarmid, Dakota McFadzean and Hannah Ratblood among others. Alison Bechdel and Craig Thompson are two of my favorites. I take guitar lessons from Mark Lonergan; aside from being a great guitarist, he is a comic artist I admire very much.

Q: Did you attend any of the panels? If so, what can you share with us about them?
LR: I did not have the chance --- I was too busy wandering the tables, getting lost in stories and drawings and talking to the artists. I am a fan-girl. I felt shy talking to Alison Bechdel when she signed my copy of FUN HOME, one of my favorite novels of all time --- it shook me to the core. I told her, "I think you're wonderful," and without missing a beat or knowing anything about me she said, "I think you're wonderful too!" I love her.
Q: Your niece Amelia Onorato was showing her work. Tell us about what she does. Is she still a student at The Center for Cartoon Studies?
LR: Mia graduated in 2012; she makes comics focusing on history. Her thesis ROCKALL was about selkies --- Irish mermaids --- at the turn of the last century, in 1900. She contributed to BINGO BABY, a graphic novel edited by cartoonist Jason Lutes, and is working on a short fairy tale coming out in Dog City Issue 3, a collection that will debut at SPX in September. She is also finishing up Burn The Bridges Of Arta Vol. 2, set in an alternative history of New York City in the 1920's. Her work is lyrical yet historically exacting, unlike anything I have ever seen. More than anything it reminds me of Sarah Ruhl's brilliant stage play "Eurydice," set in another time, yet somehow immediate and emotionally devastating. (The fact I'm Mia's aunt plays no part in my admiration for her work --- honest!) I'll just say it rips my heart out.
One thing about CCS --- it's a wonderfully nurturing place, and I'm so glad Mia went there. I learned about it from Patrick Knisley, manager of 192 Books, my neighborhood bookstore. His daughter Lucy Knisley, who wrote the wonderful graphic novel FRENCH MILK, was a student there at that time, and I passed the word on to Mia. CCS has given her a great community.
Q:Sharing your writing is very different from how artists show their work in shows like MOCCA. How did you feel seeing artists publicly sharing their work?
LR: It felt so vibrant and personal, and I love how the artists support each other. You're right, it's so different from what I know in my writing life --- I am such a hermit, and although I love going out on book tours and meeting readers and other writers, most of my work life is done in complete solitude --- with cats.
Q: Did you buy anything?
LR: I bought tons! Literally. Normally I would walk home from the armory (I live in Chelsea) but I was so weighed down I took the crosstown bus. I started reading right away --- OF THE MONSTROUS PICTURES OF WHALES by Luke Healy. It made me cry by the time we hit Eighth Avenue. I learned later that night that he won a MoCCA Society of Illustrators award for his book.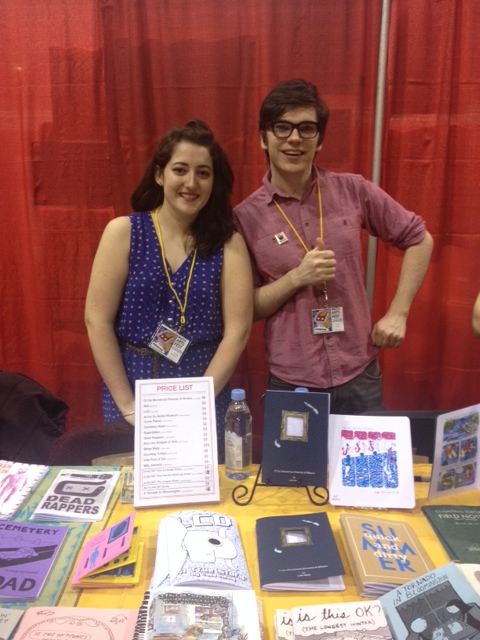 Q: Anything else you would like to share about your MOCCA experience with us?
LR: MentioningMoCCA on Facebook and Twitter brought delightful results. One, you saw that I was there and we were able to connect. Another, my cousin's daughter Katherine Scully is an art student at Syracuse, and she saw my posts about MoCCA Fest 2014 and sent me to the University's table to meet her friends.
Q: What is the title of your next book and when will it be in stores?
LR: THE LEMON ORCHARD will be out in trade paperback on May 27.
Q: What are you working on now?
LR: I am working on a new novel, a departure from what I have done before, and finishing an anthology piece. Inspired by MoCCa and new story-telling possibilities, as of today I am working on a story just for my family, written by me and illustrated by Mia.





Image #1: Rice, Amelia and the comic classic, Charlie Brown
Image #2: Amelia Onorato, Rice's niece and an artist on display at MoCCA
Image #3: Artists Carl Antonowicz and Sophie Goldstein
Image #4: Amelia and fellow artist Luke Healy