While on my two-week Christmas/New Year's vacation I posted commentary on the Bookreporter.com Facebook about many of the books that I read. Here I have compiled that copy, as well as some notes about books that I never had time to post about there. I had dozens of books with me and as I unpacked when we arrived in North Carolina I placed them on shelves in a small office area in the house. Each time I finished one I would peruse the shelves of my personal library looking for the next; I love weeks like this. So here is my vacation reading recap....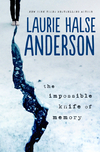 First up, THE IMPOSSIBLE KNIFE OF MEMORY by Laurie Halse Anderson, a YA title, perfect for adult crossover, like her award-winning bestselling title, SPEAK. Hayley Kincain and her dad, Andy are trying to outrun memories; hers of a day she was drowning and his of time spent overseas in war. He is damaged. She works to protects him from drugs, alcohol and mighty demons, a huge job for a young girl! Layer in a nice guy who wants to make life teenage real and fun just to give it more teen appeal. Shadows haunt Hayley and Andy --- and both are looking for light. A pivotal point towards the end takes place over Christmas and made me think of those whose holidays are less than bright. Lots to discuss in it. Great for teens, adults, 20somethings and book clubs.
Next was IN THE BLOOD by Lisa Unger. I read Lisa's first book BEAUTIFUL LIES back in 2006 and knew then with her debut that she was a talent to watch. Reading this, her 8th book, I am reminded I was right. This is a taut psychological thriller that reels you in from the start. It's hard to talk about it without revealing anything, a true sign that is is so well done. I do know two things. One, when I was finished reading it, I wanted to start reading again to see how the story was constructed. Two, I would not want to read it at home...alone...in the dark. Short synopsis: Lana Granger is living a lie. It's hard for her to remember what is real and what is not. As she is wrapping up grad school two things happen. She starts to babysit a troubled and manipulative young boy; a close friend disappears on her college campus. And from there, let the story begin....and take you along on one wild ride! To make sure Lisa gets the attention she deserves, this will be a Bookreporter.com Bets On title.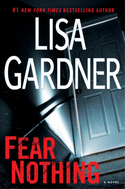 Lisa Gardner has been a favorite author for a long time. In her latest book, FEAR NOTHING, Detective D.D. Warren is recovering from an injury that brings her in contact with Dr. Adeline Glen, to manage her pain. The doctor has her own unusual diagnosis; she cannot feel physical pain, a genetic condition that I had heard about, but I never had pondered the implications of it. Adeline can feel emotional pain and she has a lot of it --- her sister is a convicted murderer; her father was a serial killer who was killed when she was a baby. Now a killer using her dad's techniques is back at it. Lisa's plotting is brilliant, as always. And there is a homage here to an author Lisa admires, Ann Rule, which made me smile. A few years ago Lisa was at a dinner I helped organize where Ann Rule was a guest as well as my son Greg (I was traveling). Loved that SHE had a fan moment that night with an author who she admires! Usually we are those fans when we meet up with her.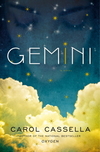 GEMINI by Carol Cassella is coming out in March; we will be featuring it on Bookreporter.com and it will be a Bets On selection. Like her earlier books OXYGEN and HEALER, Carol, who is a practicing physician (an anesthesiologist), takes on a complex medical issue weaving a strong story from it. A woman is found critically injured and unconscious on the side of a road and arrives at a hospital as a Jane Doe. There ICU doctor Charlotte Reese is charged with her care. As she unravels this case her longtime boyfriend Eric, a science journalist and author becomes involved in Jane Doe's plight and at the same time their relationship is tested in ways that they never could have imagined. I loved it. I had the pleasure of meeting Carol in Seattle on my last trip there were we talked for hours in the hotel lobby bar. Carol has two sets of twins and thinking about the science behind twins drove her thinking to thinking about DNA as she wrote this story. I always come away a bit smarter on a medical topics when I read one of Carol's books. Looking forward to seeing her again when I am in Seattle in late January --- and talking about GEMINI.
Next up was THE INNOCENT SLEEP by Karen Perry, who actually is the pen name of the Dublin-based writers Paul Perry and Karen Gillece. This is their first novel together (they are married but not to each other—just friends). It opens in Tangiers where Harry and Robin are living with their son, Dillon. Harry is home with Dillon making Robin a special birthday dinner when he realizes he has forgotten her present. Dillon is asleep and he makes a quickdecision to race over to their friend's home to pick up the gift. While he is gone an earthquake occurs. The building where Dillon was sleeping is destroyed, but his body is never found. Flash forward and Harry and Robin are back in Dublin, their native home, putting the pieces of their lives back together when one day Harry is sure that he has seen Dillon. Who has he seen? It again is well-paced...and it's very well done taking a parent's worst nightmare and putting it front and center. I am picking it as a Bets On and it will be in stores February 18th.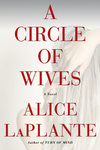 A few years ago I read her TURN OF MIND by Alice LaPlante and I was crazy about it; I have told so many people the plot of that book that inspired them to read it. I hope I can do the same with A CIRCLE OF WIVES, her new one, which is just as strong. Dr. John Taylor is found dead in a hotel room in Palo Alto and it looks like he may be a victim of foul play. Then we learn that this respected doctor has been harboring a secret. He's a polygamist married to three women in three separate cities. All three women are at his funeral and their individual stories collide, with a very interesting twist with one of the troika who was the mastermind of this arrangement. A young female detective is assigned to the case and she finds herself trying to figure out who is telling the truth and who is lying, while let's get real, they all are living a lie. At any moment I said...that one did it, no that one...no....I read the last 100 pages in a sitting and the ending was satisfying. On sale, March 4th.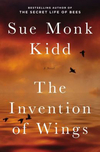 I am seeing Sue Monk Kidd in a few weeks and thus I knew I wanted to start THE INVENTION OF WINGS before I read our review on the site this week. From the first chapters that I have read (I am about 100 pages in), I think this is her best book. Heresy I know since THE SECRET LIFE OF BEES is so admired, but I think this is a more mature book for her. This novel is based on the life of Sarah Grimké, a historical figure who rebelled against inequality for both slaves and women. She and her sister Angelina were hated in their hometown of Charleston, South Carolina for their views, which were seemed heretic at the time. In both the book and in real life Sarah taught her slave, Hetty nicknamed Handful (who had been "gifted" to Sarah when she was 11 as a birthday present) to read. Educating slaves was not allowed and slaves were subject to punishment if they could read. The book opens in 1803 and the details that Sue has written into her story are completely absorbing. Many of us are riveted by the upstairs/downstairs story of Downton Abbey and class differences; with her words here Sue paints a vivid story from a decade earlier (the book opens in 1803), but also delves deeply into social issues and the brutality of slavery and the cost to Sarah Grimké of owning a slave. The story is set up so well that I am looking forward to finishing it.
On the drive home I reached for a book that is not coming out until October, but I am going to be talking it up over these next months. NIGHT BLINDNESS by Susan Strecker is a debut by an author who I am going to be watching. The story opens in Sante Fe (a place I visited once and long to get back to) where Jensen is living with her artist husband, Nic. There she is an aspiring artist as well as an artist's model. As the story opens, It's her birthday and a party with a group of artists who she feels loosely connected to is in full swing. Her cellphone rings with her stepmother calling not with birthday greetings, but rather to share that her father has a brain tumor, and that Jensen should come home to Connecticut.
Home for her has become someplace to run from since the death of her brother, Will, who was a high school football player who died suddenly. Something happened the night that Will died that haunts Jensen and home brings up too many memories. Her father, Sterling, is a football legend; her mom, a former model runs a modeling agency. Her Connecticut life is a privileged one that has been fractured by first her brother's death and now her dad's illness. Layer in that the neurologist treating Sterling is the best childhood friend of Will and the lost love of Jensen's and you have a setup of characters to make for quite a story. Oh the title references the night blindness that has plagued Jensen since the time of her brother's death. There are lots of references to light and dark. My plan on the drive home was to sample a number of books that I had with me, and I started to do that with some very good books, but somehow I kept going back to NIGHT BLINDNESS and I stayed up late to finish it.
Now I am a third of the way into ABOVE by Isla Morley, which we are going to be sharing with you on Bookreporter.com before it comes out on March 4th. Blythe Hallowell is sixteen and enjoying the county fair on the lookout for a boy she has a crush on named Arlo. That night she is kidnapped by Dobbs, a teacher she knows from her high school. He is a survivalist and he squires her away to an abandoned missile silo in Eudora, Kansas. Left alone for days on end Blythe plots escape and longs for her family and the life she knew. The maddening silence beyond the random visits from Dobbs have her inventing people to talk to and it plays havoc with her psyche. Then Dobbs brings her something that pushes her back to reality. I am not sure where this is headed, but I keep saying one more chapter though it's very disturbing. I also love the cover of this book; like the cover of ROOM, to which this book is compared, it tells a story..
A great two weeks of enjoying books and authors….and my shelves which already are filled with upcoming titles that indicate to me that 2014 promises to be a very good one for readers.