In 14 years as a SEAL officer, Rorke Denver tangled with drug lords in Latin America, stood up to violent mobs in Liberia, and battled terrorists in Iraq and Afghanistan. He has spent the past four years as executive officer of the Navy Special Warfare Center's Advanced Training Command in Coronado, California, directing all phases of the basic and advanced training that prepare men for war in SEAL teams. His memoir, DAMN FEW: Making the Modern SEAL Warrior (available in paperback on January 14th), takes the reader inside his own personal story and the fascinating, demanding SEAL training program he now oversees. In his Holiday Author Blog, Rorke talks about the one book that sparked his "flame" and inspired him to become a SEAL.
---

None of the books teachers and professors assigned me from kindergarten through college ever impacted me in a profound way. Many books I read of my own selection and those recommended by others did. The written word has the power to illuminate, transform and inspire. When you find a theme, story or author that speaks to some special place deep within you, there is little better. The most impactful for me was one my father gave me at Christmas my senior year of college: a used, roughed-up paperback copy of Winston Churchill's MY EARLY LIFE.
I was an academically challenged, athletically capable and romantic young man. Not so much the romance of the physical or relational (that would come later), but of youthful passion, a thirst for dangerous adventure and a faith in dreams. Here was Churchill, a statesman, one of history's giants, who had persevered in defiance of peer and authoritative criticism. I wonder how confused his detractors must have been later in life when he became, arguably, the architect whose leadership, speeches and labors led to the fall of the Third Reich and preserved the free world. The descriptions of Churchill's struggles with math and being relegated to the "dunces" English writing class spoke to my educational shortcomings and gave me hope.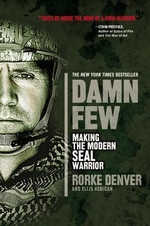 MY EARLY LIFE is Churchill's great autobiography. He chronicles those most critical formative years from military academy up through multiple combat campaigns and experiences. I can only describe my digestion of this book as a "call" to action and arms. As soon as I closed the book, I walked into a U.S. Navy recruiter's office and proclaimed, "I want to be an officer in the SEAL teams. Where do I sign?"
When a young man decides to join the SEAL teams, there is a fire or spark deep within him that guides his journey. Our training program is a crucible, and the instructors who guard it try, with everything they have, to find out if they can extinguish that spark. For a small few, there is no amount of cold water, sand and misery that can douse the flame. I believe this flame exists in varying degrees in all of us. The book my father gave me some 17 years ago served to fan and direct that flame. What a gift.