Ahhhh…the joy of having a week off during the summer to read while floating in the pool. This year we did a staycation, which made things a tad easier as I did not have to pack books in advance. Instead, I would just peruse my shelves and let my fingers dance over what I wanted to explore. What happened? Eight books in 10 days, not bad! Here's what I explored....

MOONRISE by Cassandra King (On Sale Now)

I have been a fan of Cassandra King's for a while now thus seeing she had a new book made me smile. I had started this one earlier this summer and was so happy to get back to it. MOONRISE is set in the Blue Ridge Mountains of North Carolina where my sister has a vacation home so I know the area well. The title of the book is drawn from the name of the house which was originally occupied by Emmet and his first wife Rosalyn. She cultivated a beautiful moon garden, created of flowers that bloom in the evenings and look wonderful in moonlight like moonflowers, night jasmine and white butterfly bushes, which now has gone to ruin after she died under mysterious circumstances the prior fall. Emmet hastily re-wed a younger woman named Helen and this will be their first summer up at Moonrise. Old friends are not welcoming to Helen and the mystery surrounding Rosalyn's death swirls around them. The story is set from Helen's point of view and it unfolds so well. It's a homage to REBECCA, but it had enough of its own style that I found myself not comparing the two. And the oh la la at the end were the pages about how to create and cultivate a moon garden. Loved reading that and now want to plan one for here at the house!

---
THE ROSIE PROJECT by Graeme Simsion (October 1st)

I had heard a lot about this book and reading it I see why. It's the kind of book that makes you smile as you read it --- and laugh --- and it's also wickedly clever. In it Don Tillman is a professor of genetics who sees all of life through a scientific lens. He has not had success in dating and thus he decides to attack this the way he does everything else in life, with a plan. He crafts a 16-page questionnaire in a quest to find the perfect mate. While I know this is ill-conceived, somehow the fact that Don's approaching the issue this way is both charming and humorous. The first women to answer it fail, but Don plunges on. And then he meets Rosie, who does not pass the questionnaire, but instead brings Don a project he can help her with. She wants to find her biological father and who but a geneticist can help with that? So the "Wife Project" that Don calls his questionnaire…becomes the "Father Project" to help Rosie. And well, you can figure out where things go from there. Complete comedy!
Don is humorous in all that he does, from sizing up people by their BMI (body measurement index) to the blunt way he cruises through life. I finished it in one sitting and immediately went in and wrote the person who had handed it to me. In fact, I wrote two people since I had this championed to me more than once. It's clever, smart and fun, as well as being very well plotted and written. A nice combo. The way Don overthinks EVERYTHING is really amusing. A total rave!

---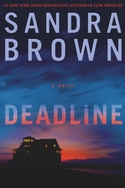 DEADLINE by Sandra Brown (September 24th)

A summer tradition for me is floating in the pool reading a Sandra Brown book and this summer I am happy to share that the tradition continued albeit in a pool in New Jersey instead of on the Outer Banks. Dawson Scott is a respected journalist, back from reporting in Afghanistan where he has been scarred by what he saw overseas. He is drawn to cover a murder trial after a friend from the FBI gets him interested in the story as the murdered man is Jeremy Wesson, the son of a pair of domestic terrorists who have been outlaws since a siege took place 40 years ago. With thoughts of Waco and Ruby Ridge dancing in my head I was completely captivated by "what ifs." Since it's Sandra Brown, of course there's a love interest for Dawson, and it's Wesson's ex-wife, Amelia.
Much of the story is set on a private island off the coast of Georgia where the action ramps up with more murder and deception. I am glad I was not alone at the beach reading it! Sandra's plotting is so smooth that you never see the twists coming. But you never feel cheated since if you had been really paying attention you might have caught the red herring, but I dare you to be able to figure it all out. It's a pure pleasure to read her!
By the way, I cannot help but wonder if the soldier theme in this book was inspired by Sandra's USO trip with the International Thriller Writers Association. She writes so effectively about the scars of war!

---
LONGBOURN by Jo Baker (October 8th)

Back in May at Book Expo America I heard Jo Baker present this book at a breakfast. She captivated me as she talked about the staff who worked at Longbourn, the house made famous in PRIDE AND PREJUDICE. Her characters are not the people who wore the elegant clothes and enjoyed the fabulous meals, but rather the ones who spent their days making the soap to use to clean the clothes and then wash them by hand.
As the cover line says, this is an "irresistibly imagined downstairs answer to PRIDE AND PREJUDICE." The protagonist, Sarah is an orphan who slaves away for the family, but she dreams of being somewhere else. She falls for a footman who begins work at the house, a man who clearly had a troubled past. And her story weaves into that of the Bennet household making the story irresistable.
Sure we think we know the "downstairs" folks from watching Downton Abbey, but what about those from even earlier in history where even the soap was made from scratch?
I confess to not being a Jane Austen fan (I know…heresy), but this story of the staff of the Bennet household drives me to want to pick up PRIDE AND PREJUDICE again. This could be a perfect tandem reading book for a book group discussion. I love finding books that pair together well like that!
It's rich, atmospheric, completely fun and engaging! I loved every moment of reading it. Whether you are a Downton fan or and Austen fan, this will be fun reading!
---
BITTER RIVER by Julia Keller (On Sale Now)
This is one of those books that I have wanted to get to all summer, but something always jumped in front of it. I had been a fan of A KILLING IN THE HILLS, which was Julia's debut book last summer. Here we once again meet up with Bell Elkins, the district attorney in Acker's Gap. Again there is a murder in this small town in West Virginia as a young girl named Lucinda Trimble is found dead, killed along with her unborn child. Lucinda has been dating a rich boy in town and right away fingers start pointing all over town. At the same time, a friend from Bell's past comes to live in town and his presence brings some very dangerous consequences.
Keller's characters are vivid, her writing is strong and she makes Acker's Gap feel very real. I look forward to reading more from her. And oh, as I was reading, I also learned how West Virginia came to be. Nice when a well-done mystery carries with it a history lesson!
---
THE DEEPEST SECRET by Carla Buckley (February 14, 2014)
When I "read ahead" and find a gem, it's a real joy. When reading THE DEEPEST SECRET I felt the same way that I did reading DEFENDING JACOB; it's that good! This book is destined to be BIG. When I was three chapters in I said to my husband, "I am in trouble…this one is an all-nighter." There is a really exciting feeling that comes when you find a book like this.
Here's the setup. Eve Lattimore is the very vigilant mother of Tyler, a young boy who must be watched like a hawk; a boy who literally cannot see the light of day as it will kill him as he has a rare skin condition. Eve has devoted her life to Tyler. She works to bring him joy from things like jumping on a trampoline at night and excursions to places like zoos under the cover of darkness. She chides neighbors to not use halogen lights, she fears the beams of headlights as they too carry scary UV beams. She works each day to make Tyler's world as "normal" as it can be while she still is hyper vigilant.
One night something happens on their quiet cul de sac that will threaten the "safe" world that she has constructed. And from there everything that once seemed safe, is now at risk. The book works on all levels --- characters, plotting, twists and turns. I was completely wrapped up in it….and loved the way it unfolded. Reading it outside I was ready to huddle under a blanket as the sun was shining; I was that into the story.
The book opens with a chapter header of "Thursday, August 28th, "with the times of sunrise and sunset noted. Each chapter of the book takes place during a day where the sunlight is carefully measured. Most of the story is done by "Saturday, September 13th." I read the entire book between August 31st/September 1st and thus it all felt even more real. I was a fan of Carla's first book THE THINGS THAT KEEP US HERE, another book that felt very real to me when the power went out at the vacation house we were renting the morning I read it, just as it had in the novel.
I knew then that Carla had great talent then….THE DEEPEST SECRET sealed it for me! Expect to hear me talking about this a lot more in the weeks and months to come.
---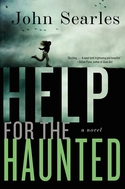 HELP FOR THE HAUNTED by John Searles (September 17th)
It's been a while since John had a book out and I had been hearing about HELP FOR THE HAUNTED for a while now…with wild raves. I see why; it's wickedly good!
Years ago on a snowy night, Sylvie Mason's parents, who were demonologists had been killed in a church while she waited outside in the car. Who killed them is at the heart of this story, but Searles gives us so much more than that in his writing. It's described aptly as a coming-of-sage tale. With Sylvia, we are literally unwrapping characters as we learn more about Rose, Sylvie's older sister and their parents, as well as a host of people who have been "treated" by the parents through the years. She is haunted by what happened that night and until she is able to solve it, her life is in some kind of limbo. The plot unfolds right til the end; it's completely riveting. And deserving of the praise it is getting.
---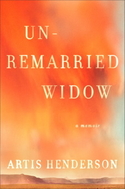 UNREMARRIED WIDOW: A Memoir by Artis Henderson (January 7, 2014)
I never had heard the term "un-remarried widow" until a few weeks ago when a friend on Facebook explained what is was in military terms. It means the wife of a dead soldier who has not yet remarried.
Artis Henderon was widowed when her husband's Army helicopter crashed in Iraq in 2006; she was 26 and newly married. She, like her mom, was widowed by a husband dying in a plane crash. What she writes here is a love story, as much as a story of survival. She writes about the stress and strain of surviving military life while at the same time the joy of falling and being in love. One of the references on it is to THE YEAR OF MAGICAL THINKING and I can see why. It's the kind of a book that will stay with me in much the same way. After finishing the book, I wanted to see Artis and hear her talk about the story thus I was lucky enough to find this video where she does just that.
It's a beautiful story by a very gifted writer who I look forward to hearing more from.