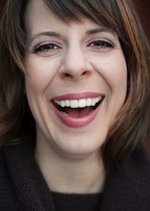 We wrap up this year's "June is Audiobook Month" blog series with Tavia Gilbert, an Audie Award nominee who has performed over 100 full-length audiobook narrations. With a hand in both production and pre-production, Tavia is quite an expert when it comes to what goes on behind the scenes. Here, she walks us through the creation of an audiobook, shares the ways she personally makes an emotional connection to the material, and talks about the joy of finding a book to record that she feels is truly important --- including the most meaningful audiobook of her career.


Question: What do you love about narrating audiobooks?
Tavia Gilbert: I love being a storyteller, playing dozens of characters (many of whom I would never have an opportunity to play on stage or in film), working with writers and delighting listeners. I love bringing stories to people who would otherwise not have an opportunity to enjoy them (particularly sight-impaired listeners). I especially love having a deep relationship with literature and language. I am passionate about language and the craft of writing, and having audiobook narration be my full-time job has been an honor and a delight.
Q: How do you prepare for a recording session?
TG: I am ready to record when I have read the script, researched unfamiliar pronunciations, reviewed the character profiles, prepared the dialects, and have had enough rest so that I can sustain long recording sessions.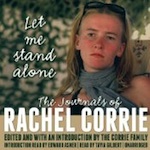 Q: Is it important for you to connect emotionally with the material you are reading? Do you have interaction with the author?
TG: I can't help but connect to the material emotionally. Even if it's a story or a genre I don't personally love, I'm still connected. That's my job --- to make myself emotionally available so that I can share a resonant story with listeners. Connecting with Jeaniene Frost and the passionate fans of her series and her characters, especially CAT, BONES, AND VLAD, has been really fun and funny. I was really honored to voice the debut novel by Mike Greenberg (ESPN's "Mike & Mike in the Morning"), ALL YOU COULD ASK FOR, and to interview him about the story behind the story. (I blogged about it here). I connect with Loung Ung, the writer of the memoir FIRST THEY KILLED MY FATHER. I was deeply moved by her unflinching account of the horrors of losing her family to the sadistic Khmer Rouge. Having a chance to speak with Loung was humbling and inspiring.

The most meaningful audiobook of my career has been LET ME STAND ALONE, the diaries of Rachel Corrie, the young woman killed by an Israeli bulldozer in the Gaza Strip in 2003. When I learned that her journals, published by her family in 2008, had never been put into audio, I reached out to her family and got their blessing to obtain the audiobook rights. I reached out to Ed Asner, a friend, and he graciously agreed to narrate Rachel's father's introduction to the book, which Blackstone Audio agreed to distribute. I narrated the book during the week leading up to the 10-year anniversary of Rachel's death, and even on the anniversary of her death, which was emotionally wrenching, and important. The audiobook has just been published, and I am hopeful that this small contribution to keeping her voice and memory alive will reach new audiences, and inspire conversation and compassion. (I've made a short video about the project.)
Q: What has been your best/worst experience in the studio?
TG: In 2012, I produced a series of full-cast audiobook recordings with 35 actors, including children, teens and adults, and that was the most fun I've ever had in the studio. It was wonderful to helm simultaneous production of four titles recorded over two weeks with that many people --- all of whom were enthusiastic, well-prepared and totally committed, from the six-year-old with three lines to the 70-year-old with a pivotal scene. I love producing as much as I love narrating, and even though narrating alone in my home studio is a pleasure, it is deeply satisfying and thrilling to collaborate with other artists to make great work.
Q: What narrators do you admire?
TG: Barbara Rosenblat, Katherine Kellgren, Davina Porter, Simon Vance, Sophie Thompson, Bernard Cribbens.
Q: If you listen to audiobooks in your free time, tell us about your favorites.
TG: The Nevada Barr series narrated by Barbara Rosenblat, the Isabel Dalhousie series narrated by Davina Porter, The Millennium series narrated by Simon Vance, the Bloody Jack series narrated by Katherine Kellgren.