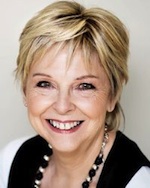 Lynda Hudson is a practicing hypnotherapist, and is the author of two highly acclaimed handbooks for therapists. A former clinical hypnosis lecturer for the London College of Clinical Hypnosis and teacher of clinical hypnosis for Thames Medical Lectures, she has helped thousands of children and teenagers with a wide range of issues, including anxiety, fears, confidence and self-esteem. In this interview, Lynda talks about how much more accessible a good narrator makes a book, why listening at the gym is the best, and the reason it's so hard to record self-help audiobooks on getting a good night's sleep.

Question: What does a great narrator add to an audiobook?
Lynda Hudson: They can bring a book to life adding nuance that the on-the-page reader may not pick up.
Q: What types of books do you like to listen to on audio?
LH: Human interest, something with a psychological slant, some books thought "difficult" where the reader's intuition and intonation can bring it to life. For pure relaxation anything by John Grisham is engaging. He also has very good narrators. Love William Boyd, too.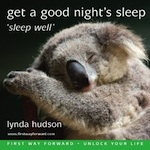 Q: What do you do while you listen?
LH: Anything where I don't have to concentrate on something else...menial tasks, filing, tidying up, going to the gym, occasionally just relaxing, putting on make-up, doing my hair. Almost anything, but going to the gym is probably the best as it takes my attention and allows me to stay there a bit longer than I otherwise would!
Q: Do you have a favorite narrator? Tell us what makes his/her work so enjoyable for you.
LH: John Chancer, Michael Kitchen, Jim Broadbent, Harriet Walter, Anna Bentinck, Victor Marzello. Alan Bennet and Julian Barnes reading their own books. All of them are very different but make the book sound interesting and bring it to life and have an effortless delivery. They sound perfectly natural and have no forced stress patterns (as quite a lot of narrators do). Some readers have learned a way of emphasizing certain words in a sentence, and as a listener I find it incredibly irritating. I find I'm thinking about why they stress this or that word instead of being engrossed in the narrative. One or two have irritated me so much I couldn't continue listening, but the ones that are good (if the writing is good, too, of course) can make you unable to put the recording down until the end!
Q: Have you ever narrated your own audiobooks? If so, tell us about your experience.
LH: I have authored more than 50 self-hypnosis downloads helping people deal with lack of confidence, fears, anxieties, depressed feelings and sleeping problems, to name but a few areas. I write and record for both adults and children. Everything is based on my one-to-one experience as a practicing clinical hypnotherapist, so I record just as though I had a client/patient in front of me. Sometimes the technician has a bit of a problem concentrating and staying awake while I record titles such as GET A GOOD NIGHT'S SLEEP or REST AND SLEEP!