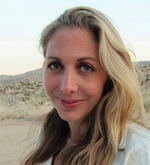 Joanna Hershon, author of SWIMMING, THE OUTSIDE OF AUGUST, THE GERMAN BRIDE and, most recently, A DUAL INHERITANCE, knows a thing or two about the value of a good kids' audiobook. The mother of two lively seven-year-old boys, Joanna often relies on the gentle magic of a spoken story to get them settled down.
Question: What does a great narrator add to an audiobook?
Joanna Hershon: A great narrator adds a style, a sense of tone, without overpowering the words of a book.
Q: What types of books do you like to listen to on audio?
JH: All kinds --- but I'm a big fiction reader, so it's usually literary fiction.
Q: What do you do while you listen?
JH: Exercise. If I drove, I would listen in the car.
Q: What is the first audiobook you ever listened to? What prompted you to choose that title and to listen vs. read it?
JH: I listened to A WIDOW FOR A YEAR by John Irving with my husband when we were driving cross-country. As with anything new and technological in any way, he introduced me to the concept of audiobooks.
Q: If you are listening to any audiobooks now, tell us about it.
JH: The audiobooks most prominent (and indispensable!) in my life are the audiobooks for my seven-year-old twin boys. They never really took to napping, and we realized years ago that if we put on an audiobook, they would stop wrestling and jumping around and actually relax, quietly. The books work like magic. They're both big fans of The Magic Tree House, The Time Warp trio, HOW TO TRAIN YOUR DRAGON, A to Z Mysteries, The Boxcar Children…the list goes on...
Q: Have you ever narrated your own audiobooks? If so, tell us about your experience.
JH: I recently recorded the audio edition of my new novel, A DUAL INHERITANCE. It was hard work and a wonderful experience. I loved working with my director May Wuthrich and my engineer Zane Birdwell. They both had a quiet and witty sensibility that made the process a pleasure.