Karin Slaughter, the New York Times and #1 internationally bestselling author of 13 thrillers, is no stranger to the thrill of a good audiobook. In this interview, she discusses the dangers of listening to a shocking story while running on a treadmill, how listening to Annie Proulx's ACCORDION CRIMES can turn even the most stubborn reader on to audiobooks, and the paradigm-shifting effect of ear crushes (which aren't as painful as they sound). Karin's latest thriller featuring detective Will Trent, UNSEEN, releases on July 2nd.

Question: What does a great narrator add to an audiobook?
Karin Slaughter: A great narrator can turn a reading into a performance. I really enjoy listening to what Kathleen Early does with my stories --- she opens up parts of them that I did not know were there.
Q: What types of books do you like to listen to on audio?
KS: I prefer thrillers because they move so quickly that you kind of forget what you're doing. If I'm going on a long trip, I'll get some historical fiction to pad out the miles.
Q: What do you do while you listen?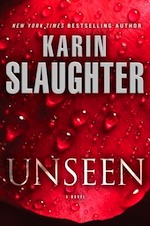 KS: I like to drive and listen. Sometimes, I'll listen on the treadmill, but I tend to stop when shocking things happen and that can be very dangerous.
Q: What is the first audiobook you ever listened to? What prompted you to choose that title and to listen vs. read it?
KS: Sara Paretsky's BURN MARKS read by Kathy Bates. I used to have a long commute, and even though I'd read everything Sara had written to that point, I wanted to know what the stories sounded like when read by a pro. Bates is an exceptional narrator.
Q: If you are listening to any audiobooks now, tell us about it.
KS: David Sedaris's LET'S EXPLORE DIABETES WITH OWLS. This is a man who knows how to tell a story.
Q: What is your all-time favorite audiobook and why?
KS: Annie Proulx's ACCORDION CRIMES --- fantastic stories fantastically told. When people grumble about audiobooks, this collection is the one I recommend to change their minds.
Q: Do you have a favorite narrator? Tell us what makes his/her work so enjoyable for you.
KS: I've got a bit of an ear crush on Edward Herrmann (who also narrated ACCORDION CRIMES). I associate him so closely with David McCullough that when I saw McCullough interviewed, I thought his voice was dubbed!
Q: Have you ever narrated your own audiobooks? If so, tell us about your experience.
KS: I read a short story once and it was a horribly painful lesson in why I should never, ever read my own audiobooks.