No buried secrets here: Joseph Finder is the New York Times bestselling author of many thrillers, including THE ZERO HOUR, HIGH CRIMES (made into a major motion picture starring Morgan Freeman and Ashley Judd), PARANOIA (the film adaptation with Liam Hemsworth, Gary Oldman and Harrison Ford is scheduled for release in August), COMPANY MAN (winner of the Barry and Gumshoe Awards for Best Thriller) and KILLER INSTINCT (recipient of the International Thriller Writers Award for Best Thriller). His most recent thriller, BURIED SECRETS, is a sequel to VANISHED, which introduced readers to private spy Nick Heller. In our latest audiobook blog post, Finder reveals his favorite audiobook, the danger of driving while listening, and the importance of keeping track of accents when recording your own books.

Question: What does a great narrator add to an audiobook?
Joseph Finder: Expression, suspense, tension, drama.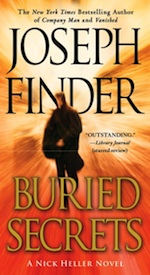 Q: What types of books do you like to listen to on audio?
JF: Thrillers.
Q: What do you do while you listen?
JF: Drive. I often get lost.
Q: What is your all-time favorite audiobook?
JF: The Harry Potter series.
Q: Do you have a favorite narrator? Tell us what makes his/her work so enjoyable for you.
JF: Holter Graham has narrated my most recent books and he's doing a great job. I have a special fondness for Scott Brick, who's done so many of my books.
Q: Have you ever narrated your own audiobooks? If so, tell us about your experience.
JF: Yes, and it was grueling and exhausting and I kept forgetting which accents I'd assigned to which characters...