The qualities of a good audiobook are no mystery to Mary Kay Andrews. In this interview, the New York Times bestselling author of 20 books --- 10 of which are mysteries penned under her real name, Kathy Hogan Trocheck --- discusses the captivating power of audiobooks and how especially useful they are on long car rides with children. Her 10th Mary Kay Andrews novel, LADIES' NIGHT, is now in stores.
Question: What does a great narrator add to an audiobook?
Mary Kay Andrews: A great narrator holds me hostage to the story --- amping up the suspense, sweetening the romance, deepening the drama. A narrator with pitch-perfect timing and acting credits makes the audiobook experience much more enjoyable.
Q: What types of books do you like to listen to on audio?
MKA: I listen to a little of everything. Lots of mysteries and thrillers, some romance, contemporary fiction, the occasional classic, biography and nonfiction.
Q: What do you do while you listen?
MKA: I listen while walking in my neighborhood or on a treadmill, while driving and sometimes on planes.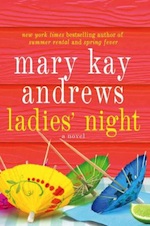 Q: What is the first audiobook you ever listened to? What prompted you to choose that title and to listen vs. read it?
MKA: We were taking our then-young children on a 10-hour car trip to Florida. I checked out an unabridged BBC audiobook of TREASURE ISLAND from our local library --- which captivated all of us.
Q: If you are listening to any audiobooks now, tell us about it.
MKA: I'm listening to REBECCA, by Daphne DuMaurier. REBECCA is my favorite novel, and I've actually visited the town in Cornwall where the fictional Manderley is located. The narrator is an English actress whose soft, upper-class accent adds so much to this atmospheric Gothic suspense novel.
Q: What is your all-time favorite audiobook and why?
MKA: Maria Semple's WHERE'D YOU GO, BERNADETTE is my current favorite --- the actress who narrates, Kathleen Wilhoite, manages to bring a preteen girl, her troubled mother, and even her father, so vividly to life the story stayed with me for weeks. And the story --- clever, funny, heartbreaking --- is absolutely original.
Q: Have you ever narrated your own audiobooks? If so, tell us about your experience.
MKA: I've never narrated my own audiobooks. Maybe someday I'll narrate a short story!