World Book Night was a huge success! Our readers from across the country told us about their experiences throughout the week on our Facebook page and in emails to Carol. We are happy to share comments from a handful of them, along with photos from some. Reading these stories made us realize how many in this country are without a book to read. To learn more about World Book Night, check out their Facebook page.
---
Kathy P. from Jefferson, TX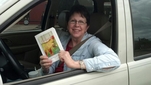 I gathered all my friends to help me do what I love and live to do, promote literacy at my Hair Salon/Bookstore, Beauty and the Book, headquarters of the largest "meeting and discussing" book club in the world, The Pulpwood Queens!! I just finished handing out books to all who drove by my shop and I loved telling them that they were FREE!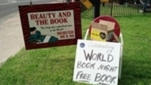 Living in the second poorest county in the State of Texas with a county wide 39% of illiteracy, that's around 4,000 who cannot read or write, I am on a mission to do everything I can to lower that number. From starting the Dolly Parton Imagination Library Program in my county to signing up to be a World Book Giver and so much, much more. If it's about promoting literacy, I am so there!
Personally, I gave away THE LANGUAGE OF FLOWERS and MONTANA SKY.
---
Maureen A. from Chalfont, PA
I gave away THE GIRL WITH THE PEARL EARRING, while a friend gave THE LIGHTING THIEF. We picked up the books at our local book store, Doylestown Book Store, where they had set up appetizers for book givers. So nice! We gave away our copies at the Wissahickon Valley Library. They set up a table for us at the entrance. We brought tulips to jazz up our table.
It was fun speaking to young teenagers about THE LIGHTNING THIEF and adults about THE GIRL WITH THE PEARL EARRING. There were some that would not have been able to own a book if not for World Book Night. This was my second year and I can't wait to do it again. Not sure who got more out of it, me or the recipients of the books. I have loved books my whole life and love to talk about them.
---
Sue W. from Columbus, GA
I'm giving out FAHRENHEIT 451, one of my all time favorite books. I'm going back to my alma mater and will be giving books out there as there are high school students who I want to encourage. With all the changes over the years, many students at that school are now from low-income families. With the help of the Guidance Director and the librarian, I will be able to get the books into the hands of some students that need some encouragement. As a retired high school teacher, I wanted to let you know I'm thrilled to share World Book Night with you!
---
Bobbie M.
For World Book Night my daughter and I gave out THE LIGHTNING THIEF. Last year we hung out at the local YMCA and handed out the books to kids at the Y. Our feelings were good as we were able to give the books out and make some kids happy, but we were uncomfortable with the idea that we were not exactly fulfilling the purpose of the night, which was to get the books into hands of people that are not normally readers.
This year we took a different approach. Instead of just handing out the books to random kids we donated the books to all of the 4th and 5th grade classroom libraries of our local elementary school. We figured this would get the books out to a lot more kids then the number of books we had. After handing the books to the classroom library we had 5 books left over which were distributed to kids that could not afford the book, but were really interested in having one. At the end of the night, my daughter was upset not to have a copy of the book for herself, but the next day at school she saw many copies of the book with book marks in various places, so she felt we did our job. Also the thanks she heard put a smile on her face. It was a successful night and a gave us a feeling that the books will be enjoyed for years to come.
---
Erin C. from Orlando, FL
Organized chaos with good family and friends! I had 40 books to giveaway as my husband had signed up as well. I recruited parents, book club girls (with spouses), some of my favorite youth and one handsome 5 year old nephew! We went to what is called The Milk District where we thought there'd be a great mix of people to hunt down. My mom took my nephew around with THE LANGUAGE OF FLOWERS and Gerber Daisies, who could resist a free book and flowers!
My dad gave THE TENDER BAR to one guy that he just knew needed a book! Have you ever seen someone try to fit a book in the back pocket of skinny jeans? It can be done. And I talked the ear off about both THE TENDER BAR and THE LANGUAGE OF FLOWERS to one guy who I thought had asked what the whole event was about but apparently had really asked if I knew where the bathroom was!
Thanks to my friends and family, we were successful at getting all 40 books passed out and look forward to giving next year!!
---
Amanda from Langley, WA
We, my husband and I, decided to try giving BOSSYPANTS and CITY OF THIEVES away on the ferry, since most commuters just sit and don't seem to read. We found out from our library that they had a group of people that were doing the same thing, so we changed our plans and decided to walk around our downtown. We got rid of all but a few books, but people were actually turning us down! I believe we would've had more success on the ferry, but the ones we did give books to seemed to appreciate them! My 4 year old helped us and had a great time.
---
V. Taylor from Charleston, WV
I initially planned to give out THE LANGUAGE OF FLOWERS at the Charleston Town Center Mall, a local shopping center. However, I found out there was a local breast cancer and health awareness event scheduled for the same night as World Book Night and began to panic as I try to attend this event each year. Fortunately, I received permission from the organizers of the event to give out my books at the "Holiday in Pink" event. I explained World Book Night to numerous people, including the ladies at the registration table for the event and was able to give out two books right away.
Most attendees simply weren't interested in receiving a book, even when told it was free. Luckily the vendors at the event were a little more receptive. One booth featured a vendor, her tween daughter, her mother and her grandmother. It was great seeing all four of their faces light up when they each received a copy of the book. I was able to giveaway all of the books within 45 minutes of my arrival.
Almost everyone was intrigued by the idea of World Book Night, as well as the fact that so many books were being given away around the world. I hope that at least half of the recipients will end up reading the book and perhaps inspiring other reluctant readers to pick up a book, any book, and read.
---
Julie D. from Fort Pierce, FL
My 9 year old daughter and I roamed around the downtown area of our town, Fort Pierce FL. We offered copies of THE ALCHEMIST to random people we met on the sidewalk, and also stopped in to a few businesses --- bakery, take out restaurant, and a gelato restaurant. Every single one of the folks we told about the World Book Night event was very kind and listened to our small speech. Each one smiled and seemed extremely happy and surprised to be offered a free book. I loved being able to share a little about our love of books, and especially about THE ALCHEMIST. We left each recipient with the words, "Happy reading" and a smile!
---
Carol from Columbia, CT
April 23rd dawned gloomy with lingering rain, but the weather couldn't dampen my spirits. My excitement in being a World Book Night giver had been building for weeks and finally my day had come. I was thrilled for the opportunity to spread my love of reading with my community in the form of THE BOOK THIEF by Marcus Zusak. I chose THE BOOK THIEF as I had read many of the other wonderful books but wanted a chance to read something new. I had heard such wonderful things about THE BOOK THIEF and thought it was an all ages book that would appeal to both men and women. After reading it, I know why it has won awards and been a hit with so many.
Columbia, CT is a small town with few local businesses. Originally I thought our landfill might be the place as so many people in town make use of that service. Unfortunately, they are closed on Mondays. We have a few breakfast stops; closed on Mondays. Someone thought the package store might not be the best place so I finally decided on our US Post Office. Closed on Sundays, I figured Monday morning should do a brisk business. I rounded up an oversize poster I had made, the books, a small table for display, my library's bookmarks and my library's business card (this proved to be a good idea) and headed off with great expectations.
After setting up, I waited for my first prospect and kept repeating my brief pitch in my mind. I knew I had only a few moments to capture my prey. My nerves were jangling and I had to keep taking deep breaths to calm myself. As the first person approached I could already see the "what is she selling look on his face" but I jumped in and asked him if he would stop after conducting his business and give me a few moments to tell him why I was there. He said "No! I'm way too busy and working besides." Thank you...that's my reply. Not a good start to my hour and a half spent giving away my books.
More men than women actually took the book in the end. Many people looked at me and wondered what I was selling. I could see some thinking I belonged to some religious organization. Regarding the skeptics, my contact information and the written introduction by the publishers explaining World Book Night seemed to ease most concerns as to my intentions.
Though it was harder than I thought to give away my books, the experience was fun and as I thought about it throughout my day and heard feedback from my fellow givers, I feel privileged to have participated in World Book Night 2012.
---
Lori from Flower Mound, TX
I received 20 copies of THE BOOK THIEF. I handed a couple out to people I know that don't read and they promised me they would read it. The rest I took to Gideon Math & Reading center. I explained what World Book Night is and asked the owner if she would like to have them for her students that don't read much or don't like to read. She was very grateful for the donation. I know when I was young I needed help with my reading skills. I did not like to read and when my parents found out I had trouble, I was forced to read 15 minutes a day. I've been in a book club for 10 years. I can't stand to not have a book with me now. It was fun to be able to share the love of reading.
---
Merry from Danville, KY
I want to share my story about my experience with World Book Night 2012 giving away THE BOOK THIEF by Markus Zusak. I chose as my book recipients a rural middle school 7th grade class in K. Garrard County Middle School, Lancaster, KY. My daughter is also a student in this class. The kids were very welcoming and the teacher told me how grateful she was that I had chosen her class to give the books to. When I initially contacted her I found out that there were 25 students in the class and I was promised 20 books for WBN. After purchasing enough extra books I was very excited about handing them out to the kids.
To make a long story short the kids were really excited about the book. We had lots of class discussion about what the book was about and their expectations of the book. I could not believe that these 12 and 13 year olds were willing to talk about reading with me. We talked about other books they were interested in. It was truly an eye-opening experience. I spent the whole class period with them. As a surprise I brought along a sweet treat just to stay on their good side. Overall, I look forward to being a giver again next year. What a truly amazing blessing it is to share my love of reading with a group of kids who may one day be the catalyst for other young readers.
---
Cristina from Coral Gables, FL
I gave copies of THE POSIONWOOD BIBLE at Prana Yoga in Coral Gables and other various locations. Most people were happy, saying that they were looking for something to read or that I had given them a treasure. A college student said it would be a great break from reading stuff for school. Some people we approached were hesitant when we said it was a free book, they thought something would be attached to it; one even asked if we belonged to a religious group, but I can understand, the title THE POISONWOOD BIBLE didn't help! Overall, I can't wait to participate once again.
---
Denise from Rockville, MD
I had such a fun World Book Night experience. I went to pick up my book, one of my favorite books on earth, A PRAYER FOR OWEN MEANY by John Irving at a reception at Politics and Prose bookstore. The bookstore had a sweet reception; I had the chance to talk to many other book givers, who had fairly elaborate giving plans.
My plan was simple, and as the date approached, I worried it might be too simple. I just had a place in mind, and hoped the rest would fall in place. I planned to bring my books to our town square area; it is anchored by a library. I chose 7PM as my giveaway time because that is high traffic time in the square; students closing up studying, adult learners' meeting tutors, little kids returning books and attending story time, people visiting the local stores and restaurants.
My husband came with me. I worried about skepticism; I got none! The first person I approached listened to me was surprised that there was no donation expected. He happily took his book, and tucked under his arm. And we were off.
The books flew into the happy arms of happy recipients; one young woman came racing out of the library, after talking to a friend who had just gone in with the book, saying "WHO IS GIVING OUT JOHN IRVING BOOKS?" One woman said the book would help her learn to read in English. Another said he always wanted to read a John Irving book, but had never had the chance. Another told me that he worked on interfaith issues, so was drawn by the first sentence in the book about Christianity.
I met some lovely people, and had so much fun. By 7:20, we were out of books!
---
Lois from Maitland, FL
I spoke before a large group of seniors at the Jewish Community Center in Maitland, Florida. The first thing I did was explain the purpose of World Book Night and the hoped for outcome. Next I briefly explained a bit about the book, THE BRIEF AND IMMORTAL LIFE OF HENRIETTA LACKS. Everyone had questions and I explained that it is a nonfiction book with a great storyline and that our book club at the JCC read it and loved the discussion that followed. Needless to say everyone wanted a copy of the book. I tried to limit its distribution to those people who hadn't been reading much lately. But everyone who received a book, promised to pass it on. I believe it was successful.
---
Marge from Silver Springs, MD

I am a 63 year old white woman with an Asian grandson who set out at 4PM on a rainy Monday afternoon to be a Book Giver. I chose the Spanish edition of THE BRIEF WONDROUS LIFE OF OSCAR WAO to give out at the local 7/11 where many Hispanic day workers hang out waiting for work or, in this case, after work, a day with no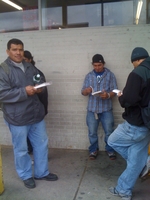 work, or waiting for a ride. Attached are 2 pictures of people who wanted the book. I gave it to 19 men and 1 woman, first asking if they read Spanish and showing the title.
At first a few didn't believe that the book was in Spanish since I only speak English. Some didn't believe it was free and many spoke little English. I showed them my button and the place on the cover that said it was World Book Night. I encouraged them to read it and then give it to a friend. I didn't chat too much other than talk about the story but loved the looks of interest and feelings of possession I received. There's nothing better than owning a new book.
---
Lynn from Falcon Heights, MN
I was lucky enough to be one of the book givers for World Book Night giving away Q IS FOR QUARRY by Sue Grafton. I stationed myself (with a friend) outside of a regional grocery chain. My 20 books were gone in about twenty minutes. Many of the recipients have "English as a second language". They were especially pleased to be receiving free books in English.
One woman had read about the giveaway in the St. Paul Pioneer Press that morning and was so excited to be part of the giveaway that she was jumping up and down! She stayed and talked for quite a while about books and the giveaway.
Another woman said that she was not a reader but was willing to give it a try. She would pass along the book once she was done. When giving a mom a book, I felt badly that I didn't have anything to give to her little boy. He told me that "It's OK… I have books at home!"
It was a wonderful night and I was floating on air as I made my way home. I hope to do this again next year. I would think about going to a soup kitchen or a group house setting for that give away!
---
Frances from Silver Spring, MD
I gave away I KNOW WHY THE CAGED BIRD SINGS by Maya Angelou. Let me tell you how hard it is to give away something for FREE. And a book, no less. Folks look at you like you're some kinda political, religious, philanthropic, scam-running crazed person. A book? For free? Must be up to something. Finally, after about 10 offers, a woman finally took the book with a tentative and skeptical "thanks."
The reactions in giving away the rest of the pile of books ranged from skepticism to surprise to thankfulness and whatever other emotions are in between. There were a lot who said "no, thanks," just shook their head, or tried to avoid eye contact with me. But I did find some people who accepted my gift. One woman actually turned back and asked if she could have another one. A guy waiting in his car asked if he could have one and wanted to know more about the project. Someone asked me if I wrote the book --- wow, don't I wish! One man took it, looked appreciative, but admitted that he might not get around to reading it; I told him that was okay, maybe he would. One guy asked what it was about, nodded when I told him, said thanks and tucked it in his messenger bag. One young woman looked at and before walking off asked me, just to be sure, "can I keep it?" She smiled as she held onto it and headed along her way.
---
Carol from Croton, NY
I gave away STILL ALICE by Lisa Genova. I read it and loved it. This was my second year giving out books for World Book Night. I love giving out the books and encouraging people to read! There were a few folks who thought there was a "catch" to accepting the novel, but most were very excited and appreciated the gesture. I love being part of World Book Night, and I would love to continue to be part of the free book-giving effort. Reading rocks!
---
Martha from Remlap, AL
I gave away SALVAGE THE BONES. I posted on Facebook and really talked the book night up. I shared books with friends from as far away as Boston, friends at work, church and total strangers!
---
Janet from North Canton, OH
I picked up my copies of ME TALK PRETTY ONE DAY by David Sedaris at the North Canton Public Library. They had reception room set up that was very nice. Refreshments and stacks of books surrounded the room. I was able to talk to several book givers. This is my second time to be a book giver. I work in the library of a small university and both times I signed up to give books there. The plus of it being finals week made it even better since stressed out students really needed free book. I purposely approached students I didn't know, told them about World Book Night and offered them a book. Only one said no (she was in a group saying yes) as she didn't think she'd find time to read. Most students were a bit apprehensive at first, but were happy when they understood. I do believe none of them had heard of David Sedaris, so I hope they find a fun new writer.
---
Susan J. from Willits, CA
I gave away Tina Fey's BOSSYPANTS. My experience was wonderful. I went through the city park and gave them to young mothers watching their kids play, to young people sitting on blankets enjoying the day and even to the homeless who were very grateful.
---
Scott from Portland, OR
I gave away GLACIERS by Alexis Smith. I knew Alexis --- we're both from Portland, and we're both published by Tin House Books --- and I love her book. As I was giving out GLACIERS, I liked being able to tell people that the novel was set in Portland and written by a Portland author.
Giving away books in a city like Portland is ridiculously easy. I love trains and I figured people getting on a train would want something to read. So I went down to Union Station. I asked the Amtrak officials if it was okay to hand out books inside the station. They thought it was a great idea. I ended up giving three of the books to Amtrak employees. It was fun to see how thrilled people were to get them. Only a few people declined. One older person in a wheelchair said he couldn't see well enough to read.
---
Belinda M. from San Diego, CA
I went to a local coffee shop that I frequent and gave away copies of THE WORST HARD TIME. I approached people that I knew and some that I didn't explaining the purpose of the program and why I chose this book. Most people took the book; a few did not. Some said that they were already readers, but they would really like to read that book, so I gave the book to them. One person asked how they could participate next year and I showed her the website on the book.
---
Judy from Dayton, OH
I gave away THE HANDMAID'S TALE at the bookstore at Sinclair Community College. I work at the college so it was easy and convenient. The students were thrilled to get a free book and some want to discuss the book which I gladly did.
---
Linda from Patterson, NY
I enjoyed telling the people I gave copies of THE HANDMAID'S TALE to why I was doing this and that it was a great story that I had enjoyed reading. I was only turned down by 3 women, but the other people were excited to get a free book to read.
---
Lisa from Thetford Center, VT
This is my second year to doing this, and it was very satisfying. We chose to give away books in Bradford and Fairlee VT, two small towns north of my own. My friend was giving away Playing for Pizza by Grisham while I gave away Fahrenheit 451 by Ray Bradbury. We first went to a local Italian restaurant for dinner. After speaking to our waiter, we learned he had not read in a while and we persuaded him to take a book. We then learned that the other staff members were interested so we gave a few more away. Some gentlemen at the table next to us were next approached. Neither read much, but one of them was on Broadway. To thank us for giving him something to read during rehearsal, he serenaded us first in Italian, then German! After dinner, we made our way to every pizza place/convenience store in the two towns, making a lot of people who don't have a lot of money for books very happy. One young man told us his girlfriend was a huge reader, and after listening to our descriptions of our books he took one of each and said it would make her very happy to see he was reading!
---
Kelley from Eubank, KY
I had a great experience again this year. I took ME TALK PRETTY ONE DAY by David Sedaris to an elementary/middle school during drop off and handed them out to parents in the hallway.
---
Colleen from Greenwood, AK
A friend and I visited 4 fire stations and one ambulance bay (at a local hospital) and visited briefly with firefighter and EMTs. They were welcoming, and we were glad to give them Michael Perry's POPULATION: 485, since he is also a (volunteer) firefighter, and to tell them how much we appreciate them.