Jamie Freveletti is not only an author, but also a trial attorney, martial artist and runner. Her most recent novel, DEAD ASLEEP, is the fourth book in her series of thrillers featuring biochemist and marathon runner Emma Caldridge. Here, Jamie talks about some of the books that she never has been able to let go of and explains why they're so special to her.
I don't recall a Christmas where I received a particular book, but I still have a small, select stash of books that have followed me from tiny city apartment to another year after year. I call these my special books, and each has a short story behind it. Here's the list:
A first edition Nancy Drew, THE SECRET IN THE OLD ATTIC (1944).
What a find! I discovered this book when I was 10 and hunting through, appropriately, my grandmother's attic. This one is copyrighted 1944 and in pretty good condition. The box contained three other Nancy Drew titles as I recall. My grandmother had bought them for my Aunts, and she was happy to hand them down to me. I passed on the others to my younger cousins, but this first book is still here and currently resides on my daughter's bookshelf next to her Harry Potter books. She says she'll keep it to hand on some day.

The Complete Collection Robert Browning's poems.
I found this at a library book sale in my college town. Bought it for $2 (the penciled price is still in the front cover). I studied Browning in college, and MY LAST DUCHESS is one of my favorites. When I saw the collection I had to have it. It's on my bookshelf in my master bedroom.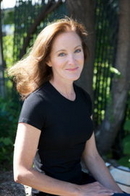 A first edition of DESIGNING YOUR FACE by Way Bandy (1977).
Way Bandy was a great makeup artist in the '70s and '80s and a genius with light and dark. I keep it in my master bath vanity. This book has saved me more times than I can count --- most recently when I was preparing to update my photos for my Facebook page. I had arranged for a photographer friend to meet me at the Chicago River on a gorgeous day when my makeup artist told me that he had a prior appointment. In a panic, I grabbed Way Bandy's book and followed his directions. You can see the result here.
Not bad for an amateur! Thank you, Mr. Bandy, may you rest in peace.

The Complete Collection of William Shakespeare

and
Three separate copies of PRIDE AND PREJUDICE (softcover, hardcover, and a special edition hardcover).
These last two classics need no explanation, I think. My daughter has the soft cover of PRIDE AND PREJUDICE on her bookshelf, ensuring that Mr. Darcy will be sighed over for years to come.

Happy Holidays to all, and may your year ahead be filled with peace and joy.
Best, Jamie Freveletti