One of the highlights of the Romance Writers of America "RWA" conference for me is the "Readers for Life" Literacy Autographing where last night more than 400 authors signed books, the proceeds of which will fund literacy charities. The authors sit at cloth-covered tables theatre style with copies of their books that have been donated by their publishers with pens poised, ready to sign --- and often with goodies like bookmarks, upcoming chapters, pens and candy to share. Readers make their way from aisle to aisle to meet favorite authors and explore new ones; all proceeds of the evening this year will be donated to ProLiteracy Worldwide, Read Orange County, and Literacy Volunteers—Huntington Valley. Since 1990, RWA has raised $716,000 to fight illiteracy.
Typically in the past, the authors were seated alphabetically, which made the event so easy for me to manage. This year however, Avon Books authors were grouped together in "Avon Alley," as the imprint was a sponsor while others were lined up on the floor in what someone told me was the order in which they signed up for the conference, though I do not have this confirmed. Thus I was not following my usual meticulous plan of making sure I did not miss anyone. Instead I was following the authors via a sheet I was handed, which listed them by alphabetical order and their table number.
I confess I had trouble reading the smaller type print on the seating chart while I was on the run to see all the authors who I wanted to see, BUT that did not stop me from having a great time checking in with author pals --- and also enjoying the squeals from readers as they spotted their favorite authors and the palpable energy that happens when romance reader fans gather in one space like this.
Authors shared that this year they were asked to sign a lot more eBook covers --- and the crowd to me seemed smaller last year. Of course, last year's event was in New York, where lines to get into the signing were wickedly long and the room was wildly noisy and crowded; typical of a New York event. This time the event at the convention center was much more spread out and the high ceilings filtered the noise.
Among the authors I got to spend time with were Wendy Corsi Staub (who had me laughing about waiting not so patiently for room service to open for her morning coffee at 6AM as well as swimming tips), Mary Kay Andrews (whose new diet and fitness program had her looking spunkier than ever and who shared the plot for her new book, which does include what she affectionately calls "house porn"), Christina Dodd (who was sporting a very becoming bright red spunky hairdo and had a contest running at her table), Jane Porter (who just relocated from Washington to San Clemente a couple of weeks ago and is unpacking three moving trucks on belongings while writing SIX books this year), Deanne Raybourn (talking to her editor Margaret Marbury about new manuscript she JUST turned in), Cherry Adair (looking ravishing in her animal print dress) and Lisa Jackson, who was joined by our reader Kathy Junds and her daughter (Kathy was RAVING about Lisa's upcoming book, YOU DON'T WANT TO KNOW, which she had JUST finished in a day).
As I was heading down the escalator of the convention center, I was chatting with a woman and realized it was Beatriz Williams, the author of OVERSEAS, which we recently reviewed on Bookreporter.com. I can tell there will be many surprise chance meetings like this over the next few days.
Also, there will be moments where I bemoan missing folks at the signing, like Karen Robards, who had her upcoming book, THE LAST VICTIM, on hand, but such is life at conferences like these. I will hunt her down elsewhere!
Lots more to come. Enjoy the photos below!


Beatriz Williams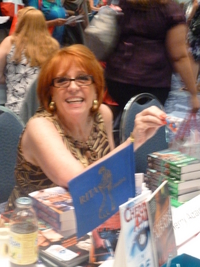 Cherry Adair


Christina Dodd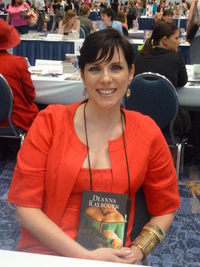 Deanna Raybourn


Jane Porter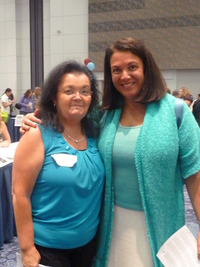 Kathy Jund and Carol


Lisa Jackson (center) with Bookreporter.com reader, Kathy Jund (r) and her daughter, Amber-Starr (l)


Mary Kay Andrews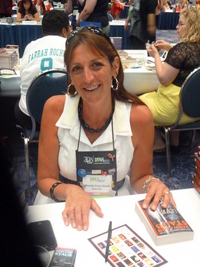 Wendy Corsi Staub