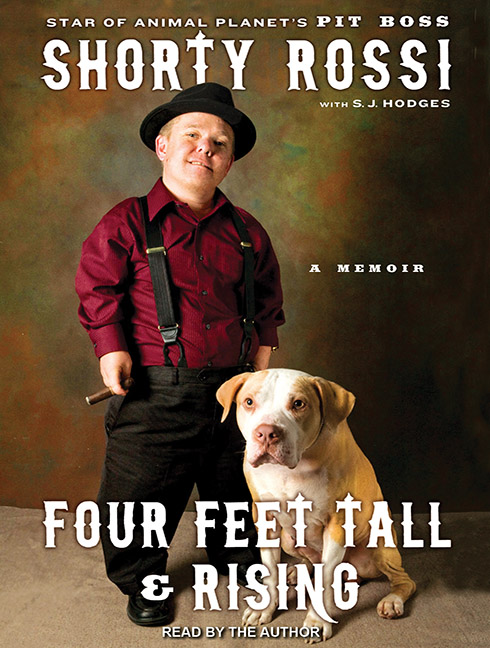 In his new memoir, FOUR FEET TALL AND RISING, Luigi Francis "Shorty" Rossi, star of the popular Animal Planet show "Pit Boss", shares the story of his improbable path from the gangs of South Central Los Angeles to his successful career as a reality-television star and pit bull advocate. Here, he answers a series of questions about recording the audio version of his book.
How long did it take you to record your book?
I recorded for four continuous days. It wasn't the easiest to record and the first two days took longer because my voice was stressed but it was a nice break from the hectic lifestyle of the show and tour.
How did you keep your voice "in shape" during the recording sessions?
I'm the type of person that wings it. The first two days were a little stressful on the voice, but I just winged it and plowed through.
What word(s) did you stumble over?
Go through the bloopers! You'll find some good ones especially when S. J. Hodges went through my writing and would put in words that I wouldn't normally say, I found myself thinking "where the hell did you get that word from."
What did you enjoy about the recording experience?
Despite my hectic schedule, it was very important to me to record my own book. No one else could tell my story. It was fun for me to do. It was an interesting experience and I would do it again for any other books that I write.
Did your book "feel" different to you as you read it?
No. Not really. It was my life story so it really makes you look back on your life where you were and where you are now.
Any funny stories to share?
Hercules snoring and having to wake him. Hercules farting and clearing the room. Me stumbling on words.
Did you find yourself wanting to edit/rewrite? Did you?(any funny stories from producers?)
None were caught on tape that we're aware of unfortunately but every once in a while Hercules would rip a fart inside the booth which would set Shorty off with a "C'MON Hercules, are you serious?!?!?".
Had me rolling a couple of times, really wish we got a couple on tape.
Not really. You think oh this is gonna piss someone off but no that's how it is.
For authors who have had more than one book recorded: Did the experience of recording your audiobook change your writing process for your next book?
It's like seeing yourself on camera oh why did I wear that outfit. Maybe next time I'll be more detailed. I look forward to doing my next book.
Did you imagine any voices for your characters while you were creating them for the page? If so, what was it like trying to create those voices in the recording studio?
I was just doing me.
Do you like to listen to audio yourself? If yes: where do you listen? What types of books do you listen to? Do you have any favorite narrators?
I've listened to a couple of audiobooks in the car or on a plane. Basically learning difficult languages or listening to Donald Trump.
Did narrating change that? I will listen to another audiobook but more if it is about learning or an autobiography, like maybe Charlie Chaplin.
The only time I get to catch up is when I am travelling. So I don't use much of that time for listening to audiobooks. I have to look over my emails, catch up on phone calls. There is always something going on that I have to stay on top of.