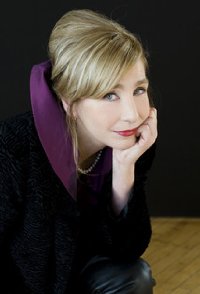 N.M.Kelby (Nicole Mary Kelby) has been translated into several languages and offered by The Literary Guild, Doubleday Book Club, and Quality Paperback Book Club. She is the recipient of a Bush Artist Fellowship in Literature, an NEA Inter-Arts grant, the Heekin Group Foundation's James Fellowship for the Novel, both a Florida and Minnesota State Arts Board Fellowship in fiction, two Jerome Travel Study Grants, and a Jewish Arts Endowment Fellowship. Here she talks about the library of books she was gifted over the years.
When my father was born, my grandfather planted a pear tree in our backyard. When I was born, my father built me a library in the room that he was born in. Both gestures had tangled roots. My mother is French but we lived in the Polish neighborhood of Kuszwanc in Toledo Ohio.
Every Christmas, Romey, my father, would place books for my library under the tree. My first Christmas, I received a leather-bound copy of THE LAST DAYS OF POMPEII by Edward Bulwer-Lytton. I try not to take that as a sign, because as we all know Bulwer-Lytton's most famous literary work is the sentence, "It was a dark and stormy night…" which inspired the famed prize for bad writing.
The next year, Lu Anna, my mother's friend from Texas, brought me THE STORY OF BABAR and THE LONELY DOLLbecause they were "more appropriate for a little girl." My father provided THE STORY OF CIVILIZATION by Will and Ariel Durant and a tradition of literary one-upmanship began.
By the time I was five, the COMPLETE WORKS OF WILLIAM SHAKESPEARE and Robert Mc Closkey's MAKE WAY FOR DUCKLINGS sat side by side on the oak shelves. When I was 10, LuAnna offered NANCY DREW: The Secret of the Old Clock and Dad countered with Sherwood Anderson's WINESBURG, OHIO: A Group of Tales of Ohio Small-Town Life. His English wasn't that good, but the irony didn't escape him.
LuAnna stopped when I was 13 years old, which was the year my father added WAR AND PEACE. I think by then, he was just showing off.
I loved each and every book, even if I didn't quite understand all of them. I loved being in their company. I loved the extravagant tooled leather and gold leaf inlays. I loved the idea that elephants could wear small golden crowns.
Despite LuAnna's abdication, Romey would continue to add a book to the collection, even after I no longer lived with him. "It's still your library," he said. When I was 17, he added GOODBYE, COLUMBUS by Philip Roth. I'm still not sure what to think of that.
When my father was 73, he was standing in front of our house and was hit by a car that had lost control, ran up onto the sidewalk and deposited his body in front of the room where he was born, the room that had become my library.
"I'm cold," was the last thing he said to my stepmother.
In her grief, she gave all my books away to the neighbors, locked the library door, and never opened it again. I understand why she did that. That library was my father, it was his love for me made manifest. I don't begrudge her this act. The thing about libraries is that they can't be contained within walls. Once a book is loved, it lives in your heart. And so while I may not be able to read those particular books again, they are still mine. Their words created who I am as a person, how I see the world --- they are a father's gift. Beloved.