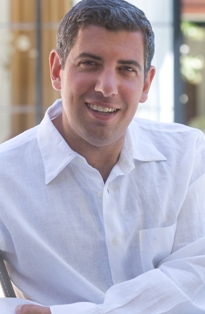 Philip Galanes is the author of SOCIAL Q'S the cock-eyed advice column published weekly in the Sunday Styles section of The New York Times. In the year since its debut, the column has become one of the most highly-read and consistently-searched features of the paper. Philip is also an entertainment lawyer and novelist. He was born and raised in New England, and graduated from Yale College and Yale Law School. He occasionally sidelines as an interior designer, and his projects have been published in Architectural Digest, Elle Decor, New York Magazine, and The New York Times. Here he talks about an attempt to re-gift.
Back in 90's --- long before I began writing my Social Q's advice column for the New York Times (or brand-new book, "Social Q's")--- I was a student at a fancy law school.
Now, wait! I'm not bragging.
Being there was more admission of defeat than anything else. Too afraid to try my hand at what I really wanted --- to write --- I'd trade it for the safety of a lawyer's paycheck, instead. And from the day I announced my intention to take the Law School Admissions Test, my best friend, Lia, savaged me for it. "Noel Cowardly," she took to calling me.
She wasn't wrong.
Still, I marched forward with my law school plan, and it put a terrible strain on our friendship. We went from constant contact to barely speaking, at all. And even though law school turned out to be much more interesting than either of us had imagined, I still remember the period as much for my estrangement from Lia as I do for the endlessly stimulating chats I seemed to have every time I turned a corner there.
Turns out, law school was a fine decision. And when I took a winter-holiday job at the white-shoe law firm of Debevoise & Plimpton, at the princely sum of $1,700 per week (approximately five times my prior salary), it seemed an even finer one.
I remember the thrill of being shown to my chic new office: all sparkling windows and rich dark wood. A beautiful Holiday present --- for me! --- wrapped up in golden paper, lay at the center of the desk I would (barely) work at.
"I hope you like good chocolate," the intern wrangler told me.
Who doesn't?
Even better, I ran into Lia on the street during the first week of my cushy new job. She was an Assistant Editor at Weight Watchers Magazine. I was rushing off to La Grenouille to be wined and dined by slightly older attorneys. But she was sweet enough when we met that I asked her to dinner that night. She accepted.
I don't remember where we met anymore, or even where I was living then. But I remember perfectly my princely gesture of handing Lia the golden box. "I bought something for you," I said. She liked good chocolates, too.
"You shouldn't have," she said, running her hand across the expensive golden paper. But she sounded pleased. "Must have cost a fortune."
"Who better to spend it on?" I said.
She tore the paper from my peace offering and removed the well-made box top. And there it was: a single pane of smooth dark chocolate --- its surprise message spelled out in raised chocolate letters, like engraved stationary from Tiffany's:
"W E L C O M E T O D E B E V O I S E & P L I M P T O N"
I was mortified!
But what could have been awful --- no, what should have been awful --- was absolutely fine. Lia threw back her head and roared, her laughter as big and rich as the block of chocolate I'd so cheaply re-gifted her. And inside that laughter, I heard, in a second, that there was plenty of room for law school and gifting faux pas and me.
Follow Philip Galanes on Twitter @SocialQPhilip, and become a fan of SOCIAL Q's on Facebook.