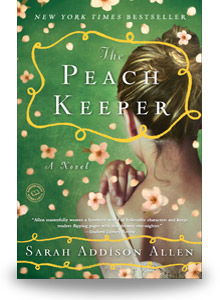 Sarah Addison Allen is the New York Times Bestselling author of GARDEN SPELLS (2007) THE SUGAR QUEEN (2008) THE GIRL WHO CHASED THE MOON (2010) and THE PEACH KEEPER (2011). She was born and raised in Asheville, North Carolina. Here she talks about anticipation on Christmas Eve...or early Christmas morning.
I'm four years old and standing in the hallway with my sister, waiting for our parents to turn on the lights in the living room.
Predawn dark. Christmas Day.
The expectation is almost too much to bear. I'm going to burst from it, like a Christmas cracker.
We're near the corner. We're listening. Our parents are shuffling around, taking their time preparing the room for our Christmas surprise. I hop from foot to foot.
Wait for it. Wait for it.
Last night they read to us, that familiar Christmas story, and even though we knew how it was going to end, the suspense built with every turn of the page. They drew out the story, slowly flipping the pages. We were squirming filaments of energy as we waited for the happy conclusion.
Waiting is always the best part.
We're still in the dark hallway. Our feet are cold, but we don't care. It's almost time. In seconds they will turn on the lights on the tree.
Wait for it. Wait for it.
My hands are in fists. I want to roar with joy. I know what's around this corner and yet it feels so new. It's too much. Have I ever been this happy? I'm going to die from it.
Wait for it. Wait for it.
It's right around the corner. Can you bear it? The lights are about to turn on.
It's almost here.
Merry Christmas, everyone.