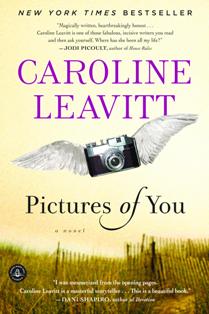 Caroline Leavitt is the award-winning author of eight novels. Her essays and stories have appeared in "New York Magazine," "Psychology Today," "More," "Parenting," "Redbook," and several anthologies. She lives in Hoboken, New Jersey, with her husband and son. Here she talks about the first book she ever owned, and the bookshelf that went with it.
I grew up in a book-loving family, but the sad truth is that growing up, I never had any books of my own. It wasn't a financial decision, but a philosophical one --- my parents believed in the library. Everyone in our family was a voracious reader, and every week, without fail, my mother and father would take my sister and me to the local library and we could stock up on as many books as we could pile into our arms. I loved seeing ten or even twelve books (I was a fast reader) stacked up on my bureau, but I also hated having to return them. "Take them out of the library again," my mother said. "They'll be in the house so often, it'll feel like they're yours."
But I knew it wasn't the same. I wanted a book that would stick around, that even if I didn't pick it up for years, I knew I could look over at a shelf in my room, see it, wave to it like an old friend. "I want my own books," I told my parents and they looked at me as if I had asked for a baby giraffe. "You have plenty of books here all the time," my mother said. "We'd never deprive you."
I tried to save up to buy my own book, but even with my meager allowance, we were living deep in suburbia and getting to a bookstore wasn't easy, and when I asked to go, I was told, "But we have this wonderful library!"
We were a Jewish family, and my mother always made a big deal out of Chanukah. Eight days, and eight different presents, and she never asked what we wanted, because it was meant to be a surprise.
That Chanukah, the year I turned twelve, I got more grownup gifts: a pink ribbed sweater, a necklace, a bracelet, three games, a sewing machine, and the last present: a book. A HIGH WIND IN JAMAICA. My favorite book! I had taken it out of the library six times! My parents stood there beaming at me as I clutched the book to my chest. "Now this doesn't mean you still can't go to the library," my mother said. My heart was galloping. "What made you give this to me now?" I asked.
"Twelve is old enough to know what you really want, and to have a chance to have it," she said. And then, to my astonishment, my mother went into another room and came out with a small blue painted bamboo book shelf. "Something this special to you needs a special place for it," she told me, and I cried.
I still happily trooped to the library every week after that, but now, once a month, until I was old enough to get there on my own, my mother took me to a bookstore so I could pick out a book and bring it home. I watched my little blue bookshelf fill up with books. I took the shelf with me when I went to college, until it fell apart.
I still love both libraries and bookstores --- and the thrill of having my own books. Before my son was even born, when we were making a nursery for him, the first thing we put in was a big, sturdy bookshelf. And we filled it with books, one of the best "welcome-to-the-world" messages that we could think of.
Caroline Leavitt is the New York Times bestselling author of Pictures of You (Algonquin Books).