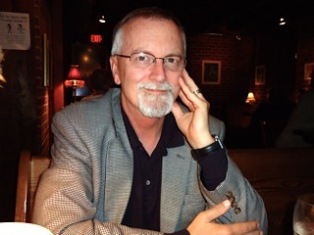 Charles J. Shields spent five years researching and writing AND SO IT GOES: Kurt Vonnegut, A Life. He is also the author of MOCKINGBIRD: A Portrait of Harper Lee (Holt 2006) --- a New York Times bestseller. Two years ago, he co-founded the 400-member Biographers International Organization (BIO), and is currently associate director of the Great Lives program, which features presentations by 18-20 biographers each year at the University of Mary Washington in Fredericksburg. Shields and his wife, Guadalupe, reside in Barboursville, Virginia. Here he talks about a gift he received in college while struggling to write.
It was one of the coldest Decembers ever in the Midwest. The window beside my desk in the college dormitory was white with frost, and I wanted to go home. Outside it was dark, but I had a paper to finish --- a long one. It would take me all night. Most of the students had left for the holidays. Every now and then, I heard a door shut and the sound of footsteps echoing down the hall, followed by silence.
I was the first person in my family to attend college. In my pocket was a quarter left over from the $5 my mother sent me every Friday. The rest I'd spent on a train ticket, good for the 10 am City of New Orleans to Chicago the next morning.
The windows of the dormitory across the street were all dark, except for one. I rubbed a circle in the frost with my fist so I could see. A girl I knew had left a candle burning for me to look at. And on my bed across the room was a wrapped present from her, which she had said I shouldn't open until midnight.
I was close to giving up. I was trying not to, but feelings of inadequacy had been overtaking me for weeks. The campus was enormous, and everyone in my classes seemed better prepared. I was going to college because I wanted to be a writer, but now I wasn't sure. The words just wouldn't come.
At midnight, the candle across the street was still burning. I went over to the bed, sat on the edge and unwrapped the present.
Inside was a bright red book, a thesaurus. Written on the flyleaf were the words, "To You," and the first four lines from Keats' "Hymn to Apollo":
God of the god of the golden bow,
And of the golden lyre,
And of the golden hair,
And of the golden fire….
I opened it to the middle, and the words seemed to spill out into my hands.