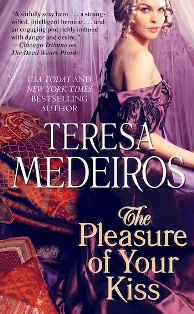 Teresa's romances regularly appear on the New York Times, Publishers Weekly and USA Today bestseller lists. She's a two-time winner of the Waldenbooks Award for Bestselling Fiction, a seven-time finalist for the highest award given by the Romance Writers of America, the RITA, and winner of the Romantic Times Award for Best Historical Love and Laughter. Here she talks about how her mother inspired her lifelong passion for reading.
When I was a little girl, I rarely saw my mom without a book in her hand. She was a member of the Doubleday Book Club and every month brought new releases to our door until our bookshelves were crammed to overflowing. She read everything, but her favorites were those delicious first-person Gothics written by Victoria Holt and Phyllis A. Whitney. Just from watching her, I learned that books were treasures beyond price and reading was the magical key that unlocked them. She used to write her name on the inside cover of all of her books and it gave my dad something to tease me about for years after I snuck in and scrawled my name right below hers.
When I was four and my dad was doing the first of his two tours of duty in Vietnam, she invested in a set of phonics records and taught me how to read. She was so successful that when I was only seven years old, I dumped BETSY'S BUSY SUMMER and read my first grown-up book --- Victoria Holt's THE SHIVERING SANDS. I was the only kid in grade school who was allowed to order as many books as I wanted whenever we did our monthly Scholastic Book Club orders. I'll never forget the thrill of rushing home from school on the day they arrived and letting my mom help me decide which one I should read first.
When my first novel LADY OF CONQUEST was published, my mom sat down and devoured it in one sitting. When someone asked her how she felt about her daughter writing "those love scenes", she just smiled and said, "Oh, those are my favorite parts!" Sadly, my first book was the last one she would ever be able to read. Shortly after that, she suffered a bad reaction to some long-term medications, which resulted in early onset dementia. As her concentration and reading comprehension failed her, all of her well-loved books languished on the shelves, untouched and unread. Twelve years ago on Thanksgiving, my dad and I were forced to make the difficult decision to move her to a nursing home.
Every year after that we determinedly scrounged up whatever holiday cheer we could manage. One year my dad showed up for Christmas with a large box. As I folded back the colorful wrapping paper, I saw nestled within all of my mother's beloved Victoria Holt and Phyllis A. Whitney books. I opened one and gazed down at the inside cover. Right below her elegant handwriting was a child's clumsy scrawl --- two names forever bound by their shared love of a good story.
As my dad and I smiled at each other in the gentle glow of the Christmas lights, we realized my mother's love of books was the one gift the ravages of time and disease could never take away. It would live on in the dreams of her daughter, in the stories that daughter would tell and in the hearts of all the readers who would pass those stories down to their own daughters to cherish.
Merry Christmas, Mama. And thank you for giving me the greatest gift of all.
Read more about Teresa Medeiros on her website http://www.teresamedeiros.com