Sometimes we can't help but turn into our mothers; lucky for Paige, her mother is writer Beth Harbison, author of books such as THIN, RICH, PRETTY out on May 10 and July's ALWAYS SOMETHING THERE TO REMIND ME. As a fist-time author, Paige released a Young Adult book called HERE LIES BRIDGET in January...but not without edits from mom, and vice versa! Below, the two women share their excitement for one another, and discuss their similarities as writers and as people.
Paige, did you always want to be a writer?
Paige: Nope. Actually, it never even occurred to me. That's not to say I didn't write several horrible, awful stories as a child. But it was never an ambition. I started to write HERE LIES BRIDGET as a distraction from a (now ex-) boyfriend on an (endless) train trip from Florida to Washington, D.C. The idea of actually being an author felt positively laughable for a long time.
Beth, when did you first realize that your daughter would one day follow in your footsteps?
Beth: Literally about six months before she wrote and sold the book. Believe me, when I was trying to coach her through essays in middle school and high school, I never would have seen this coming! "Topic sentence, Paige! Then stick to the topic!"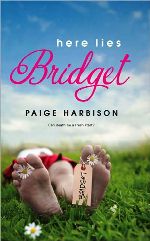 HERE LIES BRIDGET and SHOE ADDICTS ANONYMOUS are both being made into movies. Could both of you tell our readers a bit more about what this experience has been like for you?
Beth: My agents have warned me over and over again that "it ain't done til it's done" so, for me, the process has involved a lot of cautious optimism. But every step forward is so exciting --– seeing the first scripts, hearing casting talk, etc. But when they signed Halle Berry to star, I just couldn't believe it! I still can't!
Paige: Mine is so very in the beginning stages that it feels completely surreal. Seeing my name and my book's name on IMDB is crazy. It's been very exciting to watch my mom's movie bloom, though! It makes the stars seem reachable. So to speak . . .
Do you share your work with one another, and if so how?
Beth: Definitely. Paige has a great eye, and I really enjoy reading her books. You might think that was a given, but, actually, I think I might have been more inclined to be critical than gushing, because I don't want to see her hurt by critics, etc., so she has a tough audience in me.
Paige: Yes. Particularly in the last few, I have gone through in Word and inserted comments like: "lol" or "wtf?" or "this scene should be longer, I love it!" and the rare "I have no idea what you're trying to say." She goes through mine when it is in the near-final stages so that she can read it as a reader would. Her comments then are the same as mine in hers.
Do you find that you have similar strengths as writers?
Beth: I don't know about strengths so much as sensibilities. I'd say Paige is better at plotting and making things suspenseful than I am, and I'm better at being melancholy and introspective. At least in the last book! But we can "hear" each other's voices in the writing, so that helps when trying to go over something for editing because it's easy for us to see what each other is trying to say and to perhaps make it clearer if need be. I have the same experience with my sister (writer Elaine Fox).
Paige: Yes, I'd say so. We have similar mannerisms and way of talking in real life (i.e., day-to-day/not in books), so it stands to reason that we have similar strengths. We are both good, I think, at writing how people actually talk. Not using flowery language (not all the time anyway), and giving our characters flaws that readers might not like, but can ultimately relate to.
Have you ever considered working together on a project?
Beth: We bat stuff around, but the timing will have to be right.
Paige: Yes, we're working on doing something right now --- very early stages. But I am certain that it will happen sometime, if not in the near future.
What kind of books do you enjoy reading, and who are your favorite authors (aside from each other, of course!)?
Beth: I like to either laugh hysterically (Bill Bryson, Quinn Cummings, David Sedaris) or be grabbed by the throat and taken for a very suspenseful ride (Lisa Gardner, Nicci French, Ruth Rendell).
Paige: I enjoy books that have a very strong mood. I like when I can't shake a book after reading it. I like those, and I also like books that make me laugh like a weirdo on airplanes.
Some of my many favorite authors are: J.K. Rowling, Bill Bryson, James Herriot, Emily Giffin, and David Sedaris. Besides those authors, who have never written a book I do not like, I have many favorite books, ranging from HIGH FIDELITY to CHOKE to the Mortal Instruments series.
What is your favorite snack food while writing?
Beth: Champagne. Is that a snack? I don't usually take food to my desk.
Paige: Chips and Queso. But then the little powder gets all over the track pad and I have to stop. Also any kind of sour candy.
Beth, do you have any advice for parents of aspiring authors?
Beth: Well, it's really out of our control. The only advantage my being a writer offered Paige was that my agent happened to be sleeping over at my house when she came for the launch of HOPE IN A JAR, so we got to chat about Paige's idea, and she sat in the room and waited while Paige printed it out. I joked at the time that this was every aspiring writer's dream-come-true --– the agent right there in your room, ready to take the manuscript out of your hands!
But if the book hadn't been good, they wouldn't have sent it out, and we all knew that. And if the book hadn't been good, no one would have bought it. Though, actually, rejection on either front wouldn't have necessarily meant the book wasn't good, so my concern, as her parent, was, again, that she might get her feelings hurt.
This business isn't for sissies.
Paige, do you have any advice for first-time novelists?
Write what you want, and write what you know. Do not write about a New York City you have never lived in. Find what is beautiful and exciting --- or what would make it that way --- in your tiny town or big city. Write what you would want to read. Don't "try to" anything. Think about what works, but don't limit yourself to passing fads.
The only way to set yourself apart is to really go for it. Great, famous, beloved authors did not get that away by staying within the boundaries of what has already been accepted.