As the author of SEARCHING FOR TINA TURNER, Jacqueline Luckett has established herself as a writer to watch. In the touching post below, she reflects on the strong influence of her mother, who, while not an avid fiction reader herself, cherished Jacqueline's first novel.
Photo: Jacqueline with her mother, Bernice.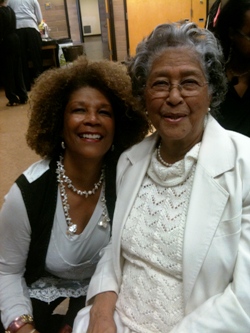 I don't think I ever recall seeing my now 88-year-old mother read a book. Oh, she's a reader --- newspapers, newsletters, and magazines. But a book? Never. Until I wrote one.
Between her jobs with the Federal government and caring for our family, I'm not sure she had time for much else. In 2010, I gave her a copy of my first novel. She fingered the glossy cover and my name printed on the spine. Behind her glow of maternal pride, I sensed that my mother must love books as much as I do.
In the following days, she faithfully reported her progress. "I'm on Chapter 5," she would tell me, the chapter number changing as she moved through the story. "Where did you get all those ideas?" she often asked, laughing. She is clear-headed and high-spirited and when she laughs, I don't think about her age or her arthritic knees or the frown that crosses her face when she struggles to get out of her favorite chair. I think of my playful, beautiful mother who migrated with her three sisters to California from Mississippi
after World War II, who once won a beauty contest, and who loved my father for more than the 56 years they were married.
Not long after I gave her my book, she called to tell me she was sad. Thinking she was missing my Dad, who passed in 2002, I tried to comfort her. "Oh no," she said, "I finished your book, and now I have nothing to do!" She hadn't wanted the story to end. I wondered if, years ago, I'd been so self-absorbed that I neglected to notice when she picked up a book. Had she taken books to the bathroom and hid there, her only place of quiet without distractions? "Your book is beautiful," she added. There was so much pride in her voice, and her unspoken message, I knew you could do it, was praise for my book and joy for the direction my life has taken since my divorce.
There's not a time in my life when a book hasn't been close by: on my nightstand, in my purse or pocket, or shelved in a room of wherever I've lived. How, I've often wondered, did the child of a mother who never read much become a storyteller, avid reader and lover of books? My father was a reader, determined to work his way through our set of The Great Books of the Western World. But I'm not like my father. I'm like my mother --- my eyes, my voice, my mannerisms are hers, and now, I'm beginning to believe so, too, is my love of books.
She is the one who encouraged me, and my sister (a writer, also), to send our stories to the local newspaper. Hers is the hand I held on visits to the Children's Room at the Berkeley Public Library. I remember the mounting excitement as we climbed the marble stairs, the musty smell of books, the thrill of holding them in my arms barely able to contain my excitement.
I've always assumed that my vivid imagination brought me to my love of books. Recently, I asked my mother, "Why do I love to read?" On the other end of the phone line, she paused, reaching, I supposed, for the memory of the days when her daughters depended on her for everything. "Oh, I read to you while you and your sister bathed." Sadly, I have no recollection of those times. "I don't know," she continued, "your father loved to read. I took you girls to the library, and I bought books. You just loved reading."
But there was so much more. I was a child spoiled and blessed with uninterrupted time to read. A home filled with encyclopedias, collections of short stories, fairy tales, and poems. Never once do I remember my mother chiding that reading was a waste of my time, not even while she grumbled at my reluctance to help around the house.
"When is your next book coming out?" my mother asked the other day. "I need something else to read."
Looking back, I understand she wanted her daughters to have a different, and perhaps better, life. She encouraged me, not by example, but with her actions. In her own way, my mother gifted me a love of reading, the gift that keeps on giving, and I'm pleased that I can return the gift to her.