An anesthesiologist, mother and now author, Michelle Au knows a thing or two about changes and balancing acts. In this special post, Michelle discusses the inspirations behind her forthcoming debut THIS WON'T HURT A BIT (AND OTHER WHITE LIES): My Education in Medicine and Motherhood, which will be released May 11th.
I remember my firs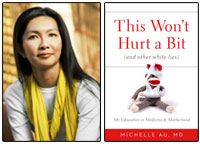 t night on call as a young medical resident. As the daily bustle of the hospital yielded gently to evening, one by one my colleagues checked out their patients to me for safekeeping before themselves heading home. By midnight, I found myself the only doctor on the floor (having graduated from medical school all of five weeks before, I guess I was technically a doctor) in charge of thirty very sick patients. And I remember thinking to myself: How is it that I am allowed to do this? How can this be my responsibility? How will I know what to do if something goes wrong?
Fast-forward two years to the birth of my first child. Holding him in the delivery room for the first time, seeing how small he was, how completely dependent he was (and would continue to be for a long time); the same litany of thoughts ran through my mind. Me? Take care of this baby? They're really going to let me do this? How do they know I can handle it? Being a new doctor and becoming a new parent are, it seems, similar in many respects.
Why do I write about my experiences in medicine, and in motherhood? The easy answer is that writing is an amusing hobby, a creative outlet, a distraction from the everyday. The simple truth is that it's fun to tell stories, and it's really fun when other people enjoy them.
But the more complicated answer is that I write about my experiences because of change. Everything changes. And sometimes they change very quickly.
I've changed from my years as a junior medical resident. Nearly three years out of training, I'm comfortable as a doctor now, and I don't question my role or responsibility nearly as much as I used to…though I'd be lying if I said I never do.
My son has also changed. In the past five and a half years, he's grown from a newborn who didn't know what his hands were for and who could barely support the weight of his own head to a little boy who quizzes me almost daily on the three periods of the Mesozoic Era, and the species of dinosaurs that inhabited each. His changes are, to me, the most miraculous of all, and sometimes it's hard to remember the baby he once was in the shadow of the person he's now becoming.
All the patients I have cared for over the years have changed as well, though obviously I haven't been there to see most of it. Interactions in medicine are all too often simply a snapshot in time, without enough time or depth to lend a true sense of understanding. Some patients are healthier now. But some have diseases that have progressed. And most of them have grown older, though, unfortunately…some of them have not.
There are few experiences that can give you more perspective on life and death than working in a hospital. Being a parent is one of those few experiences. But neither of these experiences is static, and inherent in both is change. And that's why I write. I write down my stories. I write down theirs. I write to remember, and I write because it's too easy to forget. In the act of writing, the act of saving and telling stories, moments in time as well as the people in them can be preserved and honored, no matter what comes next.
Michelle Au is a practicing anesthesiologist in Atlanta, GA and the author of THIS WON'T HURT A BIT (AND OTHER WHITE LIES), available May 11th from Grand Central Publishing.