Mary Higgins Clark is known worldwide as "The Queen of Suspense;" her daughter, Carol, has been following in Mom's legendary footsteps since the days of re-typing her mother's manuscripts. Penning 42 and 14 books respectively, the prolific mother-daughter team has written five Christmas books together, beginning with DECK THE HALLS in 2000. Here, they discuss their collaborative process, and the joys of working together.
Has collaborating on projects brought the two of you closer together?
Both: We have always been close but naturally this is a new dimension, storytelling together, which has been a lot of fun and which also reinforces what we both know independently -- that trying to tell the best possible tale is just as hard for two as it is for one. The difference is that we're sharing the load!
As writers, what are your respective strengths and weaknesses?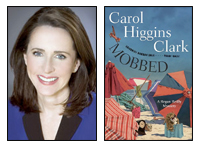 Both: We decided we have no weaknesses! Seriously, we both try to tell the best possible story.
Do you ever get stuck when you're writing together, and if so, what do you do to help each other out?
Both: When we're writing together, and feel as if we're stuck, we toss ideas around. If we both start laughing, we know we're on the right track. If we're really stuck, we remind each other that we've been through this before, and came out on the other side!
Do you think it's more or less challenging to work on a collaborative project with a family member than it would be to work on a novel with a complete stranger?
Both: We've never been challenged to write with a complete stranger but we would imagine that it would take time to establish the basic playing field that is so familiar to us. We know that it works for us to write together. As anyone who starts a new job knows, so much depends on the chemistry you have with the people you're working with. We feel so comfortable with each other that neither of us is afraid to tell the other they can't stand the other's idea! With a stranger, it might come to blows!
Do you have to be in the same place to write your books together?
Both: We are always in the same place when we're writing, except for a couple of times we've had to spend a few hours on the phone. But basically it works for us to sit in the same room, and then perhaps after lunch, mutually decide that we've used up all the energy there and switch to another part of the house.
Your Christmas series consists entirely of mystery novels. Are you interested in exploring another holiday or season together?
Both: The holiday season takes place over about a month of time, as opposed to writing a book about a single holiday that will come and go. The yuletide holiday season seems to be a natural time to set a book. Also, people who enjoy our books like to give them as gifts.
In addition to the Christmas books you have written together, you each have a full list of books that you have written on your own. Mary, what is your favorite book that your daughter has written, and why do you like it best? What about you, Carol, what's your favorite book of your mom's?
Both: We'd have to say that for both of us, the other's first book, if not the favorite, has a very special place of its own. For Mary, Carol's book DECKED, revealed that she was a very fine suspense author in her own right with a fresh, witty, engaging voice. The proof of the pudding has been in the succeeding thirteen books that came after, and the five Christmas books we've written together. For Carol, it was WHERE ARE THE CHILDREN? It was so exciting for our family when she sold the book, had it published, and then first spotted it on the New York Times bestseller list. Not only was it a fantastic book, but it changed our lives. Her following 41 books have certainly been great as well.
Mary Higgins Clark's latest mystery, I'LL WALK ALONE, is in stores now. Carol Higgins Clark's latest Regan Reilly Mystery, MOBBED, was released on April 5th. Visit www.MaryHigginsClark.com and www.CarolHigginsClark.com for more information.