One of the true joys of time away is time for reading --- and I am never one to have a lack of options with me. The house we stay at on the Outer Banks has a small office that I always overtake upon arrival. You can see it below, along with the number of books I brought along. Amusingly, Wade Rouse wrote to ask if I had his book with me. And I did! So here's my holiday reading adventure.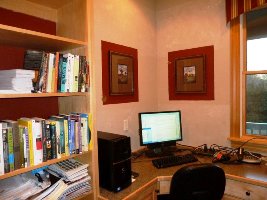 I started by finishing MATCHED by Ally Condie, a YA novel that I just loved. I had heard Ally speak at a conference in November and this book was a big hit at BEA last year and it's much-deserved. It's just brilliant! It's a dystopian novel about a 17-year-old girl named Cassia who at the start of the book is preparing for her Match dinner where she will be matched with what Society has deemed to be her perfect mate. This is just one example of how Society has taken to running people's lives. Reading it, I was thinking about George Orwell's 1984; this book has many of the same themes. While pitched to teens with the angle of a love story, the book is much deeper and much more profound than that. Here's one concept as an example. Society has deemed that there are only 100 things in each cultural category worth exploiring…that's 100 books to read, 100 songs to listen to and 100 poems…it goes on and on. Before Ally's grandfather dies at the Society-deemed age of 80 he hands her a poem that was not part of the 100 and thus is illegal. Reading that and meeting a boy who was not her match gives Cassia a whole other look at what the world she lives in really is.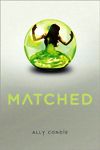 As Norah Piehl said in our review of MATCHED: "Cassia's story --- and the conflicts she faces --- will continue in the other two volumes of this projected trilogy, the second of which is scheduled to be published in late 2011. It's not surprising that Condie's series is drawing plenty of comparisons with that other dystopian love-triangle trilogy (The Hunger Games) that's been all over the bestseller lists this year….But this book deserves to be read and absorbed on its own merits, as a fascinating, thought-provoking and unapologetically romantic novel about the choices we make --- and those that are made for us.
With the holidays in mind I moved onto IT'S ALL RELATIVE: Two Families, Three Dogs, 34 Holidays and 50 Boxes of Wine by Wade Rouse which will be out on February
1st. Wade has made me laugh out loud in the past with this other three memoirs, AT LEAST IN THE CITY SOMEONE WOULD HEAR ME SCREAM, CONFESSIONS OF A PREP SCHOOL MOMMY HANDLER and AMERICA'S BOY. Well, he did it again with IT'S ALL RELATIVE with a look at the celebrations throughout the year that unite us --- and give us time to ponder just what crazy things our families all do. Wade's family, which is eccentric, gives him a ton of material to work with. And as he writes about celebrations like Valentine's Day with his partner Gary as well as the typical Christmas and Thanksgiving fare you will find yourself scripting your own stories of your own family lore. He looks at 34 Holidays, some of which you may never have noted. And will you be glad you did. Just a fun, fun read!
Next up I wanted to read a book on my new iPad and I selected THE DROWNING PEOPLE by Richard Mason, which I knew I could download. Richard had given me the iPad as a gift and I thought it was fitting that HIS would be the first book I read. I wanted to try the Kindle reader for iPad. I happily found it was easy to read and knit at the same time; talk about dream multitasking! Although, as I noted in the newsletter this week, I found it maddening to know what page I was on, but rather only what percentage I had read. But I did enjoy the experience.
Richard wrote THE DROWNING PEOPLE when he was just 18 and it was published when he was just 20 back in 1999. It's astonishingly accomplished for a debut novelist. As it begins, an older man sits in his house watching a sunset as he contemplates the death of his wife at the home they had shared for more than 40 years. It lays out the complex dynamics of this family and what led to this moment. It's a mystery as much as it is a literary read. The characters are so well visualized and the story is complex but well drawn so the threads all come together smartly. I found myself totally swept away reading it. If you have not read it yet, it's worth going back to!

I had read THE MEMORY KEEPER'S DAUGHTER and thus I looked forward to
Kim Edwards' latest, THE LAKE OF DREAMS, which is just out this week. Just as she did in THE MEMORY KEEPER'S DAUGHTER, Kim explores haunting family secrets and deception as her theme here. After finding some papers tucked away in a window seat that reference a relative that no one seems to know about, Lucy Jarrett peels apart the layers of her family history to discover who she was and why she's been erased from the family tree.
Set in the Finger Lake region, Edwards' descriptions of scenery and mood reminded me how richly descriptive her writing was in THE MEMORY KEEPER'S DAUGHTER. They are very different books, but Edwards's attention to detail --- such as in her vivid descriptions of glassblowing and the beauty of the lake --- and the way she unfolds and brings together her story together again gives readers a lot to think about. I do think this book could have been tighter with the tension between characters more sharply drawn, but nonetheless I enjoyed it.
We have our review this week and here is what Kate Ayers says, "Thankfully, there is no sophomore slump for Kim Edwards, whose debut novel, THE MEMORY KEEPER'S DAUGHTER, was a bestseller and critical success. Far more than a love story or a mystery, THE LAKE OF DREAMS is an extraordinary look inside how circumstances can shape a life, and how rethinking what one thought was the truth can change that life all over again. Beautifully written, with vivid imagery and emotion, this book shines with artistry."
Next up was THE STORY OF A BEAUTIFUL GIRL, a novel by Rachel Simon, which will be out on May 4th. This one will definitely be a Bets On pick when it's released. You may remember Rachel for her nonfiction book RIDING THE BUS WITH MY SISTER, which earned her wonderful recognition about her story of commuting with her sister Beth who has an intellectual disability in a city in Pennsylvania. It also became a Hallmark Hall of Fame movie. Rachel's knowledge of what it means to live in the world alongside someone challenged authenticates this novel.
Set over four decades it opens in 1968 with Lynnie, a young white woman with a developmental disability, and Homan, an African-American deaf man, who show up on the door of a farmhouse owned by Martha, a retired teacher on the night of a storm. Neither can speak and Martha cannot understand why they are there. She quickly gives them clothes and realizes that they are not alone. With them they are hiding a newborn baby girl. Hours later when authorities arrive at her door she learns that they have escaped from a nearby School for the Incurable and Feebleminded. Lynnie is captured, but Homan leaves and is feared dead.
Martha keeps the baby, Julia, after Lynnie whispers two words to her: "Hide her." Told in parallel stories, we learn what happens to Lynnie, Homan, Martha and Julia over the next 40 years. Beyond this story it looks at the atrocities that happened behind the walls of the school. Reading those pages I was reminded of the Geraldo Rivera expose on the Willowbrook School many years ago and in the afterward I saw that Rachel acknowledged this as well. Make note of this one NOW.
PRAYERS AND LIES by Sherri Wood Emmons, a terrific debut that will be out January 25th and
we have a special One to Watch Spotlight Feature running about it this week. It begins in Coal Valley, West Virginia where seven-year-old Bethany plays happily with her 6-year-old cousin Reana Mae. They are too young to realize the differences between their lives. Bethany just summers there while Reana Mae calls this economically depressed area home. But to kids, friends are friends; they know no social lines. The story continues as it explores the dark and stormy history of these families and the bad blood that runs through them. Somehow I kept thinking about ME AND EMMA by Elizabeth Flock as I read it, which is one of my favorite books.
I am now reading THE KINGS OF COLORADO by David E. Hilton, which takes places in one of my favorite places: Colorado. While the scenery is the place I know and love the bleak Swope Ranch Boys' Reformatory is dark and dismal. Will has been sent there for stabbing his abusive father in the chest with a pocketknife. The juvenile correction system there is set up to break the boys who are sent there. And the boys there are sentenced to breaking horses. He meets and befriends three other boys and I am just into the opening chapters of their story and loving it.
Lots of great reading, but as always never enough time! Here's to a great year of reading in 2011!