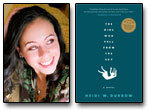 Heidi W. Durrow is the author of
THE GIRL WHO FELL FROM THE SKY
(Algonquin Books), which was chosen for the Bellwether Prize for Fiction by Barbara Kingsolver and released in Danish as PIGEN DER FALDT NED FRA HIMLEN (Forlaget Punktum) this fall. Today, she shares the double joy of a Danish-American Christmas --- and a special story about what it really means to have the best of both worlds.
"You've got the best of both worlds."
I heard that a lot growing up as a mixed kid --- the bilingual daughter of a Dane and an African-American Air Force man. I thought it was a funny thing for people to say. Except at Christmas. That's when I was certain I had the best of both worlds because we would have a kind of double Christmas, celebrating the holiday both the American and the Danish way.
We decorated the house with Santa figures and nisser. We dressed the tree with traditional American ornaments, but also with our hand-made paper julestjerner and strings of Danish flags. We sang "Jingle Bells," "Frosty the Snowman" and"På loftet sidder nissen med sin julegrøde" with equal gusto, as we danced around the tree on Christmas Eve.
Best of all was that we'd get presents on Christmas Eve (the Danish way) and Christmas morning (the American way) --- what more could a kid ask for?
Many of my gifts were homemade: the four-story dollhouse my father built; my favorite Pooh bear my mother sewed from scratch; cozy socks, hats and scarves my relatives knit. But the one present we always got new was books.
The best book I ever got was called TRE ENGLE OG FEM LØVER (THREE ANGELS AND FIVE LIONS) by Bjarne Reuter. It's not my favorite because of its colorful and animated cover. And it's not my favorite because of the story. The truth is that, I can't remember a thing about it today, some 30 years after reading it. But the book is my favorite because it represents a huge accomplishment for me: That year I had taught myself how to read in Danish at age 10, and TRE ENGLE OG FEM LØVER was the first Danish chapter book I called my own.
That may have been the Christmas I really understood what it means to have "the best of both worlds." I suddenly had a whole new language of books I could read and enjoy. What could be better than that?
Tomorrow, Bookreporter.com is giving readers the gift of an extra holiday blog post, as Homer Hickam and Roberta Gately each reflect on the magic of Christmas Eve memories…and miracles.