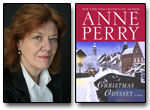 Anne Perry is the bestselling author of two highly acclaimed series, several World War I novels and a handful of holiday books, the most recent of which ---
A CHRISTMAS ODYSSEY
--- was published this October. Below, she recollects one of her all-time favorite Christmas gifts and reflects on how it's helped change her for the better.
Last year, I received Mark Gimenez's THE PERK for Christmas. I am familiar with his work, so I was sure that I would enjoy it, however I was unprepared for the lasting impact this story would have on me. It began dramatically, and then slowed to a quiet, gently growing emotional tension that drew me into the lives of the main characters. Gimenez sets this story in his home state of Texas. He skillfully conveys the atmosphere of small-town rivalries and ancient feuds, bringing the reader in contact with the land and the people on it.
THE PERK is a mystery, in which a very serious crime has been committed. It is also a study in law and the complexities of its application, and in that sense, it is also a thriller. Waiting for the resolution --- the finding of justice --- kept me turning the pages, wanting to get to the end, and yet not wanting to leave the people. But there was far more to the novel than that. In fact, those elements were only the structure of a far more complex story.
The books I remember receiving --- the ones that have made unforgettable gifts --- are those that run deep, rather than those that are just pleasant and entertaining. They are the books that have made me think, reassess my values and gain a perception I did not have before, and --- dare I say it --- have given me a bit more wisdom!
In THE PERK, I saw the gradual build-up of a power I still cannot shake the memory of --- the passion, frustration and despair of lives I had not ever before considered. If I had glanced at these people briefly, I would have dismissed them as alien to my life, uninteresting and shallow. I would have seen only their faults. Gimenez forced me to see these characters from a new perspective.
Closing the final pages, I understood how easily I would have behaved like these alien characters, how I would have felt the same desperation to escape, and how I would also have taken the only way out I could find. I experienced an empathy that made me feel I was one of the people in the story, and that only good fortune had spared me the same tragedies. I realized that there is no basic human difference between us. Before, I judged; after, I had understanding and I cared. I have changed for the better having read this book --- at least I hope so! I trust Mark Gimenez will write many more books of this caliber, and I will be very happy to receive them as presents!
Tomorrow, New York Times bestseller Helen Simonson shares her thoughts on holiday rituals.