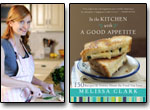 Melissa Clark is a diehard foodie, freelance columnist and the author of over 29 cookbooks --- including IN THE KITCHEN WITH A GOOD APPETITE: 150 Recipes and Stories About the Food You Love. Today, she celebrates the start of Hanukkah with the story of the holiday gift that helped shape her culinary identity.
Over the years, I have been the happy giver and the happier receiver of many books during the holiday season, but there is one that leaps to mind as a holiday book that helped change my life. It was a cookbook, of course --- though not, if you know me, the kind you'd ever think.
I grew up in a family of devoted foodies, and our house was saturated with cookery books of the Julia Child, rillettes-filled French variety. Basically, if you were looking for tips on making the perfect duck a l'orange, you needn't look any further than my mother's bookshelf. Consequently, when I got to college, I spent the bulk of my first semester rifling through my dormmate Mara's copy of Mollie Katzen's THE ENCHANTED BROCCOLI FOREST.
The book was decidedly hippie-ish, shockingly vegetarian (shocking to me, anyway --- considering I was raised on dishes like Julia's Boeuf Bourguignan, which starts by sautéing three pounds of beef in six ounces of bacon fat) and exotic. I couldn't put it down. In fact, there were times when I was flipping through ENCHANTED BROCCOLI when I should have been polishing up my Milton term paper. But as Milton had no step-by-step instructions for "Confetti Spaghetti," "Avocado Enchiladas," or "Chocolate Honeycake," well, he would just have to wait.
Mara would have to wait too, if she wanted to make any of the ENCHANTED BROCCOLI recipes. That book was in my hands more than it was on her shelf.
So I was thrilled beyond measure when Mara presented me with my own copy as a Hanukkah gift that year, though I can't truthfully say that my Francophile parents shared the same feeling when I served them Katzen's recipe for "Sesame Carrot Tahini" for holiday dinner. They did, however, appreciate the homemade pumpernickel it was spread upon.
For me, this gift was an important one because it represented the first time I broke with my family's cooking tradition and started to develop my own culinary identity. And though my career path would veer towards the flavors of my childhood (I eventually hopped back on the beef tenderloin bandwagon), without that palate-broadening gift from Mara, I don't know if I would have discovered my passion for recipes while I was still in college…though I probably would have handed that Milton paper in on time.
Below, Melissa Clark shares a special recipe for "Brand-New Heirloom Potato Latkes." And don't forget to check back tomorrow, as debut novelist Ken Harmon reflects on his own "Radio Romance."
Brand-New Heirloom Potato Latkes
Time: 30 minutes; Makes 16 to 20 Latkes
2 large russet potatoes (about 1 pound), scrubbed and cut lengthwise into quarters
1 large onion (8 ounces), peeled and cut into quarters
1/2 cup all-purpose flour
2 1/2 teaspoons kosher salt
1/2 teaspoon freshly ground black pepper
Chicken fat, duck fat, or vegetable oil, for frying
1. Using a food processor with a coarse grating disc, grate the potatoes and onion. Transfer the mixture to a clean dish towel and squeeze and wring out as much of the liquid as possible.
2. Working quickly, transfer the mixture to a large bowl. Add the flour, eggs, salt, baking powder, and pepper and mix until the flour is absorbed.
3. In a medium heavy-bottomed pan over medium-high heat, pour in about 1/4 inch of the oil. Once the oil is hot (a drop of batter placed in the pan should sizzle), use a heaping tablespoon to drop the batter into the hot pan, cooking 3 to 4 latkes at one time. Use a spatula to flatten and shape the drops into discs. When the edges of the latkes are brown and crispy, about 5 minutes, flip. Cook until the second side is deeply browned, about another 5 minutes. Transfer the latkes to a paper towel–lined plate to drain. Repeat with the remaining batter.
Note: This recipe can be doubled, tripled, and so on, ad infinitum.
Credit: From
IN THE KITCHEN WITH A GOOD APPETITE
by Melissa Clark. Copyright © 2010 Melissa Clark, Inc. Published by Hyperion. Available wherever books are sold. All Rights Reserved.