A classic is making a comeback!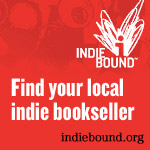 Harper Lee's TO KILL A MOCKINGBIRD is celebrating its 50th anniversary this summer with a slew of special events and commemorative editions. Despite 50 years and untold millions of copies sold, people are still in with this morality tale of race, class and the South.
TO KILL A MOCKINGBIRD: 50th Anniversary Edition is creeping on to regional lists, including this week on the Southern, Heartland and Southern California lists. Also, to help in the celebration of this landmark novel is Mary McDonagh Murphy's SCOUT, ATTICUS & BOO: 50 Years of TO KILL A MOCKINGBIRD, as well as its companion film.
This week's notable debut comes from Daniel Silva, whose latest Gabriel Allon novel, THE REMBRANDT AFFAIR, debuted in the Top 3 across the board.
Here are the eight regional IndieBound bestseller lists:

New England Independent Booksellers Association (NEIBA)
Southern Independent Booksellers Alliance (SIBA)
Mountains & Plains Independent Booksellers Association (MPIBA)
Pacific Northwest Booksellers Association (PNBA)
The Heartland Independent Bestseller List (GLIBA and MBA combined)
Southern California Independent Booksellers Association (SCIBA)
Northern California Independent Booksellers Association (NCIBA)
New Atlantic Independent Booksellers Association (NAIBA)