It looks like this week that our eight regions are taking care of their own! Authors who write and reside in geographic territories saw readers reciprocate in those very regions.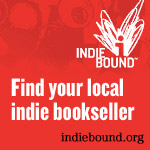 Nantucket-based author Elin Hilderbrand saw her latest, THE ISLAND, debuted at No. 8 on the New England list while similarly beach-themed author Dorothea Benton Frank's LOWCOUNTRY SUMMER claimed the No. 8 spot on the Southern list.

SoCal's own Don Winslow's latest neo-noir crime novel SAVAGES hit the Southern California list at No. 4. Jennifer Egan, who lives in Brooklyn, but staged her rock novel A VISIT FROM THE GOON SQUAD in the Bay Area, hit the Northern California list at No. 8.
Of all those geo-specific titles and authors, only THE ISLAND placed on a list outside its setting or the author's home. Go figure!

Here are the eight regional IndieBound bestseller lists:

New England Independent Booksellers Association (NEIBA)
Southern Independent Booksellers Alliance (SIBA)
Mountains & Plains Independent Booksellers Association (MPIBA)
Pacific Northwest Booksellers Association (PNBA)
The Heartland Independent Bestseller List (GLIBA and MBA combined)
Southern California Independent Booksellers Association (SCIBA)
Northern California Independent Booksellers Association (NCIBA)
New Atlantic Independent Booksellers Association (NAIBA)
Click here to find an Indie near you!