Christina Olds' childhood was atypical, raised on Air Force bases around the world, but it helped create an inseparable bond with her father Robin. As she got older, Christina learned of her father's storied career as a fighter pilot during World War II and the Vietnam War. Soon, Christina was helping her father pen his memoirs and recounting their lives around the world.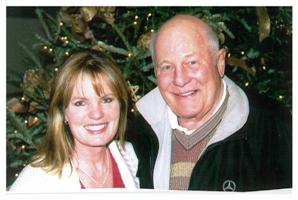 When I was 5-years-old my father threw me into the Mediterranean Sea. Then he jumped in, stood eight feet away in chest-deep water, and held his hands out to me. "Come on, Chrissie, you can do it --- just like we did on the beach. Swim to me!" And I paddled furiously like a puppy in my little rosette-covered swim-cap toward my daddy. He backed up slowly to encourage me farther. All I knew was that I was safe. "That's it, that's it. Good girl! You're doing it. Come on!" Just when my flailing arms grew tired, my father reached for me and pulled me into him, shouting, "Hooray! You did it. You're a swimmer!" Then he cradled me against his chest, carrying me out of the water and back up the beach where my mother lounged with several friends under umbrellas, drinking warm martinis. Soon he taught me how to hold my nose and wear a mask to see the fish. I'd hold joyfully onto my father's shoulders as he dove underwater, leaping up and out again and again like a dolphin.
During those beach days Robin Olds was an Air Force Colonel at Wheelus Air Force Base in Tripoli. I knew nothing about his career as a fighter pilot. To me, he was just an amazing daddy. He read to me and my little sister Susie at night, quoted Shakespeare by playing each part with hysterical theatricality, took me sailing on the Chesapeake, taught me how to fly fish in Wyoming, then clean the fish, build a campfire and cook it. He drilled the multiplication tables into me over breakfast. We made birdcages and dollhouses in his garage, painted automobile and airplane models in his den, watched football and Lassie on TV and together installed brick pathways in the garden of our Georgetown home. The Beatles were my heroes in 1962 when my dad would go off to work at the Pentagon. He looked very tall, blue and handsome in his Air Force uniform as he kissed us goodbye in the morning. He left the scent of Old Spice on my face. I had no idea what he did in that Pentagon place. While I was clueless at school Robin would be arguing with four-star generals and government leaders against the proliferation of nuclear weapons. All I knew was that he'd be home every night to read to me.
My father went off to war in Southeast Asia when I was 14. Every night I prayed for his safe return, often going outside to send messages up to the moon, knowing they'd get to him later as he looked up from his side of the earth. I began to understand what he was doing. The lessons were hard and confusing. TV and newspapers were full of Vietnam. People at home in America were whipping themselves into frenzied protests against the war. On Monday, January 2, 1967 my dad led an important and successful mission over North Vietnam. Tuesday was our first day back at school and when Susie and I left the house we were suddenly mobbed by reporters. A microphone was thrust under my face by a well-known TV newscaster demanding, "How do you feel about your father being a murderer?" I had no idea what he was talking about! All I could reply was, "What happened? Is my father OK? What are you talking about?" My sister was crying and I was frantic. Our school bus driver jumped out and herded us to safety. That was the year my childhood ended. Thankfully, my father came home safely from Vietnam, although 40 pounds thinner and gray. The man I had always adored became even greater in my eyes.
My growth into adulthood turned our father-daughter relationship into best friendship. Through the decades ahead, we talked, laughed, played, shared the ups and downs of life and cherished each other unceasingly. When he was diagnosed at 84 with only six months to live, I moved in with him as his only caretaker and I held him peacefully in my arms when he died. Just the week before, I promised my father I'd finish his memoirs and get them out to his pilots. There was no doubt in my mind I could do it. I'd been taught well by love and by standing on my daddy's shoes learning how to dance.
Christina Olds finished her father's memoir, FIGHTER PILOT: The Memoirs of Legendary Ace Robin Olds along with co-author Ed Rasimus. It is available now wherever books are sold.