Kathy Reichs left her career as a professor of anthropology to focus on writing. She is now the author of the bestselling Bones series, which was adapted into a successful program on FOX. Her daughter Kerry followed suit, leaving a law career to write full time. Now the two frequently travel and host events together. Below, Kathy and Kerry on the set of "Bones."
How did you as a mom feel when you learned your child wanted to write a book?
Kathy: A mixture of delight and apprehension. It's just like when your child does anything new --- though there was the added element of worrying that she would make it on Oprah's book club before me and I'd never hear the end of it. Mostly I wanted her to succeed in a tough industry.
What made you want to follow in your mom's footsteps on becoming a writer?
Kerry: Writing is a second career for both of us. I always wanted to write a book and was actually startled when my mom got to it before I did! But it is nice also, because seeing her phenomenal success in a challenging and saturated industry gave me the courage to go for it when it was my turn. She's been my biggest fan.
Are you each other's first readers?
Kerry: No. I felt it was important to lay down a strict "no fraternization" rule on my first book, THE BEST DAY OF SOMEONE ELSE'S LIFE. While my mother and I certainly saw each other, we didn't discuss the book. In fact, she didn't see a manuscript until it was sold to HarperCollins. I wanted to avoid any shades of nepotism and see what I could accomplish on my own. Now, we talk about the industry, and love doing book events together, but we rarely discuss matters of plot.
What is your favorite book of those your mother wrote?
Kerry: It's hard to say! There are so many excellent Tempe Brennan adventures. I've always liked the ones where I see peeks at our real life, so FATAL VOYAGE (set in the mountains on North Carolina and starring our dog Boyd) and BREAK NO BONES (set in Charleston and showcasing our cat Birdie) are at the top of my list.
What is your favorite book of those your child wrote?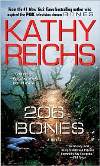 Kathy: LEAVING UNKNOWN. I think Maeve is a wonderful and complex character who will have you laughing out loud one second and catching your breath as tears loom the next. I was so drawn into her journey I forgot it was written by my daughter, I simply fell into the book.
Do you turn to each other for writing advice?
Kerry: Not really. Mom writes intricate plot driven thrillers. I write character driven comedy/dramas of women slightly out of step with societal standards. We might consult each other on word choice or an analogy, but we work in different genres.
Has the fact that you are both writers brought you closer together, or does it cause conflict?
Kerry: We love it. It's so much fun to do joint events and travel together. Book tour can be draining and having someone to join you makes a difference. A bonus is that we have the exact same taste in food so we get two different entrees and split them when we eat out, sampling twice the flavors.
Kathy: I appreciate having one less lawyer at the dinner table! I was completely outnumbered in the balance of family business, so I greeted Kerry's defection from lawyer to writer with open arms.
How did you or will you celebrate your child's first release?
Kathy: Same as I do for all her books: Buy 20 copies. And tweeting. I'm very into Twitter right now. I tweet all Kerry's events. And my events. And Bones events. And what kind of coffee I'm drinking…I know, I know, I'm late to the game but I love it. You can follow me at @kathyreichs. Kerry's on there too, @kerryreichs.
The countdown to publication day is a time full of anxiety. What advice do you as a mom and an author give your child as that day approaches?
Kathy: Get to work on the next book. It's a tough schedule --- to publish a book a year, you have to dive into writing the next one before touring for the previous one takes over your schedule. Writing requires long hours and the more you treat it like a discipline the happier you'll be.
As you were growing up how did you feel about your mom being a writer?
Kerry: When I was growing up my mother was a college professor who occasionally brought home human remains and left them in the garage or office. It was definitely hard to coax friends to sleep over! The first Tempe Brennan novel was sold when I started my first year of law school, and it seemed suitable that we were both embarking on a new professional course at the same time.
What's your favorite snack food/drink when you are writing?
Kathy: Borba Water. It's irrational given the price but I love it. Unfortunately they don't sell it in Charlotte so Kerry has to drive down cases from D.C., or I order it off the Internet.
Kerry: Like my character Vi in THE BEST DAY OF SOMEONE ELSE'S LIFE, I like a beverage buffet --- so I'll generally have some combination of sparkling water, latte, soda, or juice all within arm's reach. People laugh, but sometimes you want hot, sometimes you want cold, sometimes you want carbonation…
What do you think was the best present you gave your mother on Mother's Day?

Kerry: The sentimental answer is probably a clay plate with my handprint on it or something like that, though I think the honest answer is probably a fabulous pair of sassy shoes I got her from Anthropologie.
What was the best present you received from your "writer child" on Mother's Day?
Kathy: I should say something like a poem she wrote when she was 8 but to be honest, I really use the pink Coach bag she got me a few years ago --- I think of her whenever I get a compliment on it. Though the clay plate with her handprint still hangs in my kitchen.
Kathy Reichs is the bestselling author of the Bones series, now a hit television show on FOX. Kerry Reichs is the author of LEAVING UNKNOWN and THE BEST DAY OF SOMEONE ELSE'S LIFE.