All daughters know that sometimes moms do not remember things quite the same way that they do. Thus, Lisa Gardner shares her own take on her mom's comments with us --- and it all makes for good reading.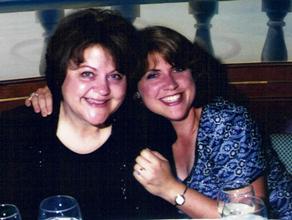 Did you read to your daughter as a child? What did you read?
Yes, I read to my daughter as a child. I don't remember any specific books.
How old was your daughter when she started reading?
6 years old.
Lisa's Note: Really? I assumed I started reading when I was 2. Now I'm humbled.
Did your child have a favorite series/author growing up?
Stephen King, V.C. Andrews
Lisa's Note: And John Saul! I loved all books creepy!
Did you have any book or reading rituals in your house? (Examples would be: Going to the library or bookstore together, talking about the books you have read, sharing books, storytime)
I remember going to book stores together and sharing books.
Lisa's Note: Totally her fault I started reading Sydney Sheldon at a young age! Boy those were educational novels…
When did you know your daughter was going to be a writer?
It seems like she was 18 years old when she wrote her first book and Harlequin bought it some time after. Then I knew that she could be writer.
Lisa's Note: What she's not telling you is that she patiently edited endless versions of my first query letter requesting Harlequin's permission to read my novel. I bet she can still recite that letter by heart.
Can you remember your daughter writing as a child?
I remember her keeping a journal and writing poetry. I think this started around 13 years old or so.
Lisa's Note: Actually, I have a journal from when I was 7, that's my very first one. I remember my mom giving it to me, because my grade school teacher said I had a talent for writing and a journal would be a good way to encourage that. So my accountant mom can take lots of credit for my career, she was a very good writer's mommy.
Do you read advance copies of your daughter's work?
Yes.
Lisa's Note: She is still my number one proofreader. And I always take her comments to heart (it's my grandma you have to watch out for --- she underlines the sex scenes in red…).
Do you have a favorite of your daughter's books?
THE PERFECT HUSBAND, THE OTHER DAUGHTER, THE SURVIVOR'S CLUB, ALONE. It is hard to pick one.
Lisa's Note: She means my July 13 release LIVE TO TELL is my best novel ever. Right, mom?
What kinds of books do you enjoy reading?
Romance, Historical Romance, Mystery & Suspense
What authors, besides your daughter's books, do you read?
Jayne Ann Krentz, Harlan Coben, Stephanie Laurens, Lisa Kleypas, Nora Roberts, Linda Howard, James Patterson, John Sandford, Catherine Coulter, Barbara Delinsky, Sandra Brown, Suzanne Brockman, Judith McNaught and Susan Wiggs just to name a few.
Lisa's Note: It's true. She stalks all the good writers now, but she buys hardcover so they forgive her. We also still share novels. It's good to have a book mom and I love her.
Lisa Gardner's latest novel in her D.D. Warren series, LIVE TO TELL, will be available July 13th.