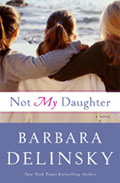 Bestselling novelist Barbara Delinsky --- author of WHILE MY SISTER SLEEPS, THE SECRET BETWEEN US, and our latest Women's Fiction Author Spotlight title, NOT MY DAUGHTER --- revisits a past Christmas during which she'd offered one of her own books to a friend in need.

Some authors give their own books as holiday gifts. I wish I could do this, but the thought of it makes me squirm. I mean, my book can't be compared with a bona fide gift --- or so my thinking goes. I did make an exception one year, though, and remember the details to this day.
THREE WISHES was never a holiday release. An oldie first published in 1997, it made its hardcover debut in September and its paperback one the following July. The setting is a small Vermont town, the protagonist a very special young woman, and yes, the plot does encompass Christmas. But it isn't a Christmas Christmas book, if you know what I mean.
That said, it could be. The holidays are emotional times, and THREE WISHES is a tear-jerker, with a spiritual twist so wrenching that some of my readers have never forgiven me for it. At the same time, others have written me the most heart-warming letters in praise of this book.
Then came my friend Rebecca. I never actually met her in person --- we were introduced by a mutual friend, and our relationship was a long-distance one carried out by email. She was fighting a tough battle with breast cancer, of which I am a survivor, and though our correspondence began with how best to stare down this disease, it quickly moved on to things like family, knitting, and food. We also discussed books, though our tastes were different; she preferred mystery and intrigue, while I liked family drama. To my knowledge, she had never read any of my books.
As the holidays approached, her illness worsened, and our hopes dwindled. I wanted to send her something to engross her for a time, even lift her spirits, but I didn't want her to think I was rushing a Christmas that she might not make. Sending her one of my books seemed like the perfect thing to do, and, of all of my books, THREE WISHES felt like a match.
She read it. I know this for fact, because she phoned me in tears to thank me for sending it, and we discussed it at length. More to the point, we discussed the theme of life as a gift that is more about quality than quantity. We talked of Bree Miller and her newborn son, then of Rebecca's children, who, like Bree's Wyatt, would keep her spirit alive.
That was the first and last time I ever heard Rebecca's voice. Her emails grew truncated, then stopped, and shortly before the holidays, she passed away. Her family told me it was a peaceful death. I like to think a tiny part of that had to do with THREE WISHES and our talk.
I haven't given another of my novels as a gift since, but sense that may change come January, when my newest, NOT MY DAUGHTER, is published. This book, too, celebrates babies, family reconciliation, and the gift of life. As holiday themes go, it's right on the mark.
-- Barbara Delinsky
Tomorrow, Sandra Dallas joins us with an uplifting piece about overcoming the most dire of obstacles.