Katrina Kenison, author of MITTEN STRINGS FOR GOD, describes a lovely holiday ritual shared with her family that, over the course of two decades, has evolved into something far more meaningful than how it began.
Her family also takes center stage in her latest memoir, THE GIFT OF AN ORDINARY DAY; you can watch a video of Katrina reading an excerpt at a recent event by clicking here.

What do you give to a baby who is born exactly one week before Christmas? To our friends, many of whom worked in publishing, the answer was obvious: Christmas books! And so it was that by the time our firstborn son was a week old, our collection of Christmas books had already begun to take shape: an illustrated JINGLE BELLS, a lovely old hardcover copy of Margaret Wise Brown's CHRISTMAS IN THE BARN, Tomie dePaola's irresistible MERRY CHRISTMAS, STREGA NONA.
Henry was all of six pounds, barely awake for more than an hour at a time, but what I most remember about that first Christmas of parenthood is the tiny velour Santa suit we dressed him in, and an image of my mom sitting in the rocking chair, reading aloud to my week-old son. "Well, we've bonded for life," she announced, as she handed him back to me. "And I can tell, he's going to be a reader. He really seemed to listen to the words."
Three years later, Jack was born. Our library of Christmas books continued to grow, and with it, a treasured family tradition. The day after Thanksgiving, the boys would insist that my husband carry the box of Christmas books up from the basement. Much as we love setting up the tree, decorating the mantle, and stringing lights around the doorways, in our family it has always been the ritual of bringing out the Christmas books that spells the real beginning of the holiday season.
All through the years of my sons' growing up, even the busiest of December days ended with a hush, a few special moments that became sacred to us all. I would read aloud, the lights turned low, the Christmas tree twinkling in the corner and the basket of beloved books at our feet, each one so familiar that the boys could recite the words long before they knew how to sound them out.
Sometimes, if it was late, we would choose just one book before bed, but there were other evenings when we would read for an hour or more, slowly making our way through one volume after another: THE TOMTEN, CHRISTMAS TROLLS, O LITTLE FIR TREE, THE POLAR EXPRESS, THE NIGHT BEFORE CHRISTMAS, THE GIFT FROM ST. NICHOLAS, THE CHRISTMAS MIRACLE OF JONATHAN TOOMEY.
Our readings took us to distant countries and long-gone times, other cultures, other families, and other celebrations. But what I loved most about our nightly tradition was the simple pleasure of this quiet time together --- time to reweave our connections with one another and with the true meaning of the season. The stories we read again and again were like beacons along the path, reminding us that love, compassion, generosity, and faith are the most precious gifts of all.
My sons are seventeen and twenty now, and although my husband still carries the box of Christmas books up from the basement on the Sunday after Thanksgiving, they sit, unt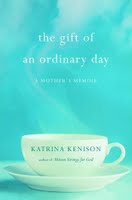 ouched, in a pile in the living room for weeks. And then one night, for old time's sake, after Henry's returned from college and Jack is home as well, we turn the lights down low and gather round the tree.
There are two books in particular that have stood the test of time. Our all-time favorite, still read with childlike enthusiasm by the two nearly grown men in our house, is John Burningham's brilliantly simple HARVEY SLUMFENBURGER'S CHRISTMAS PRESENT. Year after year, we read it, laugh, and wonder what might be in the sack that Santa delivers to the top of Roly Poly Mountain. Next, we slide our copy of Truman Capote's A CHRISTMAS MEMORY from its red cardboard slipcase and take turns reading this most special classic aloud to each other. Always, we pause at our favorite description: "a hateful heap of bitter-odored pennies." Always, I get a lump in my throat at the end, and have to hand the book over to someone else to finish. "Life separates us," Capote writes, years after his beloved Christmas co-conspirator Sook has gone to her grave. And so it does. Which is why, now more than ever, I treasure the Christmas moment, however brief, when my husband and sons and I sit together and read aloud to one another, just as we've always done.
-- Katrina Kenison
Tomorrow, Jamie Ford and Lynne Hinton each share their favorite holiday presents in the form of unlikely reads.