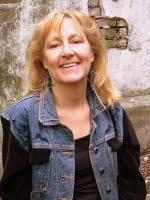 This morning, Masha Hamilton --- author of THE CAMEL BOOKMOBILE and 31 HOURS --- illustrates that great stories are not limited to just works of fiction, as she discusses a treasured recipe book and its ability to connect her with her family's rich past.
As a child, I remember overhearing my mom say, "Masha thinks books are the nicest gift in the world." It was true then, and is now, and I've received some memorable book presents. But perhaps my favorite is one my dad gave me a couple decades ago, published originally in 1931 in Topeka, Kansas: THE HOUSEHOLD SEARCHLIGHT RECIPE BOOK. I treasure the book even though I don't think I've ever actually used any of its recipes --- despite a wide variety of tantalizing possibilities, including Apricot Horseradish Sandwiches, Egg Apples, and Turnip Soufflé. I love it because it belonged to my grandmother, Jess.
Jess Hamilton was a schoolteacher in the tiny desert town of Morristown, Arizona --- one of two who taught the entire town's kids, first through twelfth grades. It was during the Great Depression, and many students went barefoot and hungry, so she began Morristown's first hot school lunches program. She and her fellow teacher took turns cooking a large pot of food, leaving it simmering on the stove in the morning, and then, with help from the older kids, picking it up at lunchtime and carting it back to the schoolhouse. In the mid-1940s, the government offered to pay a subsidy for school lunches for students from low-income families, but Jess refused the money. She was afraid they would try to tell her what to cook.
My grandfather, Jack, was Morristown's station master for Southern Pacific Railroad, and their house was two dozen steps from the tracks. The Depression's high unemployment gave rise to hobos, the out-of-work who wandered the rails. Many nights, Jack would swing into the house, calling at the doorway, "Jessie! I've brought company for dinner!" "That's fine," she would answer, and another mouth would join Jesse, Jack, their four children, and often others, for the meal.
I suspect, and the clues bear out, that THE HOUSEHOLD SEARCHLIGHT RECIPE BOOK was one of Jesse's most important and oft-referenced volumes. I well remember Grams'
s kitchen, and can imagine her leaning into the book while standing next to the stove. The pages bear the stains of gravy and chocolate and Crisco. This, befitting the times, is a no-frills book: there are no color photographs, no pictures at all, just recipe after recipe, six to ten per page, for 320 pages.
Jess also wrote recipes on the inside and back covers. These include "Bee's Persimmons," "Jeanie's Salad Dressing" and "Mrs. R's Cookies." A few recipes that she wrote on scraps of paper and stuck into the book also survive. One is for "Oxford Cookies," and she notes at the end that this has been a family recipe since 1680. I reprint it in full below:
"Rub 1 cup butter or Crisco into 4 cups of flour. Add 2 cups sugar, 1 cup of cream (or canned milk) 1 teaspoon soda, 1 teaspoon vanilla. Mix on board, roll thin, cut and bake in a slow oven."
One quality to books that I've always loved is that they are a way of super-communicating: they connect us to one another through time and space. They link not only the Australian with the Zimbabwean, the young Hawaiian surfer with the aging Nepalese monk with the Afghan woman in a burqa. They also link the living to the dead. When I hold THE HOUSEHOLD SEARCHLIGHT RECIPE BOOK in my hands, I feel Grams. I am transported back to a time when she fed both the stomachs and the minds of Morristown's kids, and my grandfather befriended hobos and wrote poems, and their house shook with the passing freight cars, and my dad was a child in a cowboy hat who rode burros and was the darling of his three saucy sisters.
Yes, it's a recipe book. But for me, it is a volume of a thousand stories.
-- Masha Hamilton
Check back this afternoon, as Cody McFadyen reveals the single, longest-running tradition in his life.