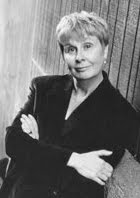 While books have always been a staple under the Christmas tree, Marcia Muller --- author of the Sharon McCone series, including its most recent installment, LOCKED IN --- reveals how she found one of the greatest presents she'd ever received at her front step instead of inside her holiday stocking, many years ago.
Books were always under the tree on Christmas morning at my house. My parents were fond of them, and they instilled that love of reading in all of us. My earliest memory of those holiday treasures are the Golden Books slender volumes with filigreed spines. And then the Babar the Elephant books; I must have read BABAR AND ZEPHYR a hundred times! In third grade, I was gifted with Felix Salton's BAMBI'S CHILDREN because I'd worn out the copy in the school library. THE SECRET OF BARNEGAT LIGHT, a mystery centered around the lighthouse at the north end of Long Beach Island, New Jersey, where we spent our summers, was a big hit --- my first book inscribed by the author, Frances McGuire. Then followed the Judy Boltons and Nancy Drews --- foundations for the adult novels I would one day write.
GONE WITH THE WIND was under the tree when I was I high school, the first "grown up" book I was encouraged to read (although for years I'd been pilfering far racier stuff from my parents' library). I regret to say I was never gifted with PEYTON PLACE; that I had to read over the course of several sweltering summer days in the attic, where my mom had hidden it spine inward on a dusty shelf.
Years later, in December of 1977, a package arrived at my San Francisco home. Inside nestled a slim volume with a Victorian facade on its dust jacket: EDWIN OF THE IRON SHOES, my first published novel.
That was the best Christmas gift of all!
-- Marcia Muller
Check back tomorrow, as Larry Gonick and Steve Luxenberg join us with their holiday traditions and musings on reading preferences.