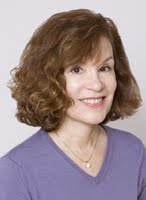 Having grown up celebrating Hanukkah, Sally Koslow --- author of LITTLE PINK SLIPS and THE LATE, LAMENTED MOLLY MARX --- shares her favorite pastime for December 24th and 25th, and explains how she came to celebrate, and eventually write about, the Christmas season.
In my hometown of Fargo, North Dakota, there was no crossing of fingers, hoping it might be a white Christmas. It would, you betcha, just as surely as it would be a white Valentine's Day and quite possibly a white Passover and Easter. A blizzard, to us, wasn't from Dairy Queen --- it was a gift from God , who'd cancelled school.
In the north country, Christmas was --- no surprise --- done up big, with decorations at virtually every house. Make that every house but ours because, despite the towering Rockefeller Center-worthy blue spruce outside our door, we celebrated Hanukkah and thus did not deck either it or our halls with boughs of holly or the homemade popcorn strands that I read about in my children's books. I got my red and green jollies beyond my front door. This meant caroling with friends --- I promise you, I can sing every verse of "O Come All Ye Faithful" --- after which we'd hit the skating rink under a starry, black velvet sky.
All in all, I found this an agreeable arrangement, and it went on for most of December, along with hot-and-cold running school pageants. But in my home, Christmas Eve and December 25th were actually very, very quiet. This made them excellent days to read, an activity that I vastly preferred to either skating or caroling.
The first book I recall loving enough to devour again and again was THE SECRET GARDEN, sent to me by my very literate (think The Atlantic magazine on the nightstand) Nana. Mary Lennox, Martha Sowerby, her brother Dickon, and, of course, Colin, became my best friends. This classic paved the way for LITTLE WOMEN, a present from my mom, another avid reader, who like Marmie, always gave books for the holidays. Like every girl who dreamt of becoming a writer, I saw myself in Jo, the feisty bookworm.
Soon my Hanukkah gifts included REBECCA, JANE EYRE and eventually, the Jane Austen trifecta --- PRIDE AND PREDJUDICE, SENSE AND SENSIBILITY, AND EMMA --- along with THE DIARY OF ANNE FRANK and Leon Uris's bestseller MILA 18. But I'm fairly sure it was a tattered copy of Herman Wouk's MARJORIE MORNINGSTAR, discovered on our bookshelf, which was my inspiration for moving to New York. I arrived there after college graduation, settled in near Central Park West where Marjorie lived and landed a job at iconic Mademoiselle magazine. This led to writing and editing at other magazines, culminating as editor-in-chief of both McCall's and Lifetime, which I started. And this leads me back to Christmas.
If you wonder who visits over-the top magazine Christmas fantasies upon the women of America, it's people like me, who picture the holiday as much from their dreams as their memories. Since a December issue gets sent to the printer in September, we spend the better part of our summer developing ideas for "d.i.y." (do it yourself) ornaments, daunting gift wraps, and 12-step cookies, which we run next to articles on how not to get stressed by the holidays. Good luck with that.
Now my life has come full circle. I no longer edit magazines because, inspired by my early reading, I'm writing novels. LITTLE PINK SLIPS, my first book, is set at a McCall's-ish magazine and recounts how Christmas is celebrated in that industry --- with plenty of swag, and I'm not talking cranberry garlands. My most recent novel, THE LATE, LAMENTED MOLLY MARX, has a heroine who lives not far from the mythical Marjorie Morningstar. In
WITH FRIENDS LIKE THESE, coming out next summer, Marjorie's building has a featured role.
When you write fiction, your whole life is material. Tonight, I'm off for my annual walkabout to take in Manhattan's Christmas windows. If my fourth novel features one of the opulent dioramas of Bergdorf's or arch displays at Barney's, do not be surprised.
-- Sally Koslow
Tomorrow, Amy Bloom and Kristin Hannah discuss meaningful reads shared between loved ones.