Hallie Ephron, author of NEVER TELL A LIE and THE BIBLIOPHILE'S DEVOTIONAL, thinks back to her family's first holiday together, and the wonderful tradition they started with the help of two different customs and some really great books.
The December after my daughter Molly was born was the first year that my husband and I did not drive to New York to spend the holidays with family. I'd grown up with Christmas. My husband had grown up lighting Hanukkah candles. With a three-month-old baby, we stayed home in our rented apartment, the first floor of a two-family house, and started to figure out what our own traditions would be.
The day before Christmas, a package arrived addressed to Molly from my father. It was large --- about the size of a basketball --- and heavy. We'd decided to light candles, sing the blessings in Hebrew, and exchange small gifts each night of Hanukkah; but, that box from my dad w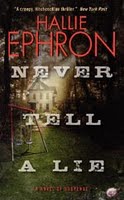 as the gift that started another tradition: opening presents from my family on Christmas morning.
And what a gift it was. My father, a playwright and screenwriter, had gone to Books & Co., a cozy independent bookstore on Madison at 75th Street that closed in 1997. There, he'd picked out a treasure trove of books for our baby, his first grandchild, to grow into.
Though Molly was barely old enough to suck on the corner of a cover, she'd soon be patting the rabbit's fur and slipping her finger into the ring hole in Dorothy Kunhardt's PAT THE BUNNY, a book which I remembered reading to my baby sister, Amy. There were Beatrix Potter's THE TALE OF PETER RABBIT and Ludwig Bemelmans's MADELINE, books I knew by heart and which Molly, a few years later, would too. There was THE REAL MOTHER GOOSE, my favorite version with the checkerboard cover and illustrations of Blanche Fisher Wright. A compendium of wonderful illustrated Richard Scarry stories in RICHARD SCARRY'S BEST STORYBOOK EVER, which would be bedtime stories for years to come. An oversized, illustrated A CHILD'S GARDEN OF VERSES. Several Oz books. And more.
I can name them all because when my daughters (we have two now) were grown and living on their own, they went through their books and picked out the ones they wanted to keep. All of Grandpa's books from our first holiday as a family were keepers.
-- Hallie Ephron
Up next is Melissa Mayhue, who describes an unexpected holiday gift that exceeded all of her expectations.