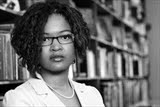 Dolen Perkins Valdez --- whose debut novel, WENCH, hits stores next month --- recalls receiving a very treasured copy of her favorite book one Christmas, and takes the opportunity to thank her favorite author for changing her life.
I owe so much to the writer Toni Morrison. When I first started scribbling stories, I wrote about light things, things that didn't upset anyone too much. I also set my stories in faraway places. In essence, I did everything I could to avoid the profound emotional terrain of my native South. I loved the American South and everything about it: the food, the people, the musical speech. Yet, I was afraid of it. I was afraid that I was too close to it to reveal its complexity. Most of all, I was afraid to unveil the corners of its racial history, and I was not sure that I had the courage to write about it.
I read Toni Morrison's BELOVED while an undergraduate at Harvard in a seminar led by renowned African American Studies scholar Henry Louis Gates, and yet I still failed to grasp it. It was not my professor's fault; I was not ready for Morrison's unflinching eye, her intricate entanglements, or her deep sense of history. Yet when I reread it after graduating, it c
hanged my life. As I read the last sentence, I sat stunned, speechless, moved beyond words. I knew that the writing of this book had taken Morrison to a place where few had dared enter. She had dipped her pen into the hornet's nest of American racial history, and the result was a story unlike anything I'd ever read.
I have often shared this story of my writing journey through Toni Morrison's work with my husband. I told him that I wanted so badly to meet her one day and tell her how she inspired me. Of course, I am sure there are many young writers who would like to do the same. That did not lessen my sense of sadness that in all probability I would never get to meet this giant of letters, given my own literary obscurity. One year on Christmas Eve, my husband called me into the living room, sat me down on the couch and handed me a package. It was a shirt-sized box, and I had no idea what was in it. I ripped off the wrapping paper, watching his eyes as I did it. He was literally trembling with excitement. Inside the box was a signed first edition of Toni Morrison's BELOVED. I felt my spirit rise out of my body. I ran a finger down the cover, turned the book over in my hands. And then I felt something. It was as if Morrison was right there beside me, touching my hand, saying, "Go ahead and open it. It's for you."
And so I say now, in this public forum, "Thank you, Ms. Morrison. Thank you."
-- Dolen Perkins Valdez
Coming up later on this afternoon, Robert Hilburn describes his love of baseball and how a fictional player resonated with him far more than a real one.