Christina Baker Kline --- author of several works of fiction and nonfiction, including CHILD OF MINE, THE WAY LIFE SHOULD BE and BIRD IN HAND --- describes a particular favorite holiday story and the family tradition it inspired.
When I was growing up, the oldest of four girls in a small town in Maine, we didn't have much money. My parents are both Southern --- my mother is from North Carolina, my father from Georgia --- and it was a long way to visit relatives. So we often spent Christmases on our own, far from extended family.
My father was a young professor, and until I was about 10 my mother stayed home with us. A skilled seamstress, she made ornaments out of felt from geometric patterns, and we girls made our own handmade contributions for the tree. Like many families, we gathered around the tree on Christmas Eve and read favorite stories, drank hot chocolate, and strung popcorn. But the most important part of our ritual was the reading of Dick Bruna's CHRISTMAS.
"On a dark night long ago, and in a faraway country, shepherds kept watch over their sheep. Suddenly a light so bright and beautiful shone upon them. The shepherds thought the new day was dawning. But that was not so." Bruno's book pares the nativity story down to its basics: Mary, Joseph, the baby, the barn, several sheep and shepherds, the wise men, some angels, and the North Star. Characterized by bright, simple Scandinavian-inspired design --- it was originally published in 1963 in Amsterdam (and bought by my mother in England, where I was born, in 1964) --- it's probably the least overtly Christian rendering of the Nativity story you could imagine.
This simple book appealed to all of us in different ways. My baby sisters, Clara and Catherine, loved the brilliant colors. Cynthia and I liked the story. My parents appreciated the lack of dogma.
One year my father, who had learned carpentry as a teenager from his father, a house builder, decided to create a three-dimensional rendering of Bruno's book. Closely adhering to the illustrations, my father built a crèche and all the figures out of wood. He and my mother lovingly sanded the rounded curves of the figures, the scalloped backs of the sheep, and then painted them in the vivid hues of the original, including the bright yel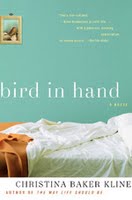 low North Star in a blue square of sky on the black interior of the barn. A white pipecleaner was the shepherd's staff. Every year, this Nativity scene had pride of place on a table next to the Christmas tree.
One by one we daughters grew up and left home, eventually marrying and having families of our own. And over the past decade, my parents have been making Dick Bruna crèches for each daughter --- near-exact replicas of the much-loved original.
The only problem was that we didn't have copies of the book. It had gone out of print, and was completely unavailable (even on Ebay). And then, several holiday seasons ago, browsing in my local bookstore, I stumbled on a new edition. I couldn't believe it: the familiar slim, long volume, about 11" x 6", with its bright-yellow spine, the aqua cover with "Christmas" in white type and a white, line-drawn angel with yellow wings hovering above it, the crisp white paper saturated with color on one side. I ordered copies for all of us, so that each sister would have the story to go along with her crèche --- including one for my parents, to display along with the tattered copy that had inspired our family ritual.
It is our children, now, who set up our crèches each year, play-acting with the figures and comparing the two-dimensional illustrations in the book to the figures on the table. And it is they who clamor for the annual tradition: "When the story was finished, the wise man with the white beard said, 'Now let us go. We have a long journey home.' Quietly the wise men left. The shepherds went home, too. And Mary and Joseph waved until they were out of sight."
-- Christina Baker Kline
Tomorrow, Ann Pearlman explores the lasting effects of a simple gesture from her grandfather.