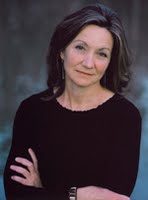 Truman Capote's heartbreaking short story, "A Christmas Memory," is a perennial favorite around this time of year, and Jill McCorkle --- author of GOING AWAY SHOES --- explains why she's given countless copies as holiday presents over the years.

The most memorable book I have ever given for a Christmas present is the wonderful edition of Capote's story, "A Christmas Memory," which Random House printed. The book came in a sleeve with a photograph of a very young Capote and his elderly cousin "Sook" --- a photograph that is referenced in the story as one taken by someone traveling through, someone on the list of all those who receive a fruitcake from the narrator, "Buddy," and his elderly friend. It is a beautiful Christmas story, one I read each and every year --- sometimes alone, sometimes aloud to my classes, oftentimes both. I have given it so many times by now I can't even remember when and to whom.
I have also given the VHS and then DVD of the film version starring Geraldine Page. I remembered seeing it on television one Christmas Eve when I was a child, but all I could recall was the wonderful narrative voice describing first the way the two made money for ingredients, and then the detail of the cakes they baked and where they sent them. I remembered that I cried and cried over the sad ending --- one of those good cleansing cries, where you feel both uplifted and changed. For many years, I tried to figure out what I had seen and how I could see it again. It was in high school when I came across the short story and recognized from that first line: "Imagine a morning in late November...." and I knew I had found what I had been looking for. It's a classic treasure, a great short story and one that I plan to keep giving.
-- Jill McCorkle
Later today, Kat Martin reflects on the power of the written word and its influence on her craft.