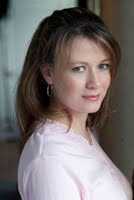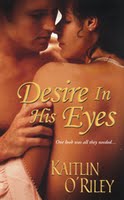 Today's guest blogger is Kaitlin O'Riley, author of DESIRE IN HER EYES. Below, she remembers one humorous holiday from her childhood when she and her sister found an old family trinket far more interesting than the piles of new, expensive presents they received in their stockings that Christmas.
I am an unabashed lover of all things Christmas. Everything about the yuletide season --- from the familiar carols, to the twinkling lights, to the chance of snow to spending time with my family --- makes me ridiculously happy. Warm gingerbread, mulling spices, a lush pine wreath with a cheery red bow, sleigh bells… I love it all. There is something about the magic of the winter season that inspires me with hope and a sense of renewal. Perhaps it's because my birthday is exactly one week before Christmas Eve.
I know some people view a Christmas birthday as a drawback, when any birthday gifts and celebrations get lost in the hustle and bustle of the season. But I don't feel that way. Because I have a December birthday, I feel a special connection to Christmas. Which also might have something to do with the fact that when I was born, my parents brought me home from the hospital on Christmas Day in a red stocking. Not that I recall this event, but I am told by very reliable sources that my father hung up that stocking, with me inside. My three older sisters said I was the best Christmas present they ever got. And I still have that red stocking to this day.
I have so many magical memories of Christmas it's almost impossible to pick my favorite, but one story is particularly amusing and reminds me of how easily children can be pleased.
On the Christmas when I was eight years old and my sister Jennifer was five, Santa brought us everything we could possibly want. A beautiful pink bassinette for my baby dolls, a handmade doll house, a brand new bicycle with a banana seat and pretty streamers. What little girl wouldn't love that? Of course, I was delighted with my new-found treasures, as was my sister with hers. You would think we would have played with our wonderful toys all day, wouldn't you?
Well, it just so happens that I found a long necklace of my mother's that morning. It was made of silver beads of graduating sizes. The chain had broken and the beads were now loose. As unbelievable as it sounds, my little sister and I spent Christmas Day and quite a few of the following days not playing with our new toys, but playing with those pretty silver beads. Jennifer and I made little families out of them, with the larger ones parents and the smaller ones the children. Using empty jewelry gift boxes, we made tiny houses for them, lined in cotton. We gave them individual names, but called them "nellies" collectively. We rolled them around the hardwood floors and created stories about them. To the complete bafflement of our older sisters and our parents, Jennifer and I ignored all our expensive Christmas gifts and played with a broken necklace.
Oh, eventually we lost interest in our imaginary bead families and enjoyed our presents, but it still makes our family laugh to recall that particular Christmas. Jennifer and I had so much fun that day, because even something as mundane as a broken necklace can become magical on Christmas. And it's the reason I always hang a silver bead garland on my own Christmas tree every year.
-- Kaitlin O'Riley
Tomorrow, Marie Bostwick and Mary Burton share stories about the transformative power of books, especially around the holidays.