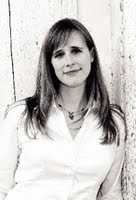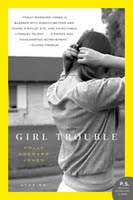 This evening, Holly Goddard Jones --- author of GIRL TROUBLE: Stories --- traces her reverence for the written word back to one childhood Christmas, and the life lessons learned from the unforgettable presents she received.
Though I come from a book-reading family, I don't come from a book-gifting family. My parents were dedicated library patrons --- we usually went once a week --- and most of the books I purchased in my tweens and teens came from a dark little shop called The Book Rack, which exclusively sold comic books and used mass market paperbacks. The Book Rack was in the same aging strip mall as my mother's regular Laundromat, and so I spent many, many hours of childhood in there browsing, exchanging pleasantries with the store's owner --- a woman with big eyeglasses and brassy hair teased up into a loose bun --- and finally retreating to the store's spooky, closet-sized back room, where the horror novels were shelved. I remember that the far wall was decorated with a cardboard cutout of Hannibal Lecter, wearing his iconic mask and straight jacket. More often than not, I'd plop right down in the floor, pull something by Stephen King off the shelf, and read until I'd determined if the book was worth the 50-cent price penciled inconspicuously into the front cover. Hannibal watched silently over my shoulder.
The only books that took up permanent residence in our home were an incomplete collection of World Book Encyclopedias, purchased during a library sale, and a few hardcover reissued classics, plucked from a bargain bin at Big Lots. We weren't a family that romanticized the act of reading; we read for pleasure rather than edification and without self-consciousness, the way we watched television or put together jigsaw puzzles. We kept our books on bedside tables, armrests, in the bathroom --- not on shelves. My parents didn't seem to place a lot of value on the book itself as an artifact. Why own it when you can check it out for free?
That said, I remember getting three books --- beautiful books --- from my parents as Christmas gifts: THE SECRET GARDEN and A LITTLE PRINCESS, both by Francis Hodgson Burnett, and HEIDI by Johanna Spyri. Of course, I was reading these stories at an age that just preceded my forays into the dark back section of that paperback thrift store, but not by much, and the passage from one to the other is blurry. It seems possibly to me now --- indeed, likely --- that I would have reread those children's classics in the same year that I was first sampling the violence and frank sexuality of novels by Stephen King. And even now, I can see space for both in the brain and heart of my 11 or 12-year-old self. They were all journey stories: the young female protagonists of Hodgson and Spyri deliciously orphaned, dropped among strangers, forced to get by with their imaginations and ingenuity; the protagonists of King somehow isolated, estranged, like the alcoholic caretaker in THE SHINING; or in IT, the "Losers," a pack of kids so awkward, so unpopular, that they'd rather fight the forces of evil than contend with the cruelty of their own classmates.
Reading King then was an act of defiance: the kind of act that was supposed to take place in a tucked-away room or in sullen silences from the back seat of my father's car. The book itself was designed for disposal, for ill-treatment, and I used it accordingly, bending the cheap spine in half, dog-earing the pages, holding my place with nothing nicer than a store receipt or a foil chewing gum wrapper. The gift books were different. They all had pastel ribbons sewn into the bindings to use as book marks, and when the ribbon started to fray, I fretfully trimmed the end. A LITTLE PRINCESS had a high-gloss cover, rich in earth tones, with a detailed illustration of Sara on the rooftop of her boarding school, feeding birds; THE SECRET GARDEN had a dust jacket, which I reverently removed during reading, wanting to see it damaged no more than I did the hard cover. Of the three books, HEIDI was perhaps the loveliest --- the cover was blue faux leather, lightweight and pillowy, and the pages were tipped in gold foil. Best yet, there were illustration plates spaced evenly throughout the pages, so that you might be on page 30 before you could see the artist's interpretation of Heidi's journey up the mountain.
I write about these books not because they were formative --- though I suppose they were, their permanence in my household making them so, insuring they'd be read and reread --- but because they taught me the pleasure of the book as an artifact. I still like the subversive thrill of a used paperback, the kind of book I can take on a plane or out on the porch swing, the kind of book that I can smudge and tatter in good conscience. But books are worthy of our reverence, of our little household shrines, and that's why I'm willing now to invest in them and to give them.
-- Holly Goddard Jones
Tomorrow, we will have a very special Thanksgiving treat for you as Wade Rouse comes by to share his memories of Thoreau, missing digits, and a very special grandmother.